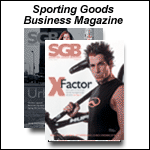 Collegiate Pacific Completes Kesslers Acquisition

APRIL 01, 2004 -- Collegiate Pacific has closed the controversial acquisition of Indiana-based Kesslers Team Sports, a profitable, $30 million revenue-based company specializing in the distribution of team sports products with a primary emphasis on name brand, team uniforms and apparel.

Michael Blumenfeld, CEO of Collegiate Pacific, stated, "The transformation of Collegiate Pacific into a major force in the institutional sporting goods markets continues to accelerate with the addition of Kesslers Team Sports. This combination puts under one roof the nation's fastest growing catalog marketing company and manufacturer/distributor of sports products and the nation's #1 independent team distributor. The combination of Collegiate's 4,000 products and Kesslers' 70-man sales force presents a formidable challenge in our industry and a platform from which to launch new and accretive acquisitions and business relationships. The consolidated Collegiate Pacific now offers over 5,000 sport products to nearly 70,000 customers.

"While our organic growth continues on schedule at 20-25%, we are continuing to see very attractive opportunities in a variety of acquisition candidates ranging in scope from manufacturing proprietary products to team distributors similar to Kesslers. In light of our expansion, we have increased our commercial bank facility to accommodate the acquisition of Kesslers Team Sports and to provide future working capital needs for the combined companies."







Breaking Headlines
Short news...4/5/04
APRIL 05, 2004


Short news...4/2/04
APRIL 02, 2004


Short news...4/1/04
APRIL 01, 2004


Selig Questioned On Possibility of Ads On Uniforms
APRIL 01, 2004


Collegiate Pacific Completes Kesslers Acquisition
APRIL 01, 2004


Reebok Will Give Away $1 Million Of Free Shoes To Spur Heart Association Donations
APRIL 01, 2004


Short news...3/31/04
MARCH 31, 2004


Short news...3/30/04
MARCH 30, 2004


Lifetime Products To Pay $800,000 Civil Penalty
MARCH 30, 2004


Short news...3/29/04
MARCH 29, 2004