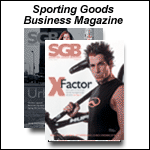 Reebok Will Give Away $1 Million Of Free Shoes To Spur Heart Association Donations

APRIL 01, 2004 -- In support of the fight against heart disease, Reebok will give away one million dollars worth of VersaSport DMX Max walking shoes with the launch of the 'Wear Your Heart on Your Feet!' campaign. Beginning in May 2004, consumers who make a $25 or more donation to the American Heart Association via Reebok's new walking web site, www.reebok.com/walking will receive a free pair of Reebok's newest walking shoes, the VersaSport DMX Max.

According to the American Heart Association, heart disease remains the leading killer of women in the U.S. and the world. As the official footwear sponsor of the American Heart Walks, Reebok is encouraging women and their loved ones to take charge of their health by promoting walking and other physical activity to reduce their risk of heart disease.

"In support of our commitment to women, walking and wellness, 'Wear Your Heart on Your Feet!' will reinforce the message that physical activity is an important way for women to reduce their risk of heart disease and prevent major risk factors from developing," said Jan Sharkansky, VP/women's marketing. "We are thrilled at the opportunity to launch this campaign to help demystify this national health issue and help women jumpstart an active and healthy lifestyle."

The VersaSport DMX Max features new DMX Max technology that provides full foot cushioning, a necessary component for a shoe fit for walking. This shoe also features a full grain leather upper, transition bridge for midfoot arch support and removable polyurethane sockliner. The VersaSport DMX Max comes in multiple widths to provide walkers with a more custom fit.

This shoe fuses classic Reebok designs with high tech walking-specific quality and will be available in June 2004 for a suggested retail price of $70.

"Guidelines for the prevention and treatment of cardiovascular disease in women released this past February, reveal that most heart disease is preventable through simple modifications in nutrition and physical activity, yet cardiovascular diseases continue to kill women at alarming rates," stated Coletta Barrett, R.N., MHA, FAHA, chairman of the national board of the American Heart Association.





Breaking Headlines
Short news...4/5/04
APRIL 05, 2004


Short news...4/2/04
APRIL 02, 2004


Short news...4/1/04
APRIL 01, 2004


Selig Questioned On Possibility of Ads On Uniforms
APRIL 01, 2004


Collegiate Pacific Completes Kesslers Acquisition
APRIL 01, 2004


Reebok Will Give Away $1 Million Of Free Shoes To Spur Heart Association Donations
APRIL 01, 2004


Short news...3/31/04
MARCH 31, 2004


Short news...3/30/04
MARCH 30, 2004


Lifetime Products To Pay $800,000 Civil Penalty
MARCH 30, 2004


Short news...3/29/04
MARCH 29, 2004