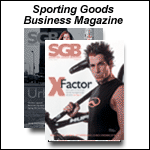 Short news...3/30/04

MARCH 30, 2004 -- eBay has been changing over the years as regards sporting goods. It is the largest e-tailer of bikes and golf clubs in the country. In prior years, it was consumers who sold their used clubs on the site. Today, the site is selling more new clubs than old. With hundreds of thousands of sporting goods products on its site, sales of sporting goods, fan apparel and collectibles hit $1 billion last year ($1.8 billion worldwide). The three categories used to be ganged together, but now fan products and sporting goods are sold in one group. What's changed the model is the willingness of retailers to use the auction site to liquidate aged inventory at a profitable price. As shipping prices drop, a local retailer can develop an international business on the site. You can ship a set of clubs to Australia for $20. Dozens of sporting goods sellers are doing $100,000 a month on the site. The deal with the PGA of America is increasing the relevance of the golf pro. PGA has established prices on used clubs. A consumer who wants to trade in old clubs goes to a participating pro who sells the clubs on eBay based on pre-set prices. In that there is no national sporting goods show that gives buyers any ideas of trends or hot new sports, eBay may be functioning that way. Drew Marich, director/sports, said trade buyers visiting eBay can find new ideas based on what's going up for sale. He said eBay was quick to notice the trend toward motorized skateboards and skooters. The latest hot new product is Airsoft. Its "guns" fire paintballs and pellets. You can find 2,776 spring-loaded guns, 621 electric guns, 341 gas-powered guns and 69 others on eBay. Incidentally, paintball products are the seventh largest category on eBay. The e-tailer is working on ways to sell sports apparel and footwear better. Tomorrow a new search engine goes up that will give more details, easing the search.

Vermont skiwear and outerwear manufacturer Black Diamond Sportswear announced that a federal judge in Utah yesterday dismissed a lawsuit filed vs it by a Salt Lake City-based mountaineering equipment company, Black Diamond Equipment. The lawsuit was a "sneak attack" by the equipment company trying to head off the filing by Black Diamond Sportswear of a trademark infringement suit vs BDE in Vermont, said Gary Guggemos, president of Black Diamond Sportswear. "When we learned in that lawsuit that Black Diamond Equipment had begun using our federally registered trademark BLACK DIAMOND on clothing, we had no choice but to sue to stop this appropriation of our good name." Black Diamond Sportswear's lawsuit, which seeks damages for intentional infringement and an injunction against future sales by Black Diamond Equipment of clothing under the trademark BLACK DIAMOND, will go now go forward in Vermont. With this dismissal Black Diamond Sportswear will aggressively move its case forward to a jury trial, commented attorney James Goggin of the Portland Maine's Verrill Dana, LLC. Black Diamond Sportswear is based in Barre, VT, and is a full-line supplier of ski and outerwear styles for all family members.

According to the Miami Herald, Nike Golf may do the unthinkable – produce non-conforming golf clubs. "…Nike also is eyeing new markets beyond today's boundaries. Although it intends to always make USGA-conforming clubs for professionals and competitive golfers, the company plans to introduce golf clubs -- possibly in as soon as two years -- that don't conform to USGA rules. Researchers in (designer Tom) Stites' lab are already working on nonstandard technologies and innovations designed to help recreational golfers find their inner Tiger Woods - or at least get the ball off the tee. The strategy reflects an ambitious goal - and a big gamble - for Nike. A relative newcomer to golf, Nike is trying to build its credibility with the sport's establishment while laying claim to the ranks of players who view golf more as a social pastime than a tradition-steeped sport. At the same time, Nike must avoid offending traditionalists who worry that changes to the equipment of golf constitute changes to the game. 'We're bringing a little bit of a different attitude to golf, even though we're respecting the game,' said Mike Kelly, business director for Nike Golf. 'We're not a traditional company, and we're going to try to stretch boundaries as much as possible for our consumers and our players.'" True Nikespeak.

Banc of America Securities issued a buy rating on Nike. The target price is set to $90. It said Nike is well positioned to benefit from the improved athletic footwear market trends in the near term. Banc of America Securities expresses its optimism regarding the continued sales growth momentum in the company's sneaker segment over the next few quarters. The analysts anticipate additional sales growth opportunities ahead for Nike's products during the forthcoming Olympic Games this year. Banc of America Securities issued a buy rating on the Sports Authority. The target price is set to $48. It felt TSA's store-remodeling program is likely to lead to accelerated sales growth of America Securities momentum across the company's stores in the second half. It anticipated TSA's new in-store shop program with Nike and the improved winter merchandise assortments will boost TSA's sales curve. Finally, the analysts issued a buy rating on Foot Locker. The target price is set to $32. They said Foot Locker is well positioned to benefit from the improved sneakers and licensed apparel market environment in 2004. Banc of America anticipates additional revenue growth opportunities ahead for the company through its recently announced joint marketing program with Nike.

Remington Arms' FY 2003 revenues fell 6.4% to $360.7 million. It lost $3.2 million vs a $20 million profit in 2002. Its firearms business was off 6.5%.






Breaking Headlines
Short news...4/5/04
APRIL 05, 2004


Short news...4/2/04
APRIL 02, 2004


Short news...4/1/04
APRIL 01, 2004


Selig Questioned On Possibility of Ads On Uniforms
APRIL 01, 2004


Collegiate Pacific Completes Kesslers Acquisition
APRIL 01, 2004


Reebok Will Give Away $1 Million Of Free Shoes To Spur Heart Association Donations
APRIL 01, 2004


Short news...3/31/04
MARCH 31, 2004


Short news...3/30/04
MARCH 30, 2004


Lifetime Products To Pay $800,000 Civil Penalty
MARCH 30, 2004


Short news...3/29/04
MARCH 29, 2004