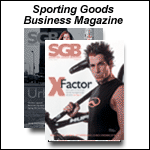 Short news...4/1/04

APRIL 01, 2004 -- Real Madrid and adidas extended their commercial partnership for four more years until June 2012. The new agreement is currently the longest lasting of any sports team sponsorship held by adidas and one of the most significant commercial partnerships between a sports organization and a sponsor. Financial terms were not disclosed…16 Chinese nationals were arrested in South Africa for counterfeiting adidas and Nike apparel. Counterfeit goods and machinery to manufacture sweats, caps and other apparel worth an estimated four to five million rand ($800,000) were seized.

Puma and Christy Turlington Burns launched mahanuala, a new line of technically focused yoga apparel, footwear and accessories. Amazon Services, Inc., an Amazon.com company, will be the exclusive online sales channel of mahanuala. A dedicated boutique within the Amazon Apparel & Accessories store, www.amazon.com/mahanuala, now offers consumers benefits like yoga tips and insight from mahanuala creative director Burns. Puma will be offering free shipping on all mahanuala orders on the Amazon Apparel store in the first month of the site's launch. Puma will also be donating 2% of the proceeds from the first month of sales on Amazon to benefit Tibet House US. Tibet House is "dedicated to the proposition that the wisdom and arts of all human civilizations vitally enrich the emerging global culture."

Standard & Poors analyst Mark Basham gave Big 5 a four-star rating (accumulate). S&P thinks the fast-rising population in the company's markets, firmer pricing after several years of an industry-wide deflationary trend and rising discretionary consumer income will lead to high single-digit revenue gains. S&P estimates Big 5 will earn $1.46 in 2004 after four cents in one-time expense. S&P's target price is $29, based on a discounted cash-flow model.

Merrill trimmed its ratings on many of the nation's largest retailers, but maintained a buy rating on Dick's.

Effective January 1, Outdoor Research will be the exclusive Exped distributor for North America. This will make available Exped's tents, sleeping bags and mats (along with OR's existing line of men's and women's apparel, handtools, headware, gaiters and accessories) to anyone from a casual hiker of the Appalachian Trail to a technical climber in the Himalayas.

Wilson Sporting Goods added Kerri Walsh to its Advisory Staff. Walsh will closely work with Wilson in developing products to advance its technologies in beach and indoor volleyballs. Walsh will also appear in marketing materials and at select events. Walsh will represent the US at the 2004 Summer Olympics in Athens.






Breaking Headlines
Short news...4/5/04
APRIL 05, 2004


Short news...4/2/04
APRIL 02, 2004


Short news...4/1/04
APRIL 01, 2004


Selig Questioned On Possibility of Ads On Uniforms
APRIL 01, 2004


Collegiate Pacific Completes Kesslers Acquisition
APRIL 01, 2004


Reebok Will Give Away $1 Million Of Free Shoes To Spur Heart Association Donations
APRIL 01, 2004


Short news...3/31/04
MARCH 31, 2004


Short news...3/30/04
MARCH 30, 2004


Lifetime Products To Pay $800,000 Civil Penalty
MARCH 30, 2004


Short news...3/29/04
MARCH 29, 2004