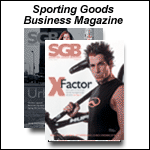 Short news...3/29/04

MARCH 29, 2004 -- Normally when someone leaves a company, the latter says he/she left to pursue other opportunities. The announcement from Footstar that Shawn different: "Footstar, Inc. today announced that Shawn Neville, President and CEO of Footstar's Athletic segment is no longer with the Company. Mr. Neville's responsibilities have been assumed by a team of executives including Mark Lardie, SVP-GMM, Jodi Johnson, VP, Human Resources, Dennis Lyons, VP, Sales & Operations and Mike Lynch, VP, Finance." No doubt the sudden decision to sell off Footaction might have had a role. Neville could hardly be blamed for not wanting to be a pallbearer at Footaction's funeral.

Lorin Pullman has been named to the newly created position of VP/Moretz Marketing, a new division of Moretz Sports. In her new role, Pullman, who will be based in the company's Los Angeles offices, will be responsible for initiating strategic brand building opportunities for the company. "We are thrilled to have someone of Lorin's caliber, with her wealth of experience and contacts, come on board with us at Moretz Marketing," said CEO John Moretz. "We are confident in and excited about the marketing and licensing opportunities Lorin will be forging from concept to execution." Most recently, Pullman headed Pullman Sports Marketing in LA, a full-service consulting and sponsorship development business with well-known corporate and individual clients.

Broken Arrow, OK, will assume the lease between Bass Pro and a private develop, and provide "certain unspecified, but anticipated financial inducements" to the retailer, the city told AP. The developer agreed to donate the 19.2-acre tract of land to the city, and Broken Arrow will become the landlord to Bass Pro's Outdoor World store...In Kansas, there is some trouble ahead for Bass Pro. According to the Wichita Eagle, "Two Wichita legislators are scrambling to win state approval for the use of bonds to lure Bass Pro Shops to the WaterWalk development. But a third Wichita legislator is working against them. 'I don't think we need to be in the business of using the bonding money for retail,' said state Rep. Judith Loganbill, D-Wichita, who last week successfully blocked a sales tax and revenue bond bill from 'I don't believe that's government's job.' Such a bill 'opens it up all over the state for that kind of mischief to occur,' she said. The bill would allow the city of Wichita to use STAR bonds to build a building to lease to a large destination retailer at the WaterWalk, a $130 million, 25-acre project on the east bank of the Arkansas River in downtown Wichita."

A 92-year-old Sikh marathoner from the UK signed a deal with adidas to appear in an "Impossible is Nothing" ad. He has set records in the UK, but only took up running 11 years ago. Last year, he ran almost an hour faster than he did in his marathoning debut, finishing the Toronto marathon in five hours and 40 minutes, the fastest time ever fort someone of his age. Singh's ultimate goal is to enter the Guinness Book of Records as the oldest man ever to run the distance, which means competing until he is at least 98.

Everlast's Q4 net sales were $16.7 million as compared to reported net sales of $18.2 million in 2002. Q4 2003 would have been 3% higher than reported 2002 net sales after reflecting a change in revenue sources for 2003, as certain customers became licensees in 2003. Net licensing revenues advanced 40.6% to $1.8 million vs. $1.3 million in the 2002 period. Pro-forma earnings, excluding the affects of a restructuring and non-recurring costs that are not expected to impact earnings in 2004, were $100,000, or 4¢ per basic share as compared to reported 0¢ per basic share in 2002. Net loss available to common stockholders' under GAAP, which includes $2.4 million of restructuring and non-recurring costs, was $1.2 million, or 38¢ per basic share.

Banc of America Securities issued a buy rating on Foot Locker. The target price is $32. The analysts mentioned that Foot Locker is well positioned to benefit from the improved sneakers and licensed apparel market environment in 2004. Banc of America Securities anticipated additional revenue growth opportunities ahead for the company through its recently announced joint marketing program with Nike this year.






Breaking Headlines
Short news...4/5/04
APRIL 05, 2004


Short news...4/2/04
APRIL 02, 2004


Short news...4/1/04
APRIL 01, 2004


Selig Questioned On Possibility of Ads On Uniforms
APRIL 01, 2004


Collegiate Pacific Completes Kesslers Acquisition
APRIL 01, 2004


Reebok Will Give Away $1 Million Of Free Shoes To Spur Heart Association Donations
APRIL 01, 2004


Short news...3/31/04
MARCH 31, 2004


Short news...3/30/04
MARCH 30, 2004


Lifetime Products To Pay $800,000 Civil Penalty
MARCH 30, 2004


Short news...3/29/04
MARCH 29, 2004