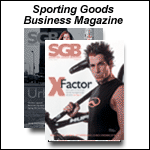 Short news...2/26/04

FEBRUARY 26, 2004 -- Don-Allen Ruttenberg, a former EVP of Just For Feet and the son of founder Harold Ruttenberg, was accused of conspiracy to commit fraud, wire fraud and submitting false statements of auditors. He has agreed to plead guilty. Prosecutors said Ruttenberg was involved in the scandals that have been uncovered regarding false audit certifications by the chain. The Atlanta District Office of the SEC has also filed a civil fraud complaint vs Ruttenberg. The Birmingham investigation is not over, nor are the civil suits vs JFF and its officers.

Deckers Outdoor intends to file a registration statement for an underwritten offering of approximately 3.5 million shares of its common stock. The shares of common stock expected to be sold in the offering will include approximately 1.5 million primary shares to be offered by the company and approximately 2.0 million shares to be sold by selling stockholders, including CEO Doug Otto and other employees, members of management and members of the board. In addition, the selling stockholders intend to grant the underwriters an option to purchase additional shares of common stock to cover over-allotments, if any, of up to 15% of the total amount of shares offered. Any shares issued under the option are currently expected to be sold by the selling stockholders, rather than the company. Deckers currently expects to file the registration statement during Q1 2004. Deckers intends to use a portion of the net proceeds to the company to repay outstanding debt, including up to $7 million of the 16.75% subordinated notes, $13 million of the 9% junior subordinated notes and $7 million of senior term debt. Any remaining net proceeds will be used for general corporate purposes.

James Minder has resigned as COB of Smith & Wesson Holdings. He held the position since mid-January following a board shake-up. The voluntary decision followed a report in the Arizona Republic of Minder's having spent 10 years in prison for armed robberies and an attempted prison break decades ago. "I felt it was the best thing for the company, given the circumstances," Minder, 74, told The Republic, a Springfield, MA newspaper. Following his release from prison, Minder founded Spectrum Human Services, a nonprofit agency serving delinquent and disabled Michigan youths, and ran it for 20 years before retiring to Arizona in 1997.

Polar opened an authorized West Coast service center in Los Angeles. Effective March 1, Polar owners located in the West can have their heart rate monitors serviced locally at Time-Tec Watch Service. This new center joins the existing ones in the Midwest and on the East Coast. It will greatly reduce the turnaround time for users in the West by cutting down on the shipping cycle. Time-Tec Watch Service is located at 635 S. Hill Street, Suite 209, Los Angeles, CA 90014 (213/488-9222).






Breaking Headlines
Short news...2/26/04
FEBRUARY 26, 2004


Moody's Upgrades Ratings On Foot Locker
FEBRUARY 26, 2004


Rocky Q4 Net Income Increased 34%; FY Income Doubled
FEBRUARY 26, 2004


Short news...2/25/04
FEBRUARY 25, 2004


Short news...2/24/04
FEBRUARY 24, 2004


Short news...2/23/04
FEBRUARY 23, 2004


SGB, Fleet Feet Launching Post-NY Marathon Specialty Running-Store Conference
FEBRUARY 23, 2004


Joyce Is Out and Fields Is In At adidas America
FEBRUARY 23, 2004


Short news...2/20/04
FEBRUARY 20, 2004


Johnson Family Offering $18 A Share For Johnson Outdoors
FEBRUARY 20, 2004