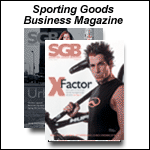 Moody's Upgrades Ratings On Foot Locker

FEBRUARY 26, 2004 -- Moody's Investors Service upgraded the ratings of Foot Locker and assigned a stable outlook, concluding the review for possible upgrade begun on November 10, 2003. The upgrade is based on the company's considerable progress in improving profit margins, free cash flow and credit metrics despite shifts in consumer preferences and a challenging retail environment.

The stable rating outlook reflects Moody's expectation that the company's relatively high adjusted leverage will continue to improve, that Foot Locker will maintain its US market share and expand its position in Europe, and that financial policy will remain prudent, preserving the company's high level of liquidity.

Foot Locker's new ratings are supported by the company's leading athletic footwear market shares in its most important trade areas, its opportunities for further growth in its international and direct businesses, its progress in building profit margins, its solid operating cash flow and conservative capital structure. Despite sluggish traffic in shopping malls and consumer preferences favoring more moderately priced athletic footwear, Foot Locker has maintained its position as the country's leading athletic footwear retailer with a domestic market share of about 17%m Moody's said.

The company's robust and profitable European franchise, along with Foot Locker's Internet sales channel, represents opportunities for future revenue growth, the agency said. The successful re-focusing of its assortments in line with shifting consumer preferences - from high-priced marquee products to more moderate athletic footwear offerings - has continued to boost profitability by reducing promotions and markdowns and has begun to lift comparable store sales. Fiscal 2003's fourth quarter comparable-store sales rose 3.9%, well above the third quarter's 0.4%. Consolidated profit margins have increased consistently since fiscal 2000, with EBIT margin rising from about 4.2% in fiscal 2000 to approximately 6.6% for the twelve months ending on November 1, 2003.

With solid operating cash flows resulting from higher profitability, Foot Locker has generally been self-funding for the last four years, with a highly liquid capital structure, despite aggressive capital expenditures and a recent $50 million voluntary contribution to the company's underfunded pension plan.

Cash balances at the end of the recent Q3 ($305 million) nearly fully covered funded debt of $322 million. Leverage on an adjusted basis, however, is high given the company's large number of leased stores. Capital expenditures to open new stores and to relocate and remodel a large number of stores each year will continue, as the company has opened only 382 of a planned 1000 new stores to date.

The stable rating outlook reflects Moody's expectations that Foot Locker will maintain its market positions, that it will make more progress toward its goal of 8.5% EBIT margin, that it will remain self-funding with high cash balances, that returns to shareholders will not rise materially in the intermediate term and that profitability, cash flow and credit metrics will be enhanced as new and remodeled stores mature.

Moody's also anticipates that disappointing results at Lady Foot Locker will improve. Ratings could be upgraded if Foot Locker materially reduces adjusted leverage and strengthens fixed charge coverage measures, gains additional market share in Europe faster than anticipated, stabilizes Lady Foot Locker's productivity and profitability, boosts profit margins significantly, and achieves and sustains positive comparable store sales increases. Conversely, ratings could be lowered if the company does not continue to make progress in reaching its profit margin goal, experiences margin deterioration, fails to obtain an adequate return from its new and remodeled stores, and/or becomes aggressive in terms of financial policy and shareholder enhancement.

Ratings upgraded: Senior Implied to Ba1 from Ba2. Senior Unsecured to Ba2 from Ba3. Issuer rating to Ba2 from Ba3. Convertible subordinated notes to Ba3 from B1.






Breaking Headlines
Short news...2/26/04
FEBRUARY 26, 2004


Moody's Upgrades Ratings On Foot Locker
FEBRUARY 26, 2004


Rocky Q4 Net Income Increased 34%; FY Income Doubled
FEBRUARY 26, 2004


Short news...2/25/04
FEBRUARY 25, 2004


Short news...2/24/04
FEBRUARY 24, 2004


Short news...2/23/04
FEBRUARY 23, 2004


SGB, Fleet Feet Launching Post-NY Marathon Specialty Running-Store Conference
FEBRUARY 23, 2004


Joyce Is Out and Fields Is In At adidas America
FEBRUARY 23, 2004


Short news...2/20/04
FEBRUARY 20, 2004


Johnson Family Offering $18 A Share For Johnson Outdoors
FEBRUARY 20, 2004