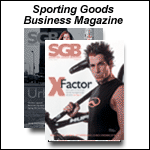 Short news...2/20/04

FEBRUARY 20, 2004 -- Response to the NSGA Management Conference has been off the chart. With room for only 400 guests, NSGA has already received registrations for about 300. NSGA has already been working to get additional rooms since the Marriott Beach & Golf Resort, Hilton Head, is already sold out for Saturday arrivals. There are still rooms for Sunday arrivals. The nearby Hilton is being used. The conference runs May 16-19. For more info, go to http://www.nsga.org/public/pages/index.cfm?pageid=44

TJX named Hill, Holliday, Connors, Cosmopulos as the agency for broadcast planning and buying for the Bob's Stores account.

The United States Naval Academy, training ground to America's elite Naval officers, has named the Timberland boat shoe the "Official Boat Shoe" of its Offshore Sailing program for 2004. In the Offshore Sailing program, crews of 8-12 midshipmen navigate large, ocean-going keel boats in open ocean races in and across the Atlantic Ocean. This marks the first time the Naval Academy has ever aligned with a specific brand of shoe. Timberland will outfit the entire 60-member Offshore Sailing team in Timberland boat shoes and apparel. Team members will receive the performance-oriented Breakaway boat shoes for their active sailing pursuits, and the more traditional handsewn Annapolis boat shoes for casual weekend sails and/or shoreside duties.

BB&T Capital Markets upgraded Skechers to buy from hold. Wedbush Morgan downgraded it to a hold from buy.

SGMA has established its top legislative priorities for 2004: Securing additional funding for the Physical Education for Progress program, obtaining dedicated assistance to promote P.E.4LIFE Institutes around the country and driving funding into the parks, recreation, and fitness infrastructure in the form of new fields and refurbished facilities.

New Era Cap will showcase its 2004 headwear at MAGIC for the first time in the company's 84-year history. This year marks the fiftieth anniversary of the New Era 59FIFTY and the launch of its [email protected] campaign. [email protected] will be driven by a definitive, multi-leveled product development story. The three elements of the campaign are: "Capture the Flag," custom 59FIFTYs by guest designers, launched monthly and sold in limited edition quantities at a small number of boutiques around the world; "Gold Star," custom 59FIFTYs developed in limited run, unique fabrics and treatments; and "National," specially designed, custom 59FIFTYs that will be exclusive to the campaign's featured national retailer, Hat World/Lids.

Collective Licensing International, LLC, owner of the Airwalk brand, entered into a licensing agreement with UFU Inc. to license the Airwalk brand. UFU Inc. will distribute and market Airwalk-branded snowboarding gear, including Airwalk branded boots, snowboards, bindings, and snow outerwear in Japan. UFU expects to see product on shelves as early as Fall 2004. CLU is working on an Airwalk footwear licensee in Japan.

Raleigh America appointed Steve Meineke as president/COO to drive the company's rejuvenated brands, products, services and marketing direction. Meineke is an avid cyclist and skier with more than 25 years of executive experience in the sporting goods industry. Most recently he served as president of Equus Marketing & Design, Costa Mesa, CA, a marketing and design firm with deep roots in building leading brands in the sports equipment, optical, apparel and accessory industries. Previously he served as CEO of Mission Hockey, president of Specialized USA, president of Nordica Sportsystem North America, VP/sales and marketing for Vuarnet-France and as the North American marketing manager for Salomon North America.






Breaking Headlines
Short news...2/26/04
FEBRUARY 26, 2004


Moody's Upgrades Ratings On Foot Locker
FEBRUARY 26, 2004


Rocky Q4 Net Income Increased 34%; FY Income Doubled
FEBRUARY 26, 2004


Short news...2/25/04
FEBRUARY 25, 2004


Short news...2/24/04
FEBRUARY 24, 2004


Short news...2/23/04
FEBRUARY 23, 2004


SGB, Fleet Feet Launching Post-NY Marathon Specialty Running-Store Conference
FEBRUARY 23, 2004


Joyce Is Out and Fields Is In At adidas America
FEBRUARY 23, 2004


Short news...2/20/04
FEBRUARY 20, 2004


Johnson Family Offering $18 A Share For Johnson Outdoors
FEBRUARY 20, 2004