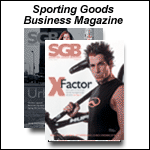 SGB, Fleet Feet Launcing Post-NY Marathon Running Specialty Store Conference

FEBRUARY 23, 2004 -- This November, SGB, in conjunction with Fleet Feet, will launch "The Elite," a conference devoted to the specialty running market. While organized with the help of Fleet Feet, the conference will seek to attract representatives of other running specialty stores. The conference will consist of educational seminars, guest speakers, athlete appearances and product presentations focused on the top 50 running specialty stores in the country.

"It is our hope to educate, entertain and inspire the top running stores in the country with this event devoted specially to them," said Mark Sullivan, SGB group publisher. "And we certainly have the right companies helping us." Fleet Feet, which has more than 50 running specialty stores across the US, will take the lead role in developing conference content.

"This is a great opportunity for running stores and the vendors who serve them to get together and learn from one another on how they can grow their businesses profitably," said Tom Raynor, president of Fleet Feet, which expects 25 of its top stores to attend the event.

The Elite will be held November 7-10, 2004 at the Marriott Financial Center Hotel in downtown Manhattan, with an opening night reception that begins after the conclusion of the New York Marathon earlier that day. "New York is the running capital of the world on that day and therefore a fitting location to kick off this event," said Sullivan.

Sporting Goods Business is owned by VNU Business Media, which publishes more than 60 magazines serving the business-to-business marketplace. In addition to publishing the leading magazine for the specialty sport retail market, SGB produces the Industry Forum, The Licensed Council Forum and two team sports trade shows.

Fleet Feet, Inc., the country's leading franchisor of running specialty stores, currently has 56 locations nationwide. It has plans to open 10 more stores by the end of 2004. Fleet Feet stores carry running and walking shoes, apparel and accessories, and are known for their customer service, product knowledge and community involvement. The company is headquartered in Carrboro, NC and operates regional offices in Sacramento, CA and Boulder, CO.

Anyone seeking more information on the conference should contact Sullivan at [email protected] or call 646-654-4981.





Breaking Headlines
Short news...2/23/04
FEBRUARY 23, 2004


SGB, Fleet Feet Launching Post-NY Marathon Specialty Running-Store Conference
FEBRUARY 23, 2004


Joyce Is Out and Fields Is In At adidas America
FEBRUARY 23, 2004


Short news...2/20/04
FEBRUARY 20, 2004


Johnson Family Offering $18 A Share For Johnson Outdoors
FEBRUARY 20, 2004


Short news...2/19/04
FEBRUARY 19, 2004


Skechers' FY Profit Turns To Loss In '03
FEBRUARY 19, 2004


GSI Revenues Up 26% In Q4; Sporting Goods Sales Rose 54%; Posts Profit
FEBRUARY 18, 2004


Short news...2/18/04
FEBRUARY 18, 2004


Reebok Picks Up MLB Footwear License
FEBRUARY 18, 2004