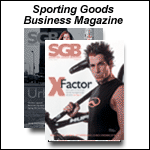 Joyce Is Out and Fields Is In At adidas America

FEBRUARY 23, 2004 -- Tim Joyce is out, and Joe Fields will join adidas America as SVP/sales and retail, reporting to Erich Stamminger, adidas-Salomon executive board member responsible for global marketing, and president and CEO of adidas America. Stamminger was recently transferred from Germany to Portland where he waill handle global marketing and the adidas America operations. Joyce, who held the SVP slot, has decided to leave the company to pursue other interests.

Fields comes to adidas with more than 11 years of industry-related experience, most recently with the Pentland Group where he served as president of Speedo International. At Pentland, he also served as president of Pentland USA, with responsibility at the time for such brands as Mitre, Pony, and Ellesse.

Separately, John Kawaja has agreed to transition out of his role as head of marketing in North America into a new senior management position within the adidas-Salomon Group, eliminating the redundancy in marketing resulting from Stamminger's appointment last year. He will continue to report to Stamminger and, presently, is leading several special projects within the Group before transitioning to his new role.

The moves signal that Stamminger is putting his imprint on the US operation which has been ailing recently.





Breaking Headlines
Short news...2/23/04
FEBRUARY 23, 2004


SGB, Fleet Feet Launching Post-NY Marathon Specialty Running-Store Conference
FEBRUARY 23, 2004


Joyce Is Out and Fields Is In At adidas America
FEBRUARY 23, 2004


Short news...2/20/04
FEBRUARY 20, 2004


Johnson Family Offering $18 A Share For Johnson Outdoors
FEBRUARY 20, 2004


Short news...2/19/04
FEBRUARY 19, 2004


Skechers' FY Profit Turns To Loss In '03
FEBRUARY 19, 2004


GSI Revenues Up 26% In Q4; Sporting Goods Sales Rose 54%; Posts Profit
FEBRUARY 18, 2004


Short news...2/18/04
FEBRUARY 18, 2004


Reebok Picks Up MLB Footwear License
FEBRUARY 18, 2004