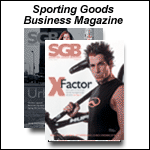 Short news...7/30/04

JULY 30, 2004 -- Everlast Expands Distribution In Russia

Everlast Worldwide signed another licensing agreement with Sparta Ltd., a sporting goods and apparel manufacturer and distributor based in St. Petersburg, Russia. Sparta will expand its Everlast product offerings to include men's, women's, and children's apparel, in addition to its current line of retail boxing equipment. The Everlast line of apparel produced by Sparta will be distributed throughout Russia and sold through the same sporting goods outlets and better department stores that sell the Everlast boxing equipment.

4,600 Bike Helmets Recalled; Two SKUS Sold Only At Dick's

The CPSC announces in voluntary cooperation with Mackarl Enterprises and KHS Bicycles the recall of some 4,600 bicycle helmets sold exclusively at two retailers, including Dick's. The DBX Engage (VT-3), DBX Ravage (FX-2), and Geartec ESPY bicycle helmets may not meet CPSC safety regulations for helmets, which poses a risk of a rider sustaining a serious head injury if he/she falls from a bicycle. The firms have not received any reports of incidents. This recall is being conducted to prevent the possibility of injuries. Dick's Sporting Goods stores nationwide sold the DBX Engage (VT-3) and Ravage (FX-2) model helmets from June 2003 through June 2004 for between $40 and $60. KHS Bicycles sold the Geartec ESPY model helmets between May 2003 and June 2003 for about $40.

Kurt Salmon Execs Speak At China Apparel Conference

China experts Merrill Weingrod and Mohan Komanduri of Kurt Salmon Associations will deliver the keynote address, "The State of China's Apparel Industry," at Apparel's China Symposium & Sourcing Fair, September 13-16 in Shanghai. The presentation will include highlights from KSA's China Consumer Outlook. Kurt Salmon Associates is a leading consulting firm to retailers and consumer products companies around the globe. Komanduri manages KSA's consumer products and retail practice in East Asia, including Greater China. He established the KSA Sourcing Roundtable for major retailers' Asian-based sourcing organizations, and continues to lead that group. Prior to working in Asia, Komanduri gained extensive experience in KSA's logistics and supply chain practice as he helped leading global retailers and manufacturers strategize their sourcing and supply chains.

Foot Locker will be added to the S&P MidCap 400 after the close of trading today. Foot Locker will replace Oxford Health Plans.

Academy Sports & Outdoors has selected Macon as the site of its first Georgia door. The Texas-based chain has 76 stores in the Southeast and plans to tear down an old Service Merchandise building in Macon and build a new building. The Service Merchandise has been vacant since 2002. The 64,000-square-foot building is scheduled to be complete by Q305 and will employ about 75 people.

Schrade Cutlery closed its doors after 100 years.






Breaking Headlines
News...8/11/04
AUGUST 11, 2004


News...8/10/04
AUGUST 10, 2004


News...8/9/04
AUGUST 10, 2004


News...8/6/04
AUGUST 06, 2004


News...8/5/04
AUGUST 05, 2004


News...8/4/04
AUGUST 04, 2004


Warnaco Group Buying Ocean Pacific
AUGUST 04, 2004


News...8/3/04
AUGUST 03, 2004


Shorts...08/02/04
AUGUST 02, 2004


NSGA Study: Department Stores, led by Sears, Hike Share in Fitness Equipment
AUGUST 02, 2004