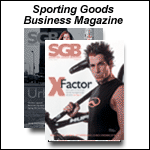 Shorts...08/02/04

AUGUST 02, 2004 -- Nike's Futures Higher Than Reported

Shoe giant Nike Inc. said that some fourth-quarter orders were higher than the company originally posted in its earnings report. In a filing with the Securities and Exchange Commission, Nike said orders for footwear and apparel scheduled for delivery between June and November grew 11.3 percent compared to the same period last year. In its quarterly report for the March-May period announced on June 24, Nike had reported a lower increase of 10.7 percent. Nike said increased orders in the United States and the Asia Pacific region led to the revision. "These changes reflect orders taken in the normal course of business subsequent to Nike's earnings announcement," Nike said in a statement.

Nike's Three Eldest Board Members Quit

The three oldest members of Nike Inc.'s board of directors have stepped down, citing increased scrutiny of the age of company directors. The three - John Jaqua, 84; Richard Donohue, 77; and Chuck Robinson, 85 - will step down at Nike's annual shareholders meeting Sept. 20 at the Oregon Convention Center, according to Nike's 10K filed with the Securities & Exchange Commission. Prior to their announcement this week, articles appearing nationally have pointed out that the average age of the Nike board was 66 and average tenure is 16 years. In 2002, Nike appointed Alan B. Graf Jr., a 49-year-old FedEx executive to its board to add youth to its slate of directors. The new appointments at the upcoming board meeting will give Nike a chance to reconfigure the board and answer critics worried about age. Jaqua has been on the board since Nike's founding in 1968, Donohue has been serving since 1977, and Robinson has been on the board since 1978.

Tommy Bahama Debuts Women's Golf Shoes

Tommy Bahama will officially launch a women's golf collection at the WSA in Las Vegas. The collection, which will be available for retailers in December, will also be shown at the PGA Show in Orlando, Florida in January. "Our customers have been asking for a ladies golf shoe presentation for some time, so we've carefully developed a collection that is sure to make an impact and compliment our existing offering as well as the Tommy Bahama brand in general," said Michael Reina, president of Paradise Footwear, the licensee for Tommy Bahama footwear, belts and socks.

O'Neill To Serve As Title Sponsor Of Vans' Surfing Championship

O'Neill Inc. has signed on as title sponsor of the O'Neill World Cup of Surfing, the second stop of the Vans Triple Crown of Surfing, at Oahu's Sunset Beach for the next three years. The O'Neill World Cup of Surfing holding period is scheduled for November 26 - December 7, 2004 and is the 30th edition of the World Cup of Surfing at Oahu's famous North Shore. "We're very excited to return to Hawaii and give back to the Hawaiian surfing community by sponsoring the O'Neill World Cup of Surfing at one of the world's greatest surf breaks," said Pat O'Neill, O'Neill President and Chief Executive Officer. Said Chris Strain, Vans Vice President, Global Marketing. "To team up with a great surf company like O'Neill on the O'Neill World Cup of Surfing at Sunset is awesome. We're very pleased that we can combine forces to enhance competitive pro surfing on the North Shore with a bigger and better Vans Triple Crown of Surfing."



Shorts: First Albany reiterated its "Buy" rating on Dick's Sporting Goods following the completion of its acquisition of Galyan's Trading Co...First Albany reitereed its "Neutral" rating on The Sports Authority after hosting a tour of two stores in northern New Jersey (one legacy TSA store and one remodeled store). "While we believe the company's remodeling and remerchandising initiatives will begin to gain traction in late 3Q and into 4Q, we would not expect the shares to trade materially higher until the company proves it can deliver on the top line," wrote the First Albany analyst, Michael McTighe, in a research note.






Breaking Headlines
News...8/11/04
AUGUST 11, 2004


News...8/10/04
AUGUST 10, 2004


News...8/9/04
AUGUST 10, 2004


News...8/6/04
AUGUST 06, 2004


News...8/5/04
AUGUST 05, 2004


News...8/4/04
AUGUST 04, 2004


Warnaco Group Buying Ocean Pacific
AUGUST 04, 2004


News...8/3/04
AUGUST 03, 2004


Shorts...08/02/04
AUGUST 02, 2004


NSGA Study: Department Stores, led by Sears, Hike Share in Fitness Equipment
AUGUST 02, 2004