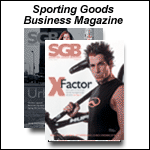 Shorts news...07/08/04

JULY 08, 2004 -- Brown Shoe, Owner of Famous Footwear, Issues Profit Warning

Brown Shoe Co. Inc., the owner of Famous Footwear, posted a 3.2 percent decline in June same-store sales and cut its quarterly profit outlook, sending its shares down 16 percent. Same-store sales, a key gauge in retail performance, fell 6.5 percent at the company's Naturalizer chain, while Famous Footwear sales decreased 3.2 percent in June. Said Brown Shoe Chairman and CEO Ron Fromm, "Our retail sales in June were below plan, as customer traffic was soft for both our Famous Footwear and Naturalizer retail concepts. At Famous Footwear, our sales of athletic footwear continued strong, spurred by the introduction of exclusive product; this was not enough, however, to offset weakness in our seasonal sandal and women's casual footwear categories. Our sales shortfall at Naturalizer was also due to lower sales of casual and sandalized footwear in the U.S. and throughout Canada."

The St. Louis-based retailer lowered its second-quarter earnings forecast to a range of 45 cents to 50 cents a share, including transition costs related to its Bass license of 5 cents a share. Brown Shoe acquired the Bass footwear license in February. Previously, it had forecast 60 cents to 65 cents a share. For the full year, Brown Shoe expects earnings per share of $2.90 to $3.10, including the Bass transition costs of 17 cents a share. In fiscal 2003, the company earned $2.52 a share. Shares of Brown were down about 17 percent late day trading on the New York Stock Exchange on Thursday, their biggest one-day percentage loss in almost 10 years.

Callaway Golf Hires Young & Rubicam

After a review process, Callaway Golf Company named Young & Rubicam Brands, Southern California (Y&R) as its agency of record. Y&R will partner with Callaway to help take the Callaway Golf brands in a fresh, new creative direction aimed at strengthening Callaway Golf's position as the brand leader in the golf equipment category. The agency will handle golf club and golf ball communication and will immediately begin developing creative campaigns that integrate across a broad array of communications platforms. Said Patrice Hutin, President and COO of Callaway Golf, "Y&R has an impressive track record of working with premium brands like Callaway Golf and strengthening those brands while simultaneously driving sales. We are looking forward to a great partnership with Y&R as we embark together on developing exciting new approaches to our advertising and corporate branding and communication strategies for Callaway Golf." David Murphy, President and CEO of Young & Rubicam Brands, Southern California, said Y&R, has "relevant experience working with other leading premium brands such as Land Rover and Sony, and we will draw on that experience to help Callaway Golf fortify its status as the leading brand in the golf equipment market."

Genesco Acquires Canadian Cap Connection Stores

Genesco Inc., which acquired Hat World earlier this year, has bought the assets and business of Edmonton, Alberta-based Cap Connection Ltd., consisting of 17 Cap Connection stores in Alberta, British Columbia and Ontario, Canada. The purchase price for the Cap Connection business was approximately $2 million Canadian, subject to adjustment for closing current assets and the performance of the business during the first year of its operation by Genesco. Genesco President and Chief Executive Officer Hal N. Pennington, said Cap Connection "provides us an excellent opportunity to expand our recently acquired Hat World and Lids business into the Canadian market and reflects Genesco's continuing strategic commitment to growth."

Pacific Sunwear's June Comps Rise 7%

Pacific Sunwear of California said same-store sales rose 7 percent, beating Thomson First Call analyst expectations for an increase of 5.9 percent. PacSun same-store sales rose 7.5 percent and d.e.m.o. same-store sales were up 1.5 percent. Total sales for the month rose 17.4 percent to $105.2 million.

Comps at Payless ShoeSource drop 1%

Same-store sales at Payless ShoeSource fell 1 percent in June while total sales dipped 0.7 percent to $289.2 million. The company said sales in June were disappointing, particularly following the strong performance during the previous three months. Sales of seasonal merchandise appear to have been affected by the rainy and cool weather across much of the country, and many competitors in the apparel and footwear market appeared to become more promotional in the latter part of the month. In addition, while much progress has been made this year, the company believes that it must continue to work to achieve more consistent execution of its Merchandise Authority strategy across more merchandise categories.

Shoe Pavilion Posts 1.6% Comp Increase in 2Q04

Shoe Pavilion, Inc. said comparable store sales increased 1.6% for the second quarter ended July 3. Net sales decreased 2.1% to $20.7 million from $21.2 million for the same period last year. During the quarter, the retailer closed two stores in which the leases had expired, bringing the total number of stores the Company operates to 83 in California, Washington and Oregon. It plans to open three stores in Arizona in August 2004.

PPI To Launch Blue Mystique Lures

PPI-Sports, an operating division of Passport International, Ltd., has obtained the exclusive right to license and distribute Blue Mystique, a line of lures and baits customized for the saltwater fishing market. PPI said Blue Mystique is the first truly viable replacement for frozen and live bait. Utilizing five different proprietary formulas engineered specifically for off-shore fishing, CyberflexOS yields soft touches, flexibility and unprecedented durability of up to 5X the strength of a normal plastisol product. PPI- Sports will debut the Blue Mystique line to over 5000 attendees on July 14th, 2004, in Las Vegas at the sportfishing expo, ICAST. Says Cindy Williams, President & CEO, "Reducing the barrier to entry for off-shore lures and baits will allow PPI-Sports to consolidate a fragmented market into a win-win for organizations of all sizes."

Amazon.com Gains Exclusive Online Rights to Flybar 1200 Pogo Stick

Amazon.com and SBI Enterprises said the Flybar 1200 pogo stick is available for pre-order online exclusively in Amazon's Sports & Outdoors store, at www.amazon.com/flybar. The Flybar 1200, described as a high-performance mobile exercise and stunt bar that enables riders to clear heights over five feet by bouncing on a rubber-like spring system, will be shipped to customers on September 15, 2004, its scheduled release date. In addition to being the exclusive online retailer of the Flybar 1200 through the end of 2004, Amazon.com is offering customers exclusive content to help them learn about the product. This includes a video message from eight-time World Cup Champion skateboarder and co-developer of the Flybar, Andy Macdonald, and photos that provide the first detailed look inside the Flybar's innovative patented spring system. The Flybar 1200 is being offered for $299.99.

Shorts: Bank of America Corp. signed a five-year agreement to become the official bank of Major League Baseball. The bank is paying about $40 million to $50 million overall, a person close to the matter told Reuters....Banc of America downgraded Hibbett Sporting Goods to "neutral" based on valuation.











Breaking Headlines
News...8/6/04
AUGUST 06, 2004


News...8/5/04
AUGUST 05, 2004


News...8/4/04
AUGUST 04, 2004


Warnaco Group Buying Ocean Pacific
AUGUST 04, 2004


News...8/3/04
AUGUST 03, 2004


Shorts...08/02/04
AUGUST 02, 2004


NSGA Study: Department Stores, led by Sears, Hike Share in Fitness Equipment
AUGUST 02, 2004


Short news...7/30/04
JULY 30, 2004


Short news...7/29/04
JULY 29, 2004


Short news...7/28/04
JULY 28, 2004