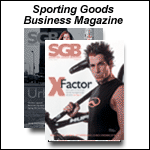 Short news...6/21/04

JUNE 21, 2004 -- adidas Acquires Iowa Apparel Maker

adidas-Salomon acquired Valley Apparel Co. an apparel manufacturer and distributor, to "better control the adidas brand in the all-important North American market." The Cedar Rapids company is a producer and distributor of collegiate and professional league clothing and accessories. The company will be renamed 'adidas Team' in 2005, and would continue to manage adidas-licensed products such as Major League Baseball and Major League Soccer. The company became a licensee of adidas in 1999, initially producing T-shirts, fleece, team replica and jerseys. The licensing agreement was then expanded to include headwear, accessories, children's wear and certain distribution rights for Adidas clothing to college bookstores.

Rawlings Offers Personalized Bats At Ball Parks

Universal Laser Systems and Rawlings Sporting Goods have partnered to offer baseball fans a unique opportunity to personalize bats with a laser-engraved name or signature. Fans at Rawlings "Making the Game" exhibits at ball parks and amusement parks nationwide can take home an adult, youth or mini bat that is personalized on the spot with a Universal laser system. "Making the Game" exhibits are located at Fenway Park in Boston, SBC Park in San Francisco, Dodger Stadium in Los Angeles, Angel Stadium of Anaheim, Coors Field in Denver, Jacobs Field in Cleveland, Turner Field in Atlanta, Busch Stadium in St. Louis, and Rawlings All American Bar & Grill at Ameriquest Field in Arlington, home of the Texas Rangers.

Finish Line Breaks 'The Great Dance Off' Spot Featuring Nike Monster Shox

The Finish Line is continuing its marketing partnership with Nike as their latest cooperative television commercial broke on national television. The commercial, titled "The Great Dance Off," takes place in a Midwest town where two guys compete in a videogame dance off. One boy is a seasoned pro and is the reigning champion. The other is an unexpected hero who uses his running talent, stamina and Monster Shox in an unlikely scenario, the dance off. His "opponent" is a fictionalized world champion who travels to the small town for the contest. Ultimately, the runner comes out as the new champion because he got his Monster Shox at Finish Line. The commercial will air on MTV, MTV 2, ESPN, BET, Comedy Central and Spike. Finish Line produced 'The Great Dance Off' in conjunction with Nike and advertising agency Wieden+Kennedy.

ispo Bringing Group Of Footwear Retailers To Munich

A group of US footwear buyers will travel to Munich to take advantage of cross-market shopping opportunities in a retailer tour hosted by ispo and Footwear Plus. The footwear retailers will see the full range of footwear at ispo and also be able to study its application in specific markets through the ispo community shows. The group includes Tarek Hassan and Sam Hassan of The Tannery (Boston), Phil Wright of Vernon Powell Shoes (Salisbury, MD), Robert Schwartz of Eneslow (New York, NY), Jim Sadjak of Stan's Fit For Your Feet (Milwaukee, WI), Danny Wasserman of Tip Top Shoes (New York, NY), Chuck Eggers of The Athlete's Foot (Atlanta), and Bill Pryor of Shoebuy.com.

Wilson Launching Women's Golf & Tennis Collection

Hope is the name of Wilson's new line of women's golf and tennis products. Wilson has been the official sports equipment partner of The Breast Cancer Research Foundation since 1998. It makes an annual donation to BCRF. A percentage of the sales of Hope products will go to the foundation. The Hope Women's Golf Set is a 16-piece package of 100% graphite shafts. It includes irons, woods, driver, putter, bag and head covers. It also comes with a free sleeve of balls with the BCRF logo. There is a Hope golf towel, leather golf glove, golf balls and visor. The Hope tennis racquet is a 110" model made of titanium. Hope tennis balls are also available. The Hope backpack has the Hope logo on the front. The Hope collection will be found in Target, which has set up a display of all Hope products in thousands of its stores. The golf balls will be found at Wal-Mart. The products will also be sold in sporting goods stores and pro shops.






Breaking Headlines
Short news...6/21/04
JUNE 21, 2004


Collegiate Pacific Buys Dixie
JUNE 21, 2004


Short news...6/18/04
JUNE 18, 2004


New shorts...6/17/04
JUNE 17, 2004


Short news...6/16/04
JUNE 16, 2004


Nike Calls For Daily P.E. Classes In US Schools
JUNE 16, 2004


K2 Acquires Volkl, Marker & Marmot Mountain
JUNE 16, 2004


Callaway Must Lower Guidance As Industry Discounting Reduces Sales
JUNE 16, 2004


Short news...6/15/04
JUNE 15, 2004


Lowrance Restates Profit on Change in Accounting of Options
JUNE 15, 2004