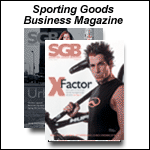 Short news...6/18/04

JUNE 18, 2004 -- Pony Signs Snoop Dog For Signature Shoe Line

Pony International is the latest shoe company to get together with a top rap artist. Pony formed its exclusive partnership with Snoop Dogg. The Snoop Dogg Collection by Pony, called "The One and Only," will be a creative fusion of Snoop's signature West Coast flavor and style with classic Pony design. The collection will be unveiled in November 2004 for delivery to limited and exclusive stores globally with the Fall/Winter 2005 collection. The marketing and advertising campaign to promote the collection is currently being developed in collaboration with Snoop Dogg, Pony and The Firm.

NSSF Increases Support Of Trailblazer Program

More than 30,000 young people and families participated last year in a special program designed to introduce Boy Scouts to hunting, fishing and other outdoor pursuits. Another 50,000 participants are projected for 2004. This broad success has drawn continuing and increasing support from the National Shooting Sports Foundation, which announced a $30,000 contribution to the Trailblazer Adventure Program, administered by the US. Sportsmen's Alliance Foundation. "Hats off to the US Sportsmen's Alliance. Their Trailblazer program is doing a great job of introducing a new generation of Scouts to the shooting sports, and encouraging participation among entire families. That's why we've increased our support to $30,000 this year," said Chris Dolnack, managing director of program development for NSSF.


The Leather Factory, Ft. Worth, has a licensing agreement with Little League Baseball. By that agreement, TLF has obtained LLB's authorization to use the official Little League emblem on its Ball Glove Repair & Care Kit and to advertise the kit as "licensed by or approved by Little League Baseball."






Breaking Headlines
Short news...6/18/04
JUNE 18, 2004


New shorts...6/17/04
JUNE 17, 2004


Short news...6/16/04
JUNE 16, 2004


Nike Calls For Daily P.E. Classes In US Schools
JUNE 16, 2004


K2 Acquires Volkl, Marker & Marmot Mountain
JUNE 16, 2004


Callaway Must Lower Guidance As Industry Discounting Reduces Sales
JUNE 16, 2004


Short news...6/15/04
JUNE 15, 2004


Lowrance Restates Profit on Change in Accounting of Options
JUNE 15, 2004


Russell Corp To Acquire American Athletic
JUNE 15, 2004


VF Corp Buys Kipling
JUNE 15, 2004