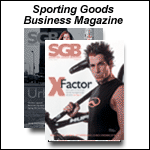 New shorts...6/17/04

JUNE 17, 2004 -- As if Huffy does not have enough problems. It must now recall some 12,000 Cranbrook bicycles that were sold at Wal-Mart. The handlebar could unexpectedly loosen causing the rider to lose control of bicycle. No injuries have been reported. The recall involves single-speed Cranbrook bicycles with 26-inch wheels. The bicycles, made in China, were sold in both men's (model 56462) and ladies' (model 56472) style frames. The name Cranbrook is printed on the frame of the bicycle. Serial numbers included in the recall range from SNHHE04C52556 to SNHHE04C64557. Serial numbers and model numbers are located on the bottom bracket of the frame, where the crank is attached to the bicycle. Wal-Mart sold the bike nationwide from April 2004 through May 2004 for about $80.

Apparel's China Symposium & Sourcing Fair Gains Momentum

Apparel's China Symposium & Sourcing Fair, set to debut Sept. 13-16, 2004 in Shanghai, China, is quickly gaining ground, according to its organizers, Apparel Magazine and VNU Expositions Asia. As of early June, just several weeks after its launch announcement, more than 100 Chinese apparel and textile firms had signed on to show in the event's Sourcing Fair, with several hundred exhibiting firms expected to participate.

"This very early success lays the groundwork for a comprehensive sourcing event," said Apparel's publisher, Susan Black. "We expect attendees both from this hemisphere as well as from Europe to have strong interest in the array of Asian resources to be showcased — especially considering the dynamic China environment."

To date, three major sponsors have signed on as well. These include China Direct Trading Corp, Lectra and Orient International Co. Ltd. Additionally, said Black, the China National Garment Association and the Textile/Clothing Technology Corp. have agreed to be supporting organizations.

"Day one will feature a series of sessions from leading experts designed to help attendees understand and maximize their sourcing and business potential in China," said Black. "Of particular interest to the sporting goods industry will be remarks from Rick Wang of RetailCo Inc., the owner of the Athlete's Foot franchise in China. From there we move into a series of private, pre-arranged matchmaking meetings, plus the two-day Sourcing Fair, which will feature hundreds of production sources. And we finish on day four with tours of area facilities. It's really all about making direct, personal connections with potential partners, whether your interest be sourcing of raw materials and apparel and/or licensing and retailing opportunities."

Registration for Apparel's China Symposium & Souring Fair is $1,500 and includes all Symposium sessions, followed by a networking reception and dinner; facilitation of private, pre-arranged meetings with potential partners; two days' admittance to the Sourcing Fair; a day of optional tours; and some meals. Additional attendees from the same company may register for $1,000. Admission to the Sourcing Fair only is $75. To register, visit apparelmag.com or email [email protected]

Bass Pro Plans Fifth Missouri Store

Bass Pro Shops agreed to open its fifth Missouri store on the southwest quadrant of I-70 and I-470/M291 Hwy in Independence. Visitors will see an approximate 160,000-square-foot Adirondack lodge-style Outdoor World retail store and a lodge-themed hotel. Surrounding the store and hotel will be a wilderness wetland area for wildlife. A 60-foot waterfall will cascade down a limestone bluff behind the store into an18-acre lake. Opening date is tentatively planned for Spring 2006.

Bass Pro Shops has partnered with the I-70/470 Group LLC to be the anchor for the 180-acre lifestyle development that will also feature nature trails and an outdoor nature park to be built by the city of Independence along with the 18-acre lake. An additional 500,000 square feet of retail will include restaurants and specialty stores. The entire project will directly front I-70 and one of Missouri's busiest intersections.


Church & Dwight Co., the maker of Arm & Hammer baking soda, named Jim Craigie CEO. He was the former CEO of Spalding Sports Worldwide.

Reebok has acquired approximately 92% of the outstanding shares of The Hockey Co. Holdings Inc. for Canadian $21.25 in cash per share under the tender offer Reebok made on April 22. Reebok has obtained all regulatory approvals needed in order to consummate the acquisition. Reebok's tender offer will remain open until 5:00 p.m. on June 18, and Reebok intends to complete the acquisition and pay for all tendered shares on June 22. Reebok also plans to exercise its rights to acquire all shares that are not tendered.

Ping Golf CEO John Solheim is recovering from a successful kidney transplant operation conducted last week.






Breaking Headlines
New shorts...6/17/04
JUNE 17, 2004


Short news...6/16/04
JUNE 16, 2004


Nike Calls For Daily P.E. Classes In US Schools
JUNE 16, 2004


K2 Acquires Volkl, Marker & Marmot Mountain
JUNE 16, 2004


Callaway Must Lower Guidance As Industry Discounting Reduces Sales
JUNE 16, 2004


Short news...6/15/04
JUNE 15, 2004


Lowrance Restates Profit on Change in Accounting of Options
JUNE 15, 2004


Russell Corp To Acquire American Athletic
JUNE 15, 2004


VF Corp Buys Kipling
JUNE 15, 2004


Short news...6/14/04
JUNE 14, 2004