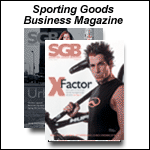 Puma Sets New Sales & Earnings Records

FEBRUARY 27, 2004 -- Puma's consolidated sales reach a new record high. During Q4 consolidated sales increased by 27.1% to EUR227.7 million. On a currency neutral basis, sales were up 35.4%. Excluding the first-time consolidation of Puma Japan, total organic growth of 20.4% (currency adjusted) was realized. Apparel recorded a growth rate of 17.6% reaching EUR68.8 million (currency adjusted 26.4%). Footwear sales grew by 27.5% to EUR140.4 million (currency adjusted 33.7%) and accessories increased 76.7% to EUR18.5 million (currency adjusted 82.6%). Excluding first-time consolidation, footwear was up 14.7% and accessories 29.8% (currency adjusted. 2003 marked the ninth consecutive year of growth in consolidated sales.

2003 sales grew by 40.0% jumping from EUR909.8 million to EUR1,274.0 million. Currency-adjusted sales growth was as high as 48.4%. The unadjusted organic growth before first-time consolidation was 30.7% and 39.0% after currency adjustment. Footwear contributed a 40.2% increase, which brought sales to EUR859.3 million. This corresponds to currency-adjusted growth of 47.8%. Footwear sales before first-time consolidation of Puma Japan were up by 29.4%, or 37.0% currency adjusted. Apparel sales were up by 41.3% (currency adjusted 49.6%) rising to EUR337.0 million. The Accessories segment was expanded by 33.3% and achieved sales of EUR77.7 million. Without the currency effects, sales rose by 38.0%. In total, the first-time consolidation of Japan contributed to the growth with a 30.7% increase from the strong accessories business in that country.

Puma's global branded sales, which include consolidated sales and license sales, were up significantly to EUR1,691.5 million thus marking a 22.6% increase. The currency-adjusted growth was 30.5%. Footwear sales rose by 20.9% to EUR981.7 million, Apparel sales by 26.2% to EUR580.4 million and Accessories sales by 20.3% to EUR129.5 million.

License sales outside the Puma Group declined from EUR470.2 million EUR417.5 million due to the takeover of the Footwear and Accessories business in Japan. Excluding the newly consolidated Japanese business license sales increased by 12,7%. Solid growth rates were thus achieved in nearly all markets and product segments. The company recognized EUR40.3 million in royalty and commission income compared to EUR44.9 million in the year before. This corresponds to 9.7% on licensed sales compared to 9.5% in the previous year.

In Q4 the gross profit margin reached 47.5% vs 44.3% last year. For the full year, the gross margin reached an all-time high of 48.7%, which corresponded to an increase of 510 bps. In addition to the successful positioning as a desirable sportlifestyle brand and the associated margin improvement, the weak US dollar positively impacted the company's margins (approximately 350 bps). The footwear margin climbed from 44.3% to 49.5%, apparel from 41.7% to 47.1% and accessories from 44.8% to 46.6% when compared to the previous year.

Regionally, the most pronounced increase was in Europe. The margin here jumped from 44.5% to 51.3%, in particular due to the strength of the Euro. The margin in America continued to improve despite the difficult market environment, moving from 44.4% to 44.6%. In the Asia-Pacific region the margin jumped from 37.5% to 44.4% mainly due to the first-time consolidation of Japan and also due to a significant improvement in the margins in Australia and New Zealand. In the Africa-Middle East region the margin was up from 22.2% to 27.4%.

Operating expenses, consisting of selling, general and administrative expenses increased by 7.1% to EUR76.8 million in Q4 and by 23.9% to EUR377.1 million from January to December. Overall, in 2003, operating expenses accounted for 29.6% of sales compared to 33.4% in the previous year. In the beginning of the investment phase in 1998 operating expenses were still above the 40%-mark.

Marketing and retail expenditures accounted for EUR163.9 million or 12.9% of sales compared to EUR125.1 million or 13.8% in the previous year. Product development and design costs rose by 23.4% moving from EUR24.2 million to EUR29.9 million. Expressed SG&A expenses increased by 18.3% to EUR183.3 million, dropping from 17.0% to 14.4% of sales.

Higher gross margins and lower operating expenses as a percentage of sales led to a sustained increase in profitability. EBIT margin improved from 10.1% to 14.1% in Q4. For the full year, EBIT jumped by 110.5% to a new record-high of EUR263.2 million, compared to EUR125.0 million in the previous year. The EBIT margin climbed significantly from 13.7% to 20.7%. All regions contributed to the improvement in operating profits. Gross return on sales was 20.7% in 2003 compared to 13.7% in 2002.

Net earnings were up by 95.7% to EUR24.5 million in Q4 and by 111.3% to EUR179.3 million for the full year. EPS increased from EUR0.78 to EUR1.51 in Q4, reaching EUR11.26 in the full year 2003 compared to EUR5.44 in 2002. Diluted EPS were EUR10.90 compared to EUR5.34.

The greatest asset growth was in the cash position. Overall, at EUR190.6 million, cash at year-end nearly doubled in comparison with the previous year's value of EUR113.6 million. At the same time financial liabilities ere scaled down from EUR19.3 million to EUR16.8 million.

Inventories were up 16.9% moving to EUR196.2 million. The inventory turnover was kept at the high level of the previous year. Receivables were up by 29.1% to EUR175.6 million. Trade receivables rose 26.9% and therefore increased proportionately to sales in Q4.

Sales in Europe were up by 34.3% to EUR852.3 million, and represented 66.9% of consolidated sales. The strongest growth was 53.1% in the apparel segment, followed by 31.6% in footwear; accessories growth was at the previous year's level. All markets in the region developed very positively with double-digit growth, due to Puma's unique positioning as a sportlifestyle brand. Increased key-account and retail activities also drove sales development forward.

The development in the Americas region was also very positive, especially in the US market, despite the generally difficult environment. Dollar sales rose by 42.4% to $255.4 million. All product segments contributed to the result with double-digit growth rates. Due to the weak dollar, sales in Euro currency rose by 18.8%. Sales in other countries in this region were also expanded significantly. Total sales in the Americas were up by 22.2% to EUR 255.0 million, or by 46.2% without currency effects.

Following the takeover of the Footwear and Accessories business in Japan from the previous licensee, sales in the Asia-Pacific region were up by 190.2% jumping from EUR47.4 million to EUR137.5 million. The resulting share in consolidated revenue thus rose from 5.2% to 10.8%. Excluding the effects from the first-time consolidation, sales increased by 11.5% to EUR52.1 million.

At the 2003 year-end, the order volume was up significantly by 36.0% or EUR191.0 million in comparison with the previous year. At EUR722.0 million it also reached an absolute record level. Thus, the future orders were at a new record high for the eighth consecutive year. Currency-adjusted orders increased by 42.2 %. Orders, excluding Japan, grew by 26.6% or 32.8% after currency adjustment. The order volume is comprised mainly of delivery orders for Q1 and Q2.

The Footwear segment contributed 28.8% to the orders increase (35.1% currency adjusted), reaching a total of EUR506.0 million. Apparel orders climbed to EUR182.2 million, or by 50.9% (56.8% currency adjusted). Orders from the Accessories segment jumped by 91.9% (98.0% currency adjusted) to EUR33.9 million.

The regional distribution of orders was as follows: Europe was up by 32.9% to EUR518.6 million. Nearly all countries contributed with double-digit growth. The regional orders for the Americas in US dollars were up by 26.4% with reaching $134.2 million. Translated into euros, this corresponds to an increase of 3.6% to EUR114.8 million. The orders for the USA included in this region rose by 18.7% to a total of $119.3 million. Asia-Pacific showed growth of 296.3% to EUR67.3 million, or of 15.2% to EUR17.7 million after adjusting for Japan. The Africa-Middle East region grew by 63.3% to EUR21.3 million.

For the first half of 2004, management expects to achieve sales growth of more than 10% for the sixth consecutive year. Due to the pre-existing currency hedging of dollar-based sourcing, gross margins should at least remain stable at the previous year's level. As a percentage of sales SG&A expenses are expected to be at or slightly below last year's level. Royalty and commission income should remain at or slightly above the previous year's level due to the continuing consolidation effect of Puma Japan in Q1. In summary, pretax profit should develop at least in line with sales.

Jochen Zeitz, CEO, noted: "We are optimistic that further positive development in sales and earnings can be achieved in 2004. Puma would then exceed its own expectations announced for Phase III of the long-term corporate planning. Puma is therefore well on the way to further expanding its global market share and its market position as a desirable sportlifestyle brand."







Breaking Headlines
Puma Sets New Sales & Earnings Records
FEBRUARY 27, 2004


Short news...2/27/04
FEBRUARY 27, 2004


Short news...2/26/04
FEBRUARY 26, 2004


Moody's Upgrades Ratings On Foot Locker
FEBRUARY 26, 2004


Rocky Q4 Net Income Increased 34%; FY Income Doubled
FEBRUARY 26, 2004


Short news...2/25/04
FEBRUARY 25, 2004


Short news...2/24/04
FEBRUARY 24, 2004


Short news...2/23/04
FEBRUARY 23, 2004


SGB, Fleet Feet Launching Post-NY Marathon Specialty Running-Store Conference
FEBRUARY 23, 2004


Joyce Is Out and Fields Is In At adidas America
FEBRUARY 23, 2004