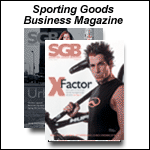 Schwinn Fitness Equipment To Be Tested in Sears Stores

JULY 01, 2004 -- The Nautilus Group will test market certain of its Schwinn fitness exercise bikes in 30 full-line Sears' stores beginning in the third quarter of 2004.

The test will consist of the Schwinn Fitness upright exercise bike and recumbent exercise bike, both of which include Schwinn's quality features.

Tim Hawkins, Chief Customer Officer of Nautilus commented, "The strength of Schwinn Fitness branded products combined with Sears' commitment to providing the most trusted and preferred brands creates an ideal relationship. Ultimately, the Sears consumer will be rewarded with quality fitness products from a great retailer."

Said Gregg Hammann, Chairman and CEO of Nautilus, "Earlier in the year, we stated that one of our key strategic initiatives based on our extensive consumer marketing research was to expand our product placement in the retail market through execution of a differentiated brand and product approach. This differentiated approach creates a winning strategy for all of our retail partners."

Adds Jeff Rothe, Vice President/General Merchandise manager for Sears, "As the nation's number one retailer of fitness equipment, we're committed to bringing the latest in fitness innovation to our stores. We also pride ourselves on offering a wide selection of popular brands to our customers. Currently, we sell the top three brands in fitness and this test will determine the position the Schwinn brand has with our customers."





Breaking Headlines
Bankruptcy Court Okays $5 Million Severance for Footstar's Mickey Robinson
JULY 08, 2004


Prince Sports Realigns Organization
JULY 08, 2004


Shorts news...07/08/04
JULY 08, 2004


Shorts...07/07/04
JULY 07, 2004


Forzani Takes Issue With Canada's Competition Bureau
JULY 07, 2004


Ashworth Buys Gekko Brands (The Game and Kudzu)
JULY 07, 2004


Short news...7/6/04
JULY 06, 2004


Shorts...04/02/04
JULY 02, 2004


SGMA Final Tally: Sporting Goods Sales Grow 0.5% in 2003.
JULY 01, 2004


Short news...7/1/04
JULY 01, 2004