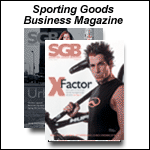 Short news...6/25/04

JUNE 25, 2004 -- Tom Shine Sentenced For Just For Feet Fraud

Tom Shine, former president of now-defunct Logo Athletic and now SVP of sports and entertainment marketing worldwide for Reebok, was sentenced to six months of home detention and three years of probation for helping Just For Feet fake earnings, according to Bloomberg News. He was also fined $10,000 Shine was president of LogoAthletic, when he helped Just For Feet inflate earnings by $700,000. Shine agreed in February to plead guilty to conspiring to submit false statements to JFF's auditors that said LogoAthletic owed $700,000 in receivables to JFF as of January 30, 1999.

Cabela's IPO Going Out At Higher Price

Cabela's IPO of 7,812,500 shares of common stock was priced at $20.00 per share. Demand was very high for the stock as the company initially thought the price would be $15-$17. Cabela's issued 6,250,000 primary shares of common stock, while selling stockholders offered the remaining 1,562,500 shares of common stock. In addition, Cabela's and its selling stockholders have granted the underwriters an option to purchase up to an additional 15%, or 1,171,875 shares, from the selling stockholders at the IPO price to cover over-allotments, if any. The company will not receive any of the proceeds from the sales of shares of common stock by its selling stockholders. Cabela's common stock will be listed on the NYSE under the symbol CAB. By 2:30 the price had risen to $27.19.

Shorts:
Hilliard Lyons Research maintained long term buy rating on Dick's Sporting Goods, while raising estimates for the company. The 24-month target price has been raised from $32 to $37.

Nike said it has replaced adidas as the top soccer shoe in Europe.

Russell filed with the SEC to sell from time to time up to $250 million in debt, debt guarantees, common stock, preferred stock, preferred stock purchase rights, and warrants. The company plans to use the proceeds for debt repayment, acquisitions and other capital expenses.






Breaking Headlines
Bankruptcy Court Okays $5 Million Severance for Footstar's Mickey Robinson
JULY 08, 2004


Prince Sports Realigns Organization
JULY 08, 2004


Shorts news...07/08/04
JULY 08, 2004


Shorts...07/07/04
JULY 07, 2004


Forzani Takes Issue With Canada's Competition Bureau
JULY 07, 2004


Ashworth Buys Gekko Brands (The Game and Kudzu)
JULY 07, 2004


Short news...7/6/04
JULY 06, 2004


Shorts...04/02/04
JULY 02, 2004


SGMA Final Tally: Sporting Goods Sales Grow 0.5% in 2003.
JULY 01, 2004


Short news...7/1/04
JULY 01, 2004