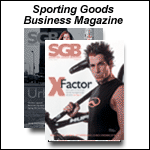 Short news...6/23/04

JUNE 23, 2004 -- Sport Show Planned In Argentina

ExpoDxT will be the first sports trade fair in Buenos Aires in 12 years. It will be held August 9-11 at Parque Norte. The show is organized by a group of exporters, importers, wholesalers etc., which will coordinate activities in the sports market. Heading it up is Arturo Gerardo Lehmann, a 32-year industry veteran. He owns an import/export company there, Ceximad. Brands indicating interest are Avia, Babolat, Dunlop, Ellesse, Gilbert, Major, Molten, Nassau, Penn, Reusch, Slazenger, Spalding and Speedo. For more info, [email protected].


Skor Brand Owner Says It's Interested In Just For Feet

Citizens Capital Corp. has contacted Footstar regarding the residual asset acquisition of its Just For Feet retail footwear chain to include its JustForFeet.com online store whose operations have been discontinued with a liquidation of all current inventories. Citizens Capital Corp., through its wholly owned SCOR brand unit, is the designer, exclusive marketer and distributor of the SCOR line of athletic footwear. SCOR recently announced its national "Forever Just Say No to $100 and $200 Sneaker" ad campaign scheduled to begin airing on television during Q404. "As we strategically come into the living rooms of homes in key metropolitan markets with our various commercial television ad campaigns, the acquisition of the Just For Feet chain would provide immediate brand extension and a physical presence of the SCOR brand in many leading consumer markets," stated Billy Hawkins, CEO of Citizens Capital. "Subsequent to the overall market stagnation resulting from the post-September 11 economy, we are excited to resume the pursuit of those specific corporate and asset acquisition opportunities intended to grow both assets and revenues while increasing shareholder value." What a single brand can do with the large-store formats of Just For Feet is not clear.

Shorts:

Merrill Lynch reiterated its buy rating on Dick's Sporting Goods. The target price has been raised from $32 to $36. Harris Nesbitt downgraded Dick's to neutral from outperform. First Albany Capital raised its target price on Dick's to $39 from $34 and reiterated a buy rating. "While we will not change our EPS estimates until the deal is closed (expected in October), we believe management's post-acquisition 2005 EPS guidance is likely conservative," First Albany said…Pacific Growth Equities began coverage of Quiksilver with an under weight rating…Adams Harkness upgraded Nautilus Group from buy to strong buy.

Council Bluffs and Pottawattamie County officials announced that Bass Pro Shops would build a 120,000-140,000-square-foot Outdoor World superstore near the Mid-America Center just off Interstates 80 and 29.








Breaking Headlines
Short news...6/25/04
JUNE 25, 2004


Currency Effects Help Nike Q4 Revenues Rise 17%
JUNE 24, 2004


Finish Line Q1 Net Income Up 62%
JUNE 24, 2004


Short news...6/24/04
JUNE 24, 2004


Short news...6/23/04
JUNE 23, 2004


Short News: 6/22/04
JUNE 22, 2004


Dick's Buying Galyan's For $362 Million
JUNE 22, 2004


Short news...6/21/04
JUNE 21, 2004


Collegiate Pacific Buys Dixie
JUNE 21, 2004


Short news...6/18/04
JUNE 18, 2004