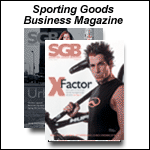 Dick's Buying Galyan's; Will Be Largest US Chain

JUNE 22, 2004 -- Dick's Sporting Goods and Galyan's Trading Co., Inc. (Nasdaq: GLYN - News) have entered into a definitive agreement and plan of merger for Dick's to acquire all of the issued and outstanding stock of Galyan's. Under the terms of the agreement, Galyan's shareholders would receive $16.75 per share in cash, a 53% premium. The acquisition is structured as a cash tender offer for all of the issued and outstanding shares of Galyan's. Based on approximately 18.2 million outstanding Galyan's shares and the assumption of approximately $57 million in net debt, the transaction would be valued at approximately $362 million.

Dick's expects to commence the tender offer for the Galyan's shares on June 28, 2004. The tender offer is contingent upon various conditions, including that a majority of Galyan's issued and outstanding common stock on a fully diluted basis are being tendered and not withdrawn. The tender offer and the transactions contemplated thereby are anticipated to be completed by October 2004, subject to Hart-Scott-Rodino approval under United States antitrust laws and customary closing conditions.

Holders of Galyan's common stock who collectively beneficially own approximately 55% of the outstanding common stock through an affiliate of Freeman Spogli & Co. and Limited Brands have agreed to tender their shares to Dick's.

Upon completion of the acquisition of the 47 Galyan's stores, Dick's Sporting Goods would operate 216 stores in 32 states. Dick's and Galyan's combined generated revenue of approximately $2.2 billion in fiscal 2003. Following the completion of the merger, the combined company will operate from Dick's corporate headquarters in Pittsburgh.

Dick's Sporting Goods management anticipates that the acquisition will be slightly accretive to its previous diluted EPS guidance of $1.27-1.28 for FY04 and is increasing its guidance to $1.28-1.30. Dick's anticipates diluted EPS in 2005 of $1.70-1.75, an increase of more than 30% over the 2004 guidance. These estimates include savings and synergies, and exclude any merger integration costs. Beginning in 2005, Dick's management anticipates that there would be approximately $20 million of annualized cost savings and merchandise buying improvements that will result from the acquisition.

"We are excited to have entered into this agreement, which represents an extraordinary opportunity for both Dick's Sporting Goods and Galyan's," said Ed Stack, CEO of Dick's. "Combining the financial discipline, operating metrics, and innovative store design of Dick's that have led to our industry-leading financial performance, with the people, real estate, and distribution infrastructure of Galyan's creates a compelling rationale for this transaction.

"The Dick's Sporting Goods and Galyan's store locations are complementary, and the combination of the Galyan's store design, customer service and premium locations with Dick's emphasis on execution and inventory management make for a best in class shopping experience. This combination produces minimal overlap while providing a stronger presence in existing markets that have significant remaining in-fill opportunities. We expect to close relatively few stores, some from each chain due to overlap or financial performance.

"Galyan's primary distribution center in Plainfield, Indiana serves the geographic footprint of the combined company very well, and Dick's intends to continue to operate that facility. The combination of the Galyan's and Dick's distribution centers position us to support the logistical needs of our growing company."

Peter J. Solomon Securities Co. Limited and Merrill Lynch & Co. provided financial advisory services to Dick's in connection with the transaction.









Breaking Headlines
Short News: 6/22/04
JUNE 22, 2004


Dick's Buying Galyan's; Will Be Largest US Chain
JUNE 22, 2004


Short news...6/21/04
JUNE 21, 2004


Collegiate Pacific Buys Dixie
JUNE 21, 2004


Short news...6/18/04
JUNE 18, 2004


New shorts...6/17/04
JUNE 17, 2004


Short news...6/16/04
JUNE 16, 2004


Nike Calls For Daily P.E. Classes In US Schools
JUNE 16, 2004


K2 Acquires Volkl, Marker & Marmot Mountain
JUNE 16, 2004


Callaway Must Lower Guidance As Industry Discounting Reduces Sales
JUNE 16, 2004