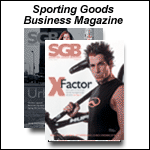 Forzani Feels Effects of Price Deflation

JUNE 02, 2004 -- Forzani Group retail system sales in Q1 grew by 2.8% to C$227.7 million. Combined revenues from corporate and Q103. During the quarter, total company comp-store sales decreased 1.7%. The company is Canada's largest sporting goods retailer.

Overall, franchise comp-store sales were down 1.0% against strong Q1 increases in the prior year of 11.1% and, corporate comp-store sales decreased 2.1%, driven primarily by a more price competitive Ontario market.

The company experienced stronger margins at 31.0% of consolidated revenues, a 50 basis point increase on the prior year and continued its tight management of costs. And, as a result net earnings for the quarter increased 37.8% to C$1.612 million versus the prior year of C$1.170 million. On a fully diluted per share basis, EPS increased to 5¢, from 4¢ in the prior year.

Commenting on the results, CEO Bob Sartor stated, "As expected, price deflation was evident in all markets, but especially in Ontario. Overall, however, we are quite pleased with our unit-sales. Unit-sales in our stores were up 5.1% for the quarter, which will translate, again, into increased market share for the company."






Breaking Headlines
Short news...6/3/04
JUNE 03, 2004


Finish Line's Q1 Numbers Answers Serra With 14% Comp Gain And Increased EPS Guidance
JUNE 03, 2004


Short news...6/2/04
JUNE 02, 2004


Forzani Feels Effects of Price Deflation
JUNE 02, 2004


Short news...6/1/04
JUNE 01, 2004


ASTM Certifies First Test Method For Dynamic Thermal Performance In Textiles
JUNE 01, 2004


Short news...5/28/04
MAY 28, 2004


Wintersport Sales At Specialty Ski And Snowboard Shops Were Flat
MAY 28, 2004


Wintersport Sales At Chain Stores Rose Only 1.3% in '03-'04 Season
MAY 28, 2004


Short news...5/27/04
MAY 27, 2004