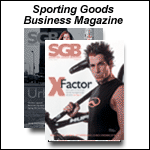 Short news...5/26/04

MAY 26, 2004 -- Sport Chalet FY Sales Up 11%

FY04 sales at Sport Chalet increased 11.0% from $238.0. The increase is the result of opening three stores this year and two last year, in addition to a comp-store sales increase of 3.7%. The comp increase reflects an improved economic climate and more seasonable winter weather conditions at the resorts frequented by the company's customers. Net income increased 9.3% from $4.2 million, or 60¢ per diluted share last year, compared to $4.5 million, or 65¢ per diluted share this year, primarily due to increased sales and improved gross profit as a percent of sales, partially offset by increased workers' compensation expense and the effect of a stock award directly from the company's founder, Norbert Olberz, to certain executives of the company. This stock award, which resulted in additional compensation expense of approximately $800,000 or 7¢ per diluted share, had no significant effect on cash flow.

Nike, US Brands Are Losing Luster Overseas

Diminishing respect for American culture and values is putting US brands at greater risk overseas, according to a worldwide annual study of consumer sentiment. The results of the report were published at Forbes.com. "Our study has found that there's declining awareness, popularity and usage of US brands," said Tom Miller, global managing director of market research consultant NOP World. "In a nutshell, there's growing resentment and envy among global consumers toward the US, and that sentiment is manifest in an erosion of support for American products," said Miller. "The danger here is that even a one or two percentage point decline is not good news for companies that want to grow." The total percentage of worldwide consumers who use 15 major US brands such as Microsoft, Nike, Coca-Cola, Disney and McDonald's fell to 27% from 30% a year ago. The percentage of those saying they "trust" Nike to dropped to 11% from 14%, according to the study, entitled "America, the World, and the New Challenges for Global Brands." The survey, conducted between January and March 2004, polled 30,000 consumers in 30 countries outside the US.

Deckers Repays All Outstanding Debt

Deckers Outdoor repaid all of its outstanding loans, using a portion of the proceeds derived from its common stock offering which closed on May 18. With the net offering proceeds of $35.2 million, the company paid down the $7 million subordinated note issued to the Peninsula Fund III Limited Partnership, the $7 million term loan from Comerica Bank, and the $13 million junior subordinated note issued to Mark Thatcher and his wholly owned company, Teva Sports Sandals Inc. for the acquisition of the worldwide Teva patents, trademarks and other assets on November 25, 2002. Remaining proceeds from the offering will be used for working capital and other general corporate purposes.

As a result of the debt repayment to Mark Thatcher and Teva Sports Sandals, John Kalinich, who served on the board as Thatcher's nominee, has fulfilled his contractual obligation and will step down immediately. Kalinich will remain a full-time employee of the company and retain his position as VP/director of retail and licensing.

SHORTS: Wells Fargo Securities raised its FY04 EPS estimate for The Sports Authority from $2.62 to $2.64 and is maintaining its FY05 forecast of $3.10, indicating 17.3% Y/Y earnings growth, which WFS considers readily achievable by the company. "We believe that at its current trading price, TSA remains very attractive, particularly for the shares of the leader in the sporting goods retail sector and in view of the likelihood that it will continue to achieve integration synergies," WFS said. Banc of America downgraded TSA to neutral from buy…Friedman Billings initiated coverage of Gander Mountain with an outperform rating.

VF and Vans have received notification of the early termination of the waiting period under the Hart-Scott-Rodino Antitrust Improvements Act of 1976 with respect to merger of Vans into a wholly owned subsidiary of VF. VF continues to anticipate completing the merger early in the third quarter.

Health & Fitness Business Expo show management reported that early registration numbers are strong for the upcoming August trade event. To date, more than 400 buyers have already registered for the show. Key representatives from both general sporting goods and specialty fitness stores have registered for the expo, including: Modell's, Copeland's, Galyan's, REI, Paragon, Play it Again Sports, Sport Chalet, The Sports Authority, Dick's Sporting Goods, Busy Body Fitness Stores, Fitness Systems, LA Gym Equipment, Advanced Exercise Equipment, The Fitness Store and many others. Key fitness exhibitors include Nautilus Health & Fitness Group, Diamondback Fitness, True Fitness, Bodyguard Fitness, SportsArt America and Keys Fitness.







Breaking Headlines
Finish Line's Q1 Numbers Answers Serra With 14% Comp Gain And Increased EPS Guidance
JUNE 03, 2004


Short news...6/2/04
JUNE 02, 2004


Forzani Feels Effects of Price Deflation
JUNE 02, 2004


Short news...6/1/04
JUNE 01, 2004


ASTM Certifies First Test Method For Dynamic Thermal Performance In Textiles
JUNE 01, 2004


Short news...5/28/04
MAY 28, 2004


Wintersport Sales At Specialty Ski And Snowboard Shops Were Flat
MAY 28, 2004


Wintersport Sales At Chain Stores Rose Only 1.3% in '03-'04 Season
MAY 28, 2004


Short news...5/27/04
MAY 27, 2004


Short news...5/26/04
MAY 26, 2004