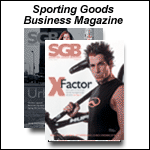 Gander Mountain Widens 1Q04 Loss

MAY 19, 2004 -- Gander Mountain Company, in its first report since going public, reported net losses in the first quarter steepened to $13.6 million from $11.2 million in the first quarter of fiscal 2003.

Total sales jumped 42% to $98.7 million. Comparable store sales increased 8.7%.

"We were satisfied with Gander Mountain's progress in the quarter," said Mark Baker, President and CEO, in a press release. "Strong sales growth reflects our emphasis on both comparable store performance and new store development."

Baker added, "Gander Mountain is a highly-seasonal business both because of our hunting, fishing and camping emphasis and because of the concentration of our current stores in northern states. First quarter results were consistent with our expectations and keep us on track to meet our overall financial plan for 2004."

On April 26, 2004, Gander Mountain closed its initial public offering of 6,583,750 shares of its common stock at a price of $16.00 per share and converted existing preferred stock to common stock. On a GAAP basis, the per share net loss for the quarter was $10.52 per common share compared with a net loss of $15.80 per common share in the first quarter of fiscal 2003. Giving effect to the conversion of preferred shares and the application of the net proceeds of the offering as of the beginning of each period presented, pro forma net loss for the first quarter was $12.7 million, or $0.89 per share, compared to a pro forma net loss of $10.7 million, or $0.89 per share, for the first quarter of last year.

During the first quarter of fiscal 2004, the Company opened a store in Middletown, New York and another in Novi, Michigan, bringing total square footage to 2.7 million, an increase of 42% over the prior year. At May 1, the company operated 67 stores in nine states.

"As Gander Mountain begins its life as a public company, we are well positioned to carry out our accelerated growth program," Baker continued. "Estimated at over $30 billion annually, the outdoor lifestyle category offers great opportunities for a value-driven, service-focused retailer like Gander Mountain. Our 4,000 dedicated associates continue to lead our industry in serving the needs of every Gander Mountain customer."

Regarding its forecast for 2004, Gander Mountain predicted:
* Sales would reach $650-$700 million, an increase of 33% to 43% over fiscal 2003.
* Comparable store sales are expected to increase by approximately 3% to 5%.
* Income before income taxes is expected to be $16- $21 million, compared with $1.5 million in fiscal 2003.
* The company expects to open at least 15 new stores, including two relocations, during the year, representing incremental square footage of approximately 1.0 million square feet.








Breaking Headlines
Short news...5/28/04
MAY 28, 2004


Wintersport Sales At Specialty Ski And Snowboard Shops Were Flat
MAY 28, 2004


Wintersport Sales At Chain Stores Rose Only 1.3% in '03-'04 Season
MAY 28, 2004


Short news...5/27/04
MAY 27, 2004


Short news...5/26/04
MAY 26, 2004


TSA Has Flat Income Including Merger Costs
MAY 26, 2004


Short news...5/25/04
MAY 25, 2004


Here Are Women's Top Sports/Activities
MAY 25, 2004


Sporting Goods Sales Reach $45.8 Billion in 2003; NSGA Expects 2% Growth In 2004
MAY 24, 2004


Short news...5/24/04
MAY 24, 2004