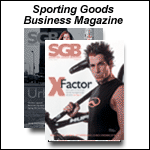 K-Swiss Q1 EPS Beat Estimates, But Lowers Future Guidannce

APRIL 28, 2004 -- K-Swiss repotted Q1 net earnings and net EPS increased 59.5% and 58.3%, respectively, to $21,768,000, or $0.57 per diluted share, compared with $13,644,000, or $0.36 per diluted share, in the prior-year period. This was ahead of Wall Street estimates and the good news. Its outlook is considerably below what Wall Street is estimating.

In Q1, total worldwide revenues increased 31.3% to $152,020,000 compared with $115,809,000 in the prior-year period. Domestic revenues increased 28.6% to $129,575,000, and international revenues increased 48.9% to $22,445,000.

Worldwide futures orders with start ship dates from April through September 2004 increased 13.7% to $194,954,000 at March 31, 2004, compared with $171,488,000 at March 31, 2003. Domestic futures orders increased 6.6% to $162,313,000 at March 31, 2004, from $152,266,000 at March 31, 2003. International futures orders increased 69.8% to $32,641,000 at March 31, 2004, from $19,222,000 the previous year.

K-Swiss also issued guidance for Q2 and revised guidance for 2004. The company expects revenues for the second quarter of 2004 to be approximately $111 to $117 million and EPS to be in the range of $0.28 to $0.33. Wall Street expected $0.40. The company expects full year revenues to be approximately $460 to $480 million and expects to report full year EPS of approximately $1.40 to $1.50. This is below the $1.60 Wall Street expected.

The company's estimates reflect the continued investments in marketing, sales and product development for the Royal Elastics brand, as well as the expansion of European operations. They are based upon the following assumptions: gross margins will be between 44% and 45% for the year; SG&A will not rise above $121 million for the year; cancellations will be moderate; and growth initiatives with respect to Royal Elastics will not exceed a net loss of $0.14 per share for the entire year.

Steven Nichols, Chairman of the Board and President, stated, "While the lowering of our 2004 sales and earnings forecast will no doubt overshadow the record first quarter results, we are keeping several things in perspective. This year should be the best year in K-Swiss' history with year-over-year growth in revenue and earnings per share. European operations have shown marked improvement by reaching profitability in the first quarter and posting sizable increases in backlog, while Asia is starting to show signs of renewed life with a strong backlog and a new Japanese distributor. With over $90 million of cash on our balance sheet, we will also continue to invest in these opportunities, the Royal Elastics brand and in our own stock."







Breaking Headlines
Nautilus Group Earnings Plunge On Small Revenue Gain
APRIL 29, 2004


Big 5's Net Income Doubles
APRIL 29, 2004


Columbia Q1 Sales Surge 22%; Net Nncome Hits Record
APRIL 29, 2004


Short news...4/29/04
APRIL 29, 2004


Inventory Liquidations Slash Russell Profits 85%
APRIL 29, 2004


Saucony Has Record Q1 Sales & Earnings
APRIL 28, 2004


GSI Has Record Q1 Revenues; Loss Is Reduced
APRIL 28, 2004


Short news...4/28/04
APRIL 28, 2004


K-Swiss Q1 EPS Beat Estimates, But Lowers Future Guidannce
APRIL 28, 2004


News shorts...4/27/04
APRIL 27, 2004