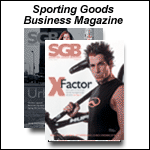 News shorts...4/27/04

APRIL 27, 2004 -- ADA CEO Don Sonadres is organizing a meeting of eight non-competitive buying groups in New Orleans. The object is discuss how each does business so this information can be utilized by the other participants in their operations. Ski Merchandising Group is one participatmnt. The groups represent 8,600 members and 10,500 doors.

Huffy Corp.'s stock no longer will be listed on Standard and Poor's SmallCap 600 index. The change is effective after trading ends April 30. The SmallCap 600 measures the performance of the small company segment of the US market.

The Finish Line will sponsor the 15-city Hoop-It-Up National Tour, which features a two-day basketball extravaganza with area and statewide basketball players vying to win their respective tournament division for advancement to the Hoop-It-Up National Finals after the tour wraps in late August. Finish Line is the sole sponsor of the Finish Line Slam Dunk contest that will take place each Saturday at noon. The entire event shuts down for this competition, and everyone's attention moves to center court. All Slam Dunk participants will wear a reversible Finish Line jersey during the competition, and the court will have exclusive Finish Line signage.

Reebok intends, subject to market and other conditions, to sell through a private offering up to $300 million of convertible debentures due 2024. The company will grant to the initial purchasers an option to purchase up to an additional $50 million of convertible debentures. The company intends to use the net proceeds from this offering for general corporate purposes, which may include refinancing existing indebtedness (including the outstanding 4.25% convertible debentures due 2021), repurchasing shares of its common stock, financing acquisitions (including the proposed acquisition of The Hockey Co. Holdings) and other general corporate purposes. The company currently intends to redeem the $250 million outstanding principal amount of its 4.25% convertible debentures due 2021, subject to completion of this offering and market conditions.

Negotiations regarding the sale of selected assets of Carbon Fiber Technology LLC, a joint venture limited liability company owned by Aldila and its joint venture partner to an independent third party have ended due to a failure of the three parties to reach an acceptable definitive agreement. The proposed sale was previously announced on February 11.

Optimer Performance Fibers, marketer of Dri-release with FreshGuard patented moisture transfer fabrics, promoted Karen Deniz to president of the European division from VP/marketing. Deniz will also continue to oversee marketing for Optimer. In just the past four months, Deniz has negotiated licensing agreements with two prominent European yarn spinners and begun building a sales force to provide that market with Dri-release fabrics.

Timberland named Arnold Worldwide, Boston, as global agency of record for creative and branding.

Schools, environmental programs, outdoor recreational guides, and activity instructors can now receive substantial discounts on Rock River adventure footwear via a group discount code provided by the company and activated on the company's new website www.rockriver.com. The company requests that interested parties provide Rock River with a short description of your company and the services provided, a contact name, phone number, address, and email address. Once approved, a discount code exclusive to your organization will be provided for use on the website www.rockriver.com. It is important to note that this program is designed specifically for use on the website and all orders should be processed accordingly.

Moretz Sports and Kathy Ireland Worldwide will be expanding their 10-year partnership in apparel with the early Q4 launch of Kathy Ireland PowerSox for Women. The new collection will debut in over 3,400 mid-tier national and regional sports and shoe retailers and includes a treaded sock for Pilates.








Breaking Headlines
Nautilus Group Earnings Plunge On Small Revenue Gain
APRIL 29, 2004


Big 5's Net Income Doubles
APRIL 29, 2004


Columbia Q1 Sales Surge 22%; Net Nncome Hits Record
APRIL 29, 2004


Short news...4/29/04
APRIL 29, 2004


Inventory Liquidations Slash Russell Profits 85%
APRIL 29, 2004


Saucony Has Record Q1 Sales & Earnings
APRIL 28, 2004


GSI Has Record Q1 Revenues; Loss Is Reduced
APRIL 28, 2004


Short news...4/28/04
APRIL 28, 2004


K-Swiss Q1 EPS Beat Estimates, But Lowers Future Guidannce
APRIL 28, 2004


News shorts...4/27/04
APRIL 27, 2004