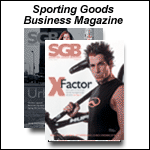 Minder Resigns As S&W COB

MARCH 01, 2004 -- Following the revlation that its COB had a criminal records back in the '50s and '60s, Smith & Wesson Holding Corp. has named a new COB and made changes in the board of directors.

The board appointed Dennis Bingham as COB and industry veteran Bob Scott as VCOB. Bingham has been an independent director of the board since 2002, and Scott, former CEO and president of Smith & Wesson Corp., has been a board member since 2001.

James Minder, who formerly served as COB, will remain as an independent director. While recognizing the very serious mistakes in his early life, the board believes that Minder has led an exemplary life for 35 years and has provided tremendous services to the community, including contributing positively to Michigan families for three decades through the founding and management of his very successful child welfare organization.

Based on this and other successful business experience, the board believes he should and can continue to provide invaluable input to Smith & Wesson within both strategic planning and the ongoing drive toward operational excellence.

From 1976 to 1997, Minder served as president/CEO of Spectrum Human Services, a Michigan-based provider of counseling and mental health treatment services for neglected, abused, delinquent and developmentally disabled children and families, which Minder founded in 1976. He received a BS degree in engineering, a BA degree in sociology and history and an MSW degree in social work from the University of Michigan.

The board is working with Spencer Stewart, a leading management consulting firm that specializes in both board director and senior-level executive searches and appointments. The board expects to add two more independent board members in the first half of 2004.

In connection with plans the company laid out months ago to have a majority of independent directors, the board announced the addition of a new independent board member with the appointment of Barry Monheit.

Monheit has been associated with FTI Consulting, a NYSE-listed, multi-disciplined consulting firm since July 1992, and served as the president of FTI's Financial Consulting Division from May 1999 through November 2001. Monheit has served as a financial advisor to large corporations and various creditor and lender groups with clients such as Revco Drugstores, Circle K Corpo., Greyhound Bus Co., Continental Airlines, Sakowitz Department Stores, Federated Department Stores and Coleco Industries.

In addition, John Kelly has been elected as CFO of the parent. He has been an employee of Smith & Wesson Corp. since 1984 and has been the CFO of Smith & Wesson Corp. since 1994.







Breaking Headlines
Short news...3/1/04
MARCH 01, 2004


Minder Resigns As S&W COB
MARCH 01, 2004


Puma Sets New Sales & Earnings Records
FEBRUARY 27, 2004


Short news...2/27/04
FEBRUARY 27, 2004


Short news...2/26/04
FEBRUARY 26, 2004


Moody's Upgrades Ratings On Foot Locker
FEBRUARY 26, 2004


Rocky Q4 Net Income Increased 34%; FY Income Doubled
FEBRUARY 26, 2004


Short news...2/25/04
FEBRUARY 25, 2004


Short news...2/24/04
FEBRUARY 24, 2004


Short news...2/23/04
FEBRUARY 23, 2004