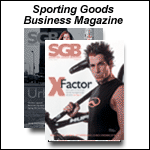 News shorts...4/26/04

APRIL 26, 2004 -- Don-Allen Ruttenberg pleaded guilty to fraud charges for persuading vendors to submit false information to auditors. He pleaded guilty to conspiracy to commit securities fraud, wire fraud, and submitting and making false statements to Deloitte & Touche. Ruttenberg could receive up to 15 years in federal prison and up to $1.25 million in fines for his actions.

Puma reported a Q1 gross margin of 51.7%, up from the already strong 47.2% last year. Footwear margin grew 490 basis points to 52.9%. Q1 revenues were up 29.3% to EUR443.8 million ($62.8 million). Net income was up 64.6% to EUR89,4 million ($106.1 million). The company predicts its gross margin will remain above 50% for the rest of the year. The company's stock fell EUR11.01, or 5.22% on the news…Puma North America just announced the launch of a new collection of bodywear designed and manufactured by Schiesser Lifestyle to be sold through its exclusive US distributor, United Legwear & Bodywear. It is scheduled to debut this summer. "Bodywear is a natural extension for our brand," said Jay Piccola, president and GM, Puma North America. "Underwear is one of the most intimate and subtle, yet impactful statements a person can make. Consumers seek out Puma because of our versatility. From the gym to the clubs our brand is always fitting and of the moment. As a licensee partner, Schiesser Lifestyle understands the Puma's brand direction and has created a stylish, inventive, modern collection with an athletic sensibility and unique details."

Major League Lacrosse announced an extension of its marketing partnership with US Lacrosse, the national governing body of men's and women's lacrosse, through the 2004 season. Through the joint marketing agreement, the two organizations will utilize their extensive reach to continue promoting the exciting sport of lacrosse throughout the US. "Lacrosse is the fastest growing team sport in the country and US Lacrosse deserves tremendous credit for that," said MLL founder Jake Steinfeld, CEO of Body By Jake Enterprises. "The League's national television package, Wild West Tour and Project West Coast will only fuel that growth. It's natural that we continue our partnership with US Lacrosse." As part of the agreement, the 160,000-plus members of US Lacrosse will receive an exclusive 20% discount on three-game ticket packages for Major League Lacrosse New Balance Championship Weekend. US Lacrosse members will also receive a 10% discount on Major League Lacrosse merchandise purchased through the MLL web site, www.majorleaguelacrosse.com. During each Major League Lacrosse game broadcast on ESPN2, US Lacrosse will receive commercials and recognition of the "US Lacrosse Fan of the Game." US Lacrosse and its local chapters may also set up a membership booth in the Fan-Zone at each MLL game and special event. Finally, local chapters may also utilize MLL tickets to recognize area charities or groups. US Lacrosse will promote the partnership in its feature magazine, Lacrosse Magazine, as well as monthly newsletters and e-mails to members.

Bob's Sports will soon have some company in Meriden, CT. Dick's won unanimous Planning Commission approval to move into a former Lord & Taylor site. Dick's will fill approximately 50,000 square feet.

Bass Pro Shops will be building a 165,000 square-foot superstore adjacent to an outdoor nature park being built by the city of Leeds, AL, just minutes east of downtown Birmingham. The destination retail store will be located adjacent to the Barber Motorsports Park which features one of the best roadracing tracks in the country and the best motorcycle museum in the world.

At the National Head Start Association's 31st Annual Training Conference, Nike was among one of several organizations honored for its commitment to Head Start and support of early childhood education. For the past six years, Nike has worked with Head Start on a state-of-the-art educational outreach program, making Nike one of the largest corporate supporters of the national school readiness program. Kirk Stewart, Nike VP/corporate communications, said Nike would announce an expansion of its partnership with Head Start this fall as part of NikeGO, the company's signature community affairs and the company's long-term commitment to get kids moving and give them the means to do it…In a joint effort to promote the sport of tennis, Nike Tennis Camps has selected Prince to become the official racquet of its nationwide network of youth tennis camps. Facilitated by US Sports Camps, one of the longest running tennis development programs in the world, Nike Tennis Camps serve as the industry's elite development program, as evidenced by the over 12,000 youth participants that embraced the sport through its camps last year. The agreement represents a first-ever partnership between the leading brand in tennis and the world's largest tennis camp network to help energize and educate youth players about the benefits of tennis, according to Alistair Thorburn, president of Prince. In addition to showcasing its latest racquets at the camps, Prince will also include a number of interactive elements, including demo days featuring Prince teaching pros that will provide skill workshops, give lessons, and display the company's entire racquet line for campers to play test. Prince's involvement could also extend to player appearances.

Heather Moening has joined ASICS as manager of public relations, a position that was formally held by Dina DeFazio. She will be overseeing all product placement, wear tests, editorial interviews and general PR duties for ASICS.







Breaking Headlines
Big 5's Net Income Doubles
APRIL 29, 2004


Columbia Q1 Sales Surge 22%; Net Nncome Hits Record
APRIL 29, 2004


Short news...4/29/04
APRIL 29, 2004


Inventory Liquidations Slash Russell Profits 85%
APRIL 29, 2004


Saucony Has Record Q1 Sales & Earnings
APRIL 28, 2004


GSI Has Record Q1 Revenues; Loss Is Reduced
APRIL 28, 2004


Short news...4/28/04
APRIL 28, 2004


K-Swiss Q1 EPS Beat Estimates, But Lowers Future Guidannce
APRIL 28, 2004


News shorts...4/27/04
APRIL 27, 2004


VF Offers Vans $396 Million
APRIL 27, 2004