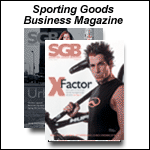 Short news...6/30/04

JUNE 30, 2004 -- Sportsman's Guide Buys Golf Warehouse

The Sportsman's Guide has acquired The Golf Warehouse, LLC, the Wichita-based online and catalog retailer of golf equipment, apparel and accessories, in an all cash transaction valued at approximately $30 million. A combination of available cash and an expanded bank credit facility will be used to finance the transaction, purchasing TGW from its management and Falconhead Capital, a private investment firm. TGW was founded in 1998 and has enjoyed extraordinary growth in sales since then, recording a five-year compounded growth rate in excess of 60%. For its year ended December 31, 2003, TGW had sales of over $40 million, adjusted EBITDA of approximately $3 million and operating income of $1.7 million.

Paralyzed Teen Seeks To Buy Gun Factory

The New York Times carried a story on Bandon Maxfield, 17. Ten years ago, he was accidentally shot by a handgun manufactured by Bryco, a producer of Saturday-night specials. A lawsuit awarded him $24 million. It was to be paid by Bryco and its founder, Bruce Jennings. The Times reported that Jennings consulted with a bankruptcy attorney shortly before the trial started. Days after the meeting, Jennings bought a $950,000 house in Daytona and an annuity for $500,000. Florida law protects a bankrupt's home and annuity from attachment. He also sold the Bryco building for $4 million. This was deposited in partnerships in the names of Jennings' three children. Here's where it gets really interesting. The Times said the purchaser of the factory is lending money to its former plant manager, Paul Jimenez, to buy Bryco. And the money will be deposited in the bank account of Jennings' bankruptcy consultant.

Maxfield has only received $3 million from one of Jennings' three ex-wives and $3.75 million from the insurer of a gun distributor. Of that, he must reimburse the state for $1 million for medical expenses and expert witnesses $500,000. He and his lawyer are now trying to raise $150,000 to buy the Bryco plant. Their intent is to melt down its inventory of 75,000 frames and slides. But he bankruptcy judge has approved the sale to the manager. The director of firearms division of the California Department of Justice opposes the sale, noting that Jimenez lacks federal and state gun licenses. Maxfield's lawyer, The Times said, asserts that Jimenez is in collusion with Jennings. In 1988, after losing a similar suit, Jennings sold a factory to a manager and re-established it later.

Silhouette Gets Injunction Vs eBay Sellers

The Silhouette Companies obtained a preliminary injunction in US District Court in Manhattan blocking false advertising of products under their Silhouette brand. The injunction was issued in a lawsuit brought by Silhouette International Schmied AG and its US subsidiary, Silhouette Optical Ltd., against Marina's Boutique Store and Verona Eyewear, forbidding them, along with their principals, from using any of the Silhouette trademarks in their offering of products on the internet. Marina's and Verona had been advertising eyewear on eBay, falsely claiming that the products had been manufactured by Silhouette, when in fact, they had not.

Through the eBay VeRO program, Silhouette has shut down numerous auctions that offer counterfeit products, that falsely claim to offer Silhouette products or that improperly use the Silhouette trademarks or copyrighted materials. Silhouette is also moving against other infringers advertising or selling over Internet sites. Silhouette will continue to monitor unauthorized sales and advertising to protect consumers and itself.

Columbia Cracks Down On Chinese Counterfeits

Columbia joined forces with Chinese authorities in Jinjiang and Shishi, cities within the Fujian province, to raid factories producing counterfeit Columbia apparel. As part of an ongoing, aggressive campaign to stamp out counterfeiters and protect Columbia's brand, the recent raids resulted in the seizure of more than 8,100 pieces of counterfeit sports apparel. Items seized were jackets and pants in several designs. Due to the large number of counterfeit labels found at the factories, Columbia is encouraging Chinese authorities to transfer the cases to the Public Security Bureau for criminal sanctions.

Cramer Names Christman VP/Marketing

Cramer Products appointed Edward Christman as the company's new vice president of marketing. Christman left his post as senior merchandising manager at Bike Athletic Co. in Atlanta to take the position at Cramer, where he started on June 16. Christman replaced Chris Waldeck, who left Cramer after three years to take a position with Reebok.

People In Michigan Are The Most Active

Among the 11 largest states, making up more than 56% of the US population, residents of Michigan are the most active, according to an analysis of data contained in "Sports Participation in 2003 -- State-by-State," a report published annually by the National Sporting Goods Association.

NSGA's Sports Participation index indicates how likely it would be for a person in a given state to participate in a specific sport or activity. In the NSGA Index, the national average for each sport or activity equals 100. The index is created by dividing a state's percentage of participants in a particular activity by its percentage of the US population and then multiplying by 100.

Michigan, for example, has 7.9% of the total participants in golf and 3.6% of the US population. This yields an index of 209, indicating residents of Michigan are more than twice as likely to play golf than the national average.
Among the most populous states, Michigan has NSGA Participation Indices of 100 or more in 24 of the 34 activities surveyed for 2003. Those sports/activities are backpacking (115), bicycle riding (132), billiards/pool (130), boating (power/motor) (137), bowling (148), camping (140), exercise walking (100), fresh water fishing (139), football (tackle) (126), football (touch) (100), golf (209), hunting w/firearms (146), inline skating (124), paintball (114), running/jogging (127), skiing (downhill) (113), snowboarding (122), soccer (111), softball (147), swimming (115), target shooting (121), tennis (103), volleyball (105), and work out at club (116).

California (11.0% of the population) and North Carolina (3.0%) ranked second with 22 participation indices of 100 or more, followed by Illinois (4.4%) with 20, New York (6.7%) with 19 and New Jersey (3.0%) with 18.
adidas Reports Huge EURO 2004 Sales

adidas reported more than 1.3 million replica jerseys, over 1.2 million UEFA EURO 2004 licensed products and more than 250,000 pieces of a newly introduced women's football range have been sold. In addition, adidas expects to sell about one million pairs of the adidas Predator Pulse football. The Official Match Ball, the Roteiro, is expected to have sale of more than six million.

Shorts:

Sears, Roebuck agreed to acquire ownership or leasehold interest in up to 61 off-mall stores in key Sears markets from Kmart for approximately $620 million in cash. The majority of the stores are expected to be converted by Q405 to Sears nameplates, including a new mid-size format that is modeled on Sears Grand.






Breaking Headlines
Short news...7/20/04
JULY 20, 2004


Russell Buying Huffy Sports
JULY 20, 2004


Short news...7/19/04
JULY 19, 2004


Hip-Hop Mogul Gets PRO-Keds License
JULY 16, 2004


New shorts...7/16/04
JULY 16, 2004


News shorts...7/15/04
JULY 15, 2004


News shorts...7/14/04
JULY 14, 2004


Short news...7/13/04
JULY 14, 2004


Short news...7/12/04
JULY 12, 2004


Shorts...07/09/04
JULY 09, 2004