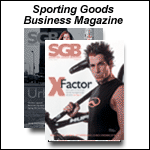 Short news...3/19/04

MARCH 19, 2004 -- The first exec nailed in the Just For Feet fraud case was sentenced. Tim McCool, a former adidas sales exec, was fined $10,000 and must serve eight months in a federal jail. "A single bad choice in a single moment can cause a life to turn irrevocably 180 degrees," US District Judge C. Lynwood Smith told McCool.

American Athletic, Inc., the manufacturer of athletic equipment for 50 years,, filed for protection under Chapter 11 on March 17. The move is designed to distance itself from the financial and legal challenges facing AAI's sister company SRI Sports (a.k.a. AstroTurf), which filed for bankruptcy last month and is in the process of liquidating its assets. "It is business as usual at AAI," said Jeff Bramble, president. "The bankruptcy filing protects AAI from SRI Sports' creditors and enables us to continue to service our customers." The filing is the only reasonable means of protecting AAI from SRI Sports' liabilities while continuing normal business operations. Last September, AAI parent company American Sports Products Group announced its intentions to sell AAI. ASPG officials anticipated the sale of AAI, a profitable, multi-million dollar company, would help fund and keep SRI Sports in business. That proved not to be the case, as the conditions at SRI Sports worsened while the process of selling AAI progressed. The sale of AAI and its emergence from bankruptcy is expected to be complete within the next 12 weeks. "Things are going very well at AAI, despite distractions relating to the problems at SRI Sports and the company's pending sale. We are experiencing record sales, introducing numerous new products, and entering new markets," said Bramble. For more information on AAI or its products, call 800/247-3978 or visit www.americanathletic.com.

Body Master, an exercise equipment manufacturer, imposed a steel surcharge equal to 6%-8 % of the Manufacturers Suggested Retail Price, effective April 1, 2004. The exact surcharge will vary from product to product, depending on the amount of steel necessary to manufacture.

Fitness Quest intends to continue its involvement with the Super Show as an exhibitor in 2005 but at a reduced level of participation. "After considerable analysis, it became clear to us that although customer traffic still warrants participation in the show, other more effective alternatives exist that make far better sense for us in today's environment," said Dave Petersilge, Fitness Quest's VP/sales. "We look forward to meeting our many customers again in Orlando next year," he said.

Helen Johnson-Leipold, COB/CEO,, Johnson Outdoors, and Samuel Johnson (majority shareholder and director of Johnson Outdoors) are extending for an additional 60 days their February 20 non-binding proposal to acquire the outstanding public shares of the company for a cash price of $18.00 per share. The stock is now selling in excess of $19. The proposal pertains to all shares not already owned by Johnson-Leipold and her father, or any member of their family or entities controlled by them.

In a move to reinforce accountable product advertising standards in the protective mouthguard category, Shock Doctor recently led a successful challenge through the National Advertising Division of the Better Business Bureau over the truth and accuracy of claims stated by WIPSS Products' Brain Pad Head Gear line of mouthguards. According to Shock Doctor CEO Steve Washburn, "We are highly sensitive to the need to provide accurate information to consumers about the performance and safety attributes of products designed to protect players in contact sports. Overstating a product's protection and performance capabilities can lead to serious safety consequences. In the case of WIPSS, we felt many of their claims were misleading and potentially harmful to the consumer." Upon inquiry from Shock Doctor, the NAD 'product packaging and advertising. Claims included: "Drastically Reduces Brain Concussions;" "Unlike Other Mouthguards, Which 'Damage' the Brain;" "Studies show concussion rate 500 times lower than when using (regular) mouthguard;" and "Increases muscle strength up to 32 percent." In a decision spanning more than thirty pages, each of the challenged claims was declared unsubstantiated and "out of bounds," Washburn said. "While the NAD found evidence to support a claim that mouthguards can reduce the risk of concussions due to lower-jaw impacts, it recommended that the advertiser discontinue or modify the claim that Brain Pad 'drastically' reduces this risk, as evidence offered to substantiate the degree of eduction in concussions did not reflect that conclusion. The NAD also threw a penalty flag in response to the advertiser's related claims that all upper-only mouthguards 'facilitate' or 'induce' concussions. The NAD further concluded that, although some degree of increased strength may be attributed to the fact that a mouthguard allows athletes to more safely 'clench' their teeth, the evidence relied upon was insufficient to provide a reasonable basis for the advertiser's '32 percent increased strength' claim, and recommended these claims be modified." Endorsement claims on Brain Pad advertising were also investigated, with the NAD concluding that consumers were mislead to believe that the products had the endorsement of more than 200 organizations worldwide, when there was no substantiation offered for the claim reflecting the opinion of the members of these organizations, Washburn said. And for endorsements made by professional or experts staff of these organizations, there was no indication that they had conducted the kind of tests that experts would recognize as a valid base for their opinion. As a result, the NAD recommended that the advertiser modify its endorsement claims and discontinue its claim that its product is "the official mouthpiece" of numerous listed organizations, he said. According to NAD documentation, "health-related advertising claims must typically be supported by competent and reliable scientific evidence in the form of well-controlled studies, the results of which should translate into a meaningful benefit for consumers and relate directly to the performance promised in advertising."

Legislation the Congressional Sportsmen's Foundation began working on last spring moved a step closer to becoming a reality yesterday when the House Committee on Ways & Means unanimously passed a bill that includes a provision to increase funding for the Sport Fish Restoration Act's Aquatic Resources Trust Fund. Currently only 13.5 cents of the 18.3 cents per gallon tax on motorboat fuel is targeted for sportfishing and boating programs paid for by the ARTF. The vast majority of funding for state-based boating safety, fisheries conservation and boating access programs, comes from these excise taxes on fishing equipment and motorboat fuels. Dedicating the full motorboat fuel tax for these important programs would increase the user pay/user benefit fund by an estimated $110 million per year.








Breaking Headlines
Short news...3/19/04
MARCH 19, 2004


Nike's Q3 Revenues Rose 21%; Futures Up 10%
MARCH 19, 2004


News shorts...3/18/04
MARCH 18, 2004


Profitability Fell At Retail In '04: NSGA
MARCH 18, 2004


Galyan's Q4 EPS Fall 42%; Sales Up 18%
MARCH 18, 2004


Chain Stores Seeing Gains In Nordic, Telemark Sales
MARCH 18, 2004


TSA Earned $14.6 Million In Q4
MARCH 18, 2004


Cold East Coast Weather Fueled Apparel Sales In January
MARCH 18, 2004


Short news...3/16/04
MARCH 16, 2004


Short news...3/15/04
MARCH 15, 2004