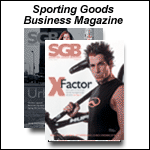 Short news...3/15/04

MARCH 15, 2004 -- In the UK, JD Sports and Umbro have joined forces with two of the leading names in video games to create a unique in-store promotion around the launch of Umbro's new England kit. Five top JD stores across the country will have a specially installed interactive area to keep customers entertained as they shop. Xbox consoles with plasma screens and surround sound will be installed from the end of March, featuring an exclusiive preview copy of Codemasters' England International Football-The Official England Team Game, which launches in May. Andy Helme, marketing director at JD Sports commented, "We wanted to create some excitement in our stores in a way that would appeal to our target audience, as well as giving people a strong incentive to buy the new England kit. We think this partnership is a great way to do all of those things." (Source: SGB UK)

Nike will sponsor a new national high school team cross-country championship to be held December 4 in the Portland area. The Nike Team Nationals is a post-season invitational showcasing 20 boys teams and 20 girls teams, with more than 300 runners from all parts of the country. The races will be 5,000 meters and the specific racecourse will be determined shortly. The championship will be sanctioned by USA Track & Field, running's national governing body. "As many high school runners will be involved and interested in this event, we hope many more athletes will be convinced to continue their running in college and beyond," said Bill Roe, president of USATF. Teams will compete as USATF-affiliated clubs and Nike will provide team racing uniforms. Meet management will be handled by the National Scholastic Sports Foundation, which conducts several national high school events including Nike Indoor Championships in Landover, MD.

Iron Grip Barbell Co. released an updated version of the eWeight Planner program. The latest version, 2.0, now features 14 participating fitness equipment manufacturers, as well as improved functionality and time saving features. The eWeight Planner currently features equipment from Life Fitness, Nautilus, Cybex, Hoist, Paramount, Strive, Flex, Body Masters, Muscle Dynamics, TechnoGym, Magnum, Matrix, MedX, and Atlantis Fitness Equipment. The newest version of the Planner has also been streamlined to offer a cleaner interface with easier navigation. Simple one-click on-screen commands provide the ability to print, save, and email individual estimates in a condensed report format. And although the Planner has been updated to include additional product information, the total download size has been reduced by two thirds. This reduced size results in a much faster download, and less time to open and save individual estimates. Iron Grip originally developed the eWeight Planner to calculate the appropriate amount of free weights required by a fitness facility. The Planner generates suggested weight plate breakdowns, depending on the type and quantity of plate-loaded strength and free weight equipment that the club already has or is planning to purchase. It also suggests dumbbell quantities as well as Olympic bars, and recommends racks when necessary. Upgrading to the new version is easy, and Iron Grip provides this tool to its customers and dealers at no charge. Version 2.0 of Iron Grip's eWeight Planner is available for download at the company's web site, www.irongrip.com, or customers can request to have the program mailed to them on CD.

Chris Rusin, formerly Wilson Golf's territory manager in Florida, has been promoted to national account manager/pro golf. Rusin will be responsible for golf sales to national accounts, as well as golf course buying groups

DZ Bank issued a buy rating on adidas-Salomon. DZ mentioned that the company's US sales declined significantly in 2003, but the robust sales in Europe and Asia boosted company profits. DZ Bank believes that the company's stock is marginally undervalued at present.

Escalade is seeking to triple its authorized common shares to 30 million to provide future flexibility for corporate needs such as stock splits or stock dividends, acquisitions or other purposes.

Dick's plans to open a new branch this year in Muskegan, MI. The 45,000-square-foot store will be located in the Lakes Mall. The company will be competing in Muskegan with Dunham's and MC.

The board of directors of Cutter & Buck approved a dividend of $0.05 a share, payable on April 9 to holders of record on March 26. The board also approved repurchase of up to $6 million in company stock. The repurchases may be made from time to time in the open market or in privately negotiated transactions. The timing of repurchases and the actual number of shares repurchased will depend on market conditions, alternative uses of capital and other factors. "This is a significant moment," said Fran Conley, CEO. "Cutter & Buck's recent performance and strong cash position allow us to reward our shareholders for their confidence in the company. During the last nine months, we generated $24.5 million in free cash flow. At the end of January, we had $42 million in cash and short-term investments. This gives us the ability to return value to the shareholders at the same time that we continue to fund operations; invest in growth opportunities; consider possible acquisitions; and provide for contingencies."

Peter Maich has been promoted to SEVP/group president, TJX Companies. Previously, Maich had been EVP/group executive, with responsibilities for the A.J. Wright and HomeGoods divisions. In his new role, he will continue to oversee A.J. Wright, and will assume responsibilities for Bob's Stores and the company's Canadian divisions, Winners and HomeSense.

American Ammunition it is now manufacturing and distributing ECO-AMMO. It is a lead-free projectile with reduced lead pollutants, sometimes referred to as "green" ammo. ECO-AMMO is ideal for indoor ranges since it disintegrates upon impact and therefore no ricochets. AAMI has been acquiring and developing technology to market this environmentally friendly ammunition for some time. The advent of the dealer-direct program enables the product to be distributed at a lower cost and will open up the market to more shooters.








Breaking Headlines
Nike's Q3 Revenues Rose 21%; Futures Up 10%
MARCH 19, 2004


News shorts...3/18/04
MARCH 18, 2004


Profitability Fell At Retail In '04: NSGA
MARCH 18, 2004


Galyan's Q4 EPS Fall 42%; Sales Up 18%
MARCH 18, 2004


Chain Stores Seeing Gains In Nordic, Telemark Sales
MARCH 18, 2004


TSA Earned $14.6 Million In Q4
MARCH 18, 2004


Cold East Coast Weather Fueled Apparel Sales In January
MARCH 18, 2004


Short news...3/16/04
MARCH 16, 2004


Short news...3/15/04
MARCH 15, 2004


Target, Rapala Link For Youth Fishing Program
MARCH 15, 2004