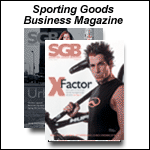 Short news...3/16/04

MARCH 16, 2004 -- Sof Sole launched aggressive running initiatives this week supporting the launch of Sof Sole's new FitSys, the first ever Insole/Sock fit system designed to create the ultimate performance and comfort footwear. To launch the initiatives, Sof Sole is working with The Active Sports Marketing Group, a national marketing services group focused on the active consumer. Central to the new initiatives is Sof Sole's sponsorship of a 300-member athlete team who will promote the Sof Sole brand at endurance events across the country, educating athletes about product benefits. The sponsored athletes (including individually-recruited, Utop-performing runners, cyclists and triathletes) will compete in more than 1,800 marathons and triathlons over the next nine months providing peer-to-peer promotion. Among them is runner Carrie Brady, who was elected to the 2003 USAT All-American Duathlon and Triathlon Honorable Mention teams and is currently ranked among the top 5% in her age group for the US and Canada. The sponsored athlete program, developed and managed by ASMG, is designed to increase awareness for Sof Sole by leveraging a peer-to-peer athlete network reaching millions of recreational athletes nationwide. Sof Sole has also teamed with USAFit, one of the most successful marathon training programs for runners and walkers in 45 cities, to sponsor more than 75 USAFit coaches and their 8,000 training members. USAFit coaches and runners in 15 cities will have an opportunity to test Sof Sole's product line in workouts and competition. The Sof Sole-USAFit program will include product training and trial, onsite demonstrations and integrated workouts.

Bass Pro Shops may be close to locating a branch in Broken Arrow, OK (Tulsa). The store would be the chain's second in the state. The Oklahoma City branch was financed by the city, which used lease payments and sales tax revenues to pay off loans.

Big 5 Sporting Goods will redeem $15 million principal amount of its 10.875% senior notes due 2007, using funds available under a revolving credit facility. Following the redemption, which is scheduled to be completed in mid-April 2004, the outstanding balance of the company's 10.875% senior notes will be reduced to a face amount of $33.1 million from an original face amount of $131 million when the notes were issued in November 1997. Big 5 estimates that the redemption will result in annualized interest expense savings of approximately $700,000, or $0.03 per diluted share, on an after-tax basis, based on current interest rates. The notes will be redeemed at 103.65% of their face value, and taking into account the write-off of unamortized financing fees and original issue discount, the company will recognize a resulting after-tax charge of approximately $500,000, or $0.02 per diluted share, in the 2004 Q2. Wells Fargo Securities reiterated its buy rating and increased its FY 2004 estimate to $1.55 from $1.53 and FY 2005 to $1.80 from $1.77.

Callaway Golf seized 27,000 clubheads from Newport Golf, an Anaheim-based entity controlled by Jimmy Lin and accused of selling illegal copies of Callaway's golf clubs. A court-mediated settlement recently gave Callaway Golf more than $800,000 in cash and 28,000 other golf club components valued at more than $500,000, plus the right to conduct a final inspection of Lin's inventory. It was during that final inspection on March 9 that the additional 27,000 clubheads, valued at over $500,000, were found and seized.

The US District Court for the District of Nevada granted the FTC's motion for default judgment against two defendants in the Commission's action vs the marketers of the AbTronic, the electrical muscle stimulation device that the defendants claimed would cause users to lose inches and obtain "washboard" abdominal muscles. (FTC v. Hudson Berkley Corp., et al). The order permanently enjoins Oliver Braun and CCI Cad Cam Industries Ltd., Inc. (also known as Cad Cam Industries Ltd. and Cad Cam Industries (HK) Limited) from claiming: 1) that the AbTronic causes the loss of inches, fat, or cellulite; 2) that the AbTronic causes muscle growth or promotes well-defined abdominal muscles; 3) that use of the AbTronic is equivalent to or superior to abdominal or thigh exercises; 4) that a University of Maryland study cited in the AbTronic infomercial proves that the AbTronic increases abdominal strength better than exercise alone; and 5) that the AbTronic is safe for use over the chest area. The order also holds the defendants jointly and severally liable for $83 million, which represents the value of net sales of the AbTronic product to US consumers. The order requires the defendants to repatriate and provide to the FTC those assets and all assets held abroad, and requires all third parties holding funds for defendants to turn those assets over to the FTC. On July 1, 2003, the court granted the FTC's motion for partial summary vs five other defendants in this case.

Doughty Hanson, the venture capital firm that took over Umbro, has plans for a possible London stock market IPO of Umbro, the sponsor of the England football team, for about $450 million. The investment company paid $164 million five years ago, for Umbro. If the deal flies, it will make CEO Peter McGuigan a multi-millionaire. The former Reebok and Pentland exec was responsible for the turnaround that was made even more difficult by the bankruptcy of its US licensee.

The GDS show in Duesseldorf has had the same effect on ispo as the WSA show in Las Vegas has had on Super Show, attracting away athletic brands. But GDS is having its problems. The show will move to April next year, a late window for many exhibitors. GDS has also been affected by the success shoe companies are having in Berlin at Bread & Butter.








Breaking Headlines
Nike's Q3 Revenues Rose 21%; Futures Up 10%
MARCH 19, 2004


News shorts...3/18/04
MARCH 18, 2004


Profitability Fell At Retail In '04: NSGA
MARCH 18, 2004


Galyan's Q4 EPS Fall 42%; Sales Up 18%
MARCH 18, 2004


Chain Stores Seeing Gains In Nordic, Telemark Sales
MARCH 18, 2004


TSA Earned $14.6 Million In Q4
MARCH 18, 2004


Cold East Coast Weather Fueled Apparel Sales In January
MARCH 18, 2004


Short news...3/16/04
MARCH 16, 2004


Short news...3/15/04
MARCH 15, 2004


Target, Rapala Link For Youth Fishing Program
MARCH 15, 2004