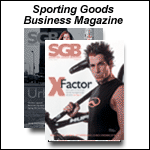 News shorts...3/18/04

MARCH 18, 2004 -- Stephens maintained its outperform rating on Dick's Sporting Goods, while raising estimates for the company. The target price is now $73. Stephens mentioned that the Dick's reported Q4 EPS ahead of expectations. The EPS estimates for Q1 and FY 2004 have been raised by $0.02 to $0.36 and by $0.04 to $2.48, respectively…Sidati & Co. raised Deckers to a buy from neutral…Huffy was raised to neutral from sell by Roth Capital…Hibbett was downgraded to neutral from outperform by Harris Nesbett Gerard.

adidas will be an Official Supporter of the Athens 2004 Olympic Games. Under the agreement with the Organizing Committee for the Olympic Games, adidas will supply uniforms for all the Athens 2004 workforce (staff and volunteers) and technical officials of the Athens 2004 and Paralympic Games. adidas furthermore produced all uniforms for the Olympic Torch Relay.

The National Ski & Snowboard Retailers Association appointed Roger Kahn as director of development for the association. Kahn will work with NSSRA to identify issues of interest to all retailers and represent these issues to the ski and snowboard industry as a whole. "The NSSRA board has identified three critical issues for Kahn to begin his work, including assisting in adjusting the timing of the retail buying season, insuring the preservation of a strong specialty ski and snowboard retail community, and growing the sports of skiing and snowboarding both in area visits as well as participants," NSSRA chairman Brad Nelson said. Kahn will also work to increase NSSRA membership. Kahn was the owner of Porter's Ski & Sport, a small chain of ski and snowboard shops located at North Lake Tahoe, which he sold in 2002. During his 30-year ownership of Porter's, Kahn served on a number of industry panels and was a long-time executive board member of the Sports Specialists Ltd. buying group. Kahn can be reached at P.O. Box 8378, Tahoe City, CA 96145. Phone: (530)583-5930; fax: (530) 583-0752; e-mail: [email protected]

EVP/sales and marketing Cesar Aguilar has resigned his position at Malden Mills after 27 years with the company. Aguilar is moving on to pursue a new career opportunity. Jim Allen, director of sales/North America, will be assuming Aguilar's primary functions.

Bunny and Paul Wiener, owners of Sports & Marine Parafunalia, Gilford, NH, were recently named Dealer of the Year by the New England Sports Agents Association.

REI plans to open a store in spring of 2005 in Huntington Beach, CA in the Bella Terra center at Edinger Avenue and Beach Boulevard. The 22,500-square-foot store will serve 45,000 active cooperative members in Orange County.

The California Supreme Court has denied Mossimo's appeal in Cherokee vs. Mossimo. The company had challenged the California Court of Appeal's decision affirming a superior court judgment for Cherokee Inc., relating to a finder's fee agreement between the two companies. Last year, Mossimo appealed the June 17 arbitration award and judgment that was entered in Cherokee's favor by the Los Angeles Superior Court to the Court of Appeal. On June 17, 2003, the Los Angeles Superior Court confirmed the full arbitration award including finder's fees withheld under the finder's agreement, interest at the legal rate on monies previously withheld, and Cherokee's full attorney's costs. It also reaffirmed the validity of the original finder's agreement between Cherokee Inc. and Mossimo, further ordering that Cherokee is entitled to receive from Mossimo 15% of all monies received by Mossimo from Target Stores pursuant to Mossimo's licensing agreement with Target Stores dated March 28, 2000 and from any future extensions. In conjunction with the appeal, Mossimo posted financial security satisfactory to the Court, a cash deposit in lieu of a bond, in an amount one and one half times the value of the judgment. Interest, which began accruing at over $5,000 per week, continued to accrue at the statutory rate during the appeal.

Many thought the aisles were a lot thinner at this year's Super Show. According to management, you should blame the fire marshal. He insisted the aisles be 25% wider than in Las Vegas. Management said it would intensify its buyer relations program to attract more buyers. It is actually going to educational programs in specific categories, as well as special cross-buying workshops.








Breaking Headlines
Nike's Q3 Revenues Rose 21%; Futures Up 10%
MARCH 19, 2004


News shorts...3/18/04
MARCH 18, 2004


Profitability Fell At Retail In '04: NSGA
MARCH 18, 2004


Galyan's Q4 EPS Fall 42%; Sales Up 18%
MARCH 18, 2004


Chain Stores Seeing Gains In Nordic, Telemark Sales
MARCH 18, 2004


TSA Earned $14.6 Million In Q4
MARCH 18, 2004


Cold East Coast Weather Fueled Apparel Sales In January
MARCH 18, 2004


Short news...3/16/04
MARCH 16, 2004


Short news...3/15/04
MARCH 15, 2004


Target, Rapala Link For Youth Fishing Program
MARCH 15, 2004