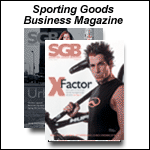 Target, Rapala Link For Youth Fishing Program

MARCH 15, 2004 -- Target Stores and the Rapala Group, the world's largest producer of fishing lures and tackle, have partnered to provide young anglers with the fishing equipment. Rapala has designed a collection of fishing equipment for kids called Rapala Fishing Kids, which will be available exclusively at Target this fishing season.

Along with the kids' line, traditional Rapala lures and accessories for everyone from the serious angler to the novice also will be available at Target Stores across the country.

"Rapala Fishing Kids is an excellent opportunity for us to connect with our younger guests," said Keri Jones, VP, Target Stores. "Rapala is a trusted name in fishing, and this partnership will help our guests enjoy this pastime with their children."

For the first time in the company's 68-year history, Rapala has incorporated the same technology that has caught more record-breaking fish than any company into its Rapala Fishing Kids line, which is for ages seven and under.

"With Rapala Fishing Kids, young anglers finally can have the real thing," says Tom Mackin, president of Rapala. "We want to make a child's first experience with fishing as fun and realistic as possible. To them, the excitement comes when they land any fish, regardless of how big it is. Now they have the right equipment tailored to their size and age to make hooking fish that much easier."

The new Rapala Fishing Kids line was created with Target's customers in mind, bringing Rapala quality to the youngest of fishing enthusiasts for the first time.

The Rapala collection of fishing products and equipment will be available at Target Stores nationwide. In addition, Rapala's tank-tested saltwater products will be on shelves in more than 250 of these stores.









Breaking Headlines
Nike's Q3 Revenues Rose 21%; Futures Up 10%
MARCH 19, 2004


News shorts...3/18/04
MARCH 18, 2004


Profitability Fell At Retail In '04: NSGA
MARCH 18, 2004


Galyan's Q4 EPS Fall 42%; Sales Up 18%
MARCH 18, 2004


Chain Stores Seeing Gains In Nordic, Telemark Sales
MARCH 18, 2004


TSA Earned $14.6 Million In Q4
MARCH 18, 2004


Cold East Coast Weather Fueled Apparel Sales In January
MARCH 18, 2004


Short news...3/16/04
MARCH 16, 2004


Short news...3/15/04
MARCH 15, 2004


Target, Rapala Link For Youth Fishing Program
MARCH 15, 2004