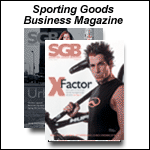 Short news: 3/9/04

MARCH 09, 2004 -- For Q3, Nike now anticipates that its revenue will increase more than 20% over the prior year. Prior year revenues were unusually low due to the timing of shipments related to the company's supply chain implementation in its European business. While it does not intend to begin the practice of providing EPS guidance, this revenue increase would result in estimated Q3 EPS of between $0.71 and $0.74 per diluted share. "Nike's businesses in the US and Asia Pacific regions, combined with favorable European currency exchange rates, are resulting in very healthy revenue growth for the company," said CEO Phil Knight. "Consumer demand for Nike products continues to grow as our innovative product and superior brand presence are generating renewed energy in the footwear and apparel industry. We remain optimistic that the momentum we are seeing in our business is setting the stage for continued profitable growth through the remainder of fiscal 2004." For Q4, it has not adjusted its expectation of high-single-digit revenue growth, year-over-year expansion of gross margins, and continued investment in SG&A expenses in excess of revenue growth. Wells Fargo Securities raised its FY 2004 EPS estimate to $3.46 from $3.35 and FY 2005 to $3.97 from $3.85. WFS raised its target price to $83.

Callaway Golf's woods, irons and putters topped retail best-selling lists in 2003, according to Golf Datatech, the company that tracks such sales. Callaway said that for the full year 2003 it continued to lead the woods market in both units sold at 18.0% and revenues earned at 24.0% and topped the irons market with 17.2% of the units sold and 26.1% of revenues. Its Odyssey brand completed its seventh straight year atop the putter category with 42.0% of units and 49.4% of overall revenues at retail in the US in 2003. The results were fueled by the continued strength of the popular Odyssey White Hot 2-Ball Putter.

Analysts at Hilliard Lyons issued a long-term buy rating on Finish Line. The target price has been raised from $40 to $42. According to Hilliard Lyons, the improving relations between Nike and Foot Locker are likely to create a more competitive environment for Finish Line in the near-term. Hilliard Lyons cites challenging same-store sales comparisons and aging or outdated inventory as additional near-term risk factors for the company. The EPS estimates for 2003, 2004 and 2005 are $0.85, $1.92 and $2.23, respectively. The P/E estimates for 2002, 2004 and 2005 are 43.7x, 19.4x and 16.7x, respectively…Wachovia Securities initiated coverage of Dick's with an outperform rating.

Everlast entered into two licensing agreements with Slace, S.A. de C.V., Anahuac, Mexico, for the launch of Everlast-branded athletic and casual footwear and men's and women's underwear. The new Everlast products will be launched mid-2004 and will be available in better department stores, sporting goods stores and athletic shoe stores. Everlast will retain the distribution of its professional boxing shoes.

SnowSports Industries America hired two new staff members. Christine Martinez has been named the new market research manager, while Sara Hobbs will assume the position of executive assistant to the president, David Ingemie. Martinez came to SIA from USA Today, where she served as a marketing research analyst for the past four years. She fills the vacancy left by former director of research and new mother of twin girls, Julie Lynch. Martinez will be responsible for managing all research efforts related to the industry including the Retail Audit, Brandshare and Wholesale Shipments and Orders Survey among others. Additionally, she will develop all new market research projects and continue to monitor existing studies. Lynch will continue to be affiliated with SIA in a consultancy role while working on the snow sports consumer panel initiative. An industry veteran, Hobbs will be responsible for assisting in the day-to-day operations of the president along with presiding over the entire association operations. She comes to SIA from Massachusetts where she worked as an executive assistant at Capital Analysts of New England.

Wilson Golf signed a multi-year agreement to be the official provider of golf balls, bags, and gloves for the NGA/Hooters Pro Golf Tour that gets underway this week with the Orange Park Open in Orange Park, FL. Wilson has designated the Staff True Tour Elite as the official ball, the Lizard Carry Deluxe as the official bag, and the Pro Fit Glove as the official glove of the NGA/Hooters Tour.

American Ammunition's dealer customer-base has increased by more 600% since the launch of its dealer direct program in January 2004. Paul Goebel, national sales director, said, "There is steady growth in our customer base occurring daily. We expect this trend to continue for the foreseeable future as we earn dealer loyalty with our product quality and superior price terms." The company attributed this growth in customer base to the enhancement of its website to an e-commerce marketplace for online orders of small arms ammunition by dealers direct from the company. It is also a result of the credit terms being offered to smaller dealers, who were traditionally forced to pay for product at the time of delivery. A 2% discount is awarded to those who make payment within 30 days and free freight on all orders exceeding $500. "These new incentives are geared toward attracting smaller dealers directly to the company for their small arms ammunition needs. Credit terms are rarely offered to dealers of this size, and free freight is unheard of," stated Andres Fernandez, AAMI CEO. "We intend to revolutionize the way dealers purchase their ammunition. We offer better terms to more dealers on a great product."






Breaking Headlines
Short news: 3/9/04
MARCH 09, 2004


Quiksilver Buying DC Shoes
MARCH 09, 2004


News shorts...3/8/04
MARCH 08, 2004


Footstar Leading Creditor List
MARCH 08, 2004


All Just For Feet Doors To Be Closed Along With 77 Footactions; See Entire List
MARCH 08, 2004


Short news...3/5/04
MARCH 05, 2004


Cybex Levies 3%-6% Steel Surcharge
MARCH 05, 2004


Short news...3/4/04
MARCH 04, 2004


Finish Line's Q4 Beats Sales Estimates; Company Increases Guidance
MARCH 04, 2004


Short news...3/3/04
MARCH 03, 2004