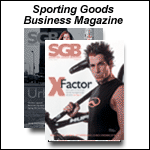 Finish Line's Q4 Beats Sales Estimates; Company Increases Guidance

MARCH 04, 2004 -- The Finish Line reported net sales of $305,263,000 for the thirteen weeks ended February 28, 2004, an increase of 30% over net sales of $234,426,000 for Q4 last year. Comparable-store net sales for Q4 increased 19% on top of a 10% increase reported for the comparable 13-week period last year. The strong results forced the company to upgrade its guidance for FY 2004 and FY 2005 EPS.

For the FY, net sales were $985,891,000, an increase of 30% over net sales of $757,159,000. Year to date comparable-store net sales increased 20% versus a 3% increase reported for the comparable 52 weeks last year.

"Our outstanding fourth quarter was a fitting end to a record-breaking year," stated Alan Cohen, Finish Line's COB/CEO. "Strong holiday business, with December comps up 22%, continued through the period with a 16% increase in January and an 18% increase in February. We continue to benefit from our position as the premier destination for athletic footwear. Exciting new product assortments in key categories including running, basketball and casual drove more customers into our stores during this quarter."

For the quarter, footwear comparable-store sales increased 14% on top of a 7% gain for Q4 LY, while softgoods comparable-store sales increased 35% on top of an 18% (eighteen percent) gain for Q4 LY. Inventory levels are expected to be up 9-11% per square foot as of the end of Q4. Increased flow of new inventory continues to be strong, and aged inventory is at a historic low.

Due to sales significantly exceeding plan and improved product margins versus Q4 LY, the company now anticipates that diluted Q4 EPS will range from $0.82 to $0.84 as compared to previous guidance of diluted income per share of $0.73 to $0.75. For Q4 LY, it reported diluted EPS of $0.66 ($0.50 after excluding a net $0.16 benefit from the tornado insurance settlement). Correspondingly, FY EPS guidance is being increased from a previous range of $1.82 to $1.86 to a new range of $1.92 to $1.94. It is increasing the comparable-store sales guidance for Q1 2005 to +5% FY 2005 is $2.22 to $2.26 per diluted share based on the sales guidance increase and improved Q4.






Breaking Headlines
Short news...3/5/04
MARCH 05, 2004


Cybex Levies 3%-6% Steel Surcharge
MARCH 05, 2004


Short news...3/4/04
MARCH 04, 2004


Finish Line's Q4 Beats Sales Estimates; Company Increases Guidance
MARCH 04, 2004


Short news...3/3/04
MARCH 03, 2004


Foot Locker's Q4 Comps Up 3.9%
MARCH 03, 2004


PacSun's Q4 Net Income Rose 48%
MARCH 03, 2004


Footstar Files For Chapter 11 Protection
MARCH 03, 2004


Short news...3/2/04
MARCH 02, 2004


Big-Ticket Footwear Slipped 2.6% In '03: NSGA
MARCH 02, 2004