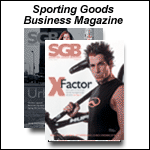 Short news...3/4/04

MARCH 04, 2004 -- The dollar value of sporting goods imports rose 4.1% in 2003. This is the second consecutive yearly increase. US Commerce Department data analyzed by SGMA showed the total landed value on imports at $9.375 billion. Two sectors (jogging/warmup suits and sports equipment) larger increases. The apparel was up 14.2% to $1.09 billion, while equipment rose 8.2% to $4.13 billion. The dollar value of athletic footwear was off 1.9% to $4.15 billion. Pairage fell 3.1% to 424 million. The average price increased 1.2% to $10.10. As for equipment increases: Water sports +27%; billiard/bowling equipment +24%; sleeping bags/tents +21%; gym/exercise equipment (+21%). Declines included roller skates –44%; golf balls –23%; and inflated balls –10%. China accounted for 56% of all imports, followed by Taiwan (9.3%); Canada (4.8%); Mexico (4.2%); and South Korea (2.5%). China is the dominant exporter of footwear. It had a 77.5% share in 2003 vs 75.7% in 2002 and 76.4% in 2001. The internal troubles in Indonesia are affecting its shoe business. In 2003, its share of imports was 11.0% vs 13.5% in 2002 and 13.1% in 2001.

Members of the Swartz family and The Swartz Foundation have entered into an agreement to sell 3,261,221 shares of Timberland Class shares in an underwritten offering through Morgan Stanley. Included in this agreement are the sale of 1,000,000 shares by The Swartz Foundation, 993,844 shares held in trust for or directly by Julie Swartz (daughter of Sidney Swartz, COB), 767,377 shares held in trust for David Swartz (son of Sidney Swartz) and 500,000 shares held in trust for Jeffrey Swartz (CEO). Neither Julie Swartz nor David Swartz is actively involved in the management of the Ccmpany. The sale will support the Swartz family's philanthropic and investment diversification objectives. The offering is expected to close on Monday and will be made pursuant to the shelf registration filed with the SECon January 27. Following the offering, 3,261,220 shares will remain available for sale under the shelf registration. The company will not receive any proceeds from the sale of these shares. Sidney Swartz, members of his family and charitable and family trusts currently hold approximately 39% of the total shares outstanding and approximately 78% of the voting control. The Swartz family, charitable and family trusts will maintain voting control of the company following this sale.

Wells Fargo Securities increased its EPS estimate for Foot Locker's FY 2004 to $1.70 from $1.61. For FY 2005, its estimate is now $1.93, up from $1.83. The price target was raised from $28 to $31. WFS also increased its EPS estimate for Finish Line: FY 2004: $1.82 to $1.91; FY 2005: $2,15 to $2.25; and FY 2006: $2.50 to $2.60. The price target was increased to $41 from $37.

Recreational Equipment, Inc. launched an integrated multi-channel gift registry that makes it easy to create and edit gift lists at any REI store, online at REI.com or by phone. REI has provided a registry service as an alternative for engaged couples for 20 years. The new service, which can be used for any occasion or holiday, is enhanced with leading edge retail technology. Couples planning spring weddings can create a gift registry at home online or by phone, or select gear in a store using hand-held scanners to register items. Once created, the gift list can be easily monitored and edited online. When a gift is purchased anywhere in the country the integrated database is updated in near real time. The registries can be accessed by gift purchasers online, by phone and through Internet kiosks in all of REI's stores. Purchasers can select a gift box and card and have the gift sent directly to the couple or they can choose to wrap and deliver the gift themselves. The investment in the enhanced service is a response to customers who have been seeking out REI as an alternative to traditional gift registry service. Here is a list of the top 10 most popular gift registry products in 2003:

1. REI Half Dome Plus 2 tent;
2. Kelty Eclipse Double-Wide +35 sleeping bag;
3. Motorola Talkabout two-way radios;
4. Coleman 424 Dual-Fuel two-burner stove;
5. GSI Hard-Anodized No-Stick Extreme Cook Set;
6. Garmin eTrex GPS;
7. Century Matchless two-burner stove;
8. Nikon Action 7 x 35 binoculars;
9. REI Half Dome 4 tent;
10. Therm-a-Rest Performance UltraLite sleeping pad.

Moretz Sports will be the featured segment on CNBC's Squawk Box staring Mike Hegedus. The show will air at 7:50 am, Monday, March 8. He is highlighting a US textile success story in contrast with the mill closings and loss of jobs in this manufacturing segment. Segment repeats may be shown throughout the week on CNBC's Out of the Box.

Collegiate Pacific launched a new BU from within its newly acquired West Coast subsidiary, Tomark Sports. The new unit will focus exclusively on new school and park construction projects in the state of California. California represents more than 10% of Collegiate Pacific's sales and prospect base, making it the company's single largest target market. Adam Blumenfeld, president of Collegiate Pacific, stated: "With the passage of Propositions 55 and 57 in California, we believe a significant backlog of funding for new school and park projects may be released. In particular, Proposition 55 allows for a $12.3 billion California School Bond Package with monies ear-marked for repair and new construction of schools. Many of these projects have been on hold for months if not years. The average size project being targeted is $200,000-$400,000 in Tomark-related goods and services. We are in an ideal position to service this anticipated demand and help speed the improvement of schools statewide. Tomark is, we believe, the only 'all-in- one' sporting goods manufacturer; sales force and installer of product in the state of California selling directly to schools and other institutions. We possess through Tomark the in-house capability to write specifications, manage the customer relationship and actually install the goods. Products include message centers, scoreboards, backstops, bleachers, wall padding and other items. This is completed through our road sales team; installation team and company-owned installation equipment. Having these resources under one roof, and over 20 years experience in the installation field gives Tomark, we believe, a significant advantage. Ultimately we save the schools, districts and park departments money and considerable time. Sports programs can provide a meaningful revenue stream for school funding. Improving these facilities on a timely basis allows for the potential of more patrons; more ticket receipts, and ultimately more funds to address other needs throughout the institution."

Innovative Designs signed a licensing agreement with MirTek/Mirage Wear, allowing it to incorporate Innovative Designs' eliotex in "leafy" or 3-D camouflage outerwear under the MirTek label. MirTek's "leafy" line is currently manufactured by Milliken Mills. This will be the first time eliotex and leafy camouflage have been used together in the hunting outerwear market. MirTek is expecting to unveil the new line in October. It is estimated that the retail price for the outerwear suits incorporating eliotex will be around $200.






Breaking Headlines
Short news...3/5/04
MARCH 05, 2004


Cybex Levies 3%-6% Steel Surcharge
MARCH 05, 2004


Short news...3/4/04
MARCH 04, 2004


Finish Line's Q4 Beats Sales Estimates; Company Increases Guidance
MARCH 04, 2004


Short news...3/3/04
MARCH 03, 2004


Foot Locker's Q4 Comps Up 3.9%
MARCH 03, 2004


PacSun's Q4 Net Income Rose 48%
MARCH 03, 2004


Footstar Files For Chapter 11 Protection
MARCH 03, 2004


Short news...3/2/04
MARCH 02, 2004


Big-Ticket Footwear Slipped 2.6% In '03: NSGA
MARCH 02, 2004