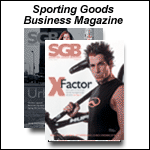 Short news...11/1/04

NOVEMBER 01, 2004 -- Cabela Family, Atkin, Klimenko Entering Hall Of Fame

The Sporting Goods Industry Hall of Fame Committee has elected five new Hall of Famers. Roger Atkin, formerly of NFL Properties; James Cabela, Mary Cabela and Richard Cabela of outdoor retailer Cabela's; and Konstantin (Conny) Klimenko of Sevylor, Inc. were elected to the Hall of Fame. The Hall of Fame induction will take place Tuesday, May 24, 2005, during the 41st Annual NSGA Management Conference & 7th Annual Team Dealer Summit, which will be held at the new JW Marriott Starr Pass Resort & Spa in Tucson. Since 1956, the sporting goods industry has honored its pioneers, innovators and leaders, and the election of the Class of 2005 brings the total number of Hall of Famers to 124.

The Sporting Goods Industry Hall of Fame Breakfast is co-sponsored by W.L. Gore & Associates, Inc., Mizuno USA, New Balance Athletic Shoe, Inc., and Southern Athletic. All Conference/Summit attendees are invited to the Hall of Fame Breakfast, which will be held Tuesday, May 24. "Election to the Hall of Fame is the highest honor one can receive in the sporting goods industry," said Hall of Fame Committee chairman Mickey Newsome, CEO, Hibbett Sporting Goods. "These inductees meet the high standards to which all Hall of Famers are held."

Long recognized a pioneer and innovator in sports licensing, promotion and marketing, Roger Atkin served the industry for 30 years as VP/NFL Properties. Joining NFL Properties six years after its founding, Atkin developed a diversified group of licensees to provide team-identified products to a cross-section of retailers and NFL fans. He initiated and assisted licensees in developing new products. He established product quality contract standards, and his persistence led to the implementation of a trademark protection program.

Atkin refined and broadened the development of the "Team Shop" concept to assist licensees in expanding distribution and give retailers a vehicle to merchandise and promote team-identified products. In 1978, Atkin created the Super Bowl licensing program, the first in professional sports. He developed the locker room "Championship" merchandise concept that was the forerunner to the multi-billion-dollar post-game programs of today.

Industry respect for his knowledge and expertise earned him an invitation to address the U.S. trademark Association on the subject of the then-uncharted waters of "Sports Licensing and Trademark Protection." The US Olympic Overview Commission and the North American Soccer League also sought his counsel. He and his wife Eloise reside in Lansdale, PA. They have three daughters and eight grandchildren.

Few, if any, businesses today survive the kitchen-table dreams of their founders, especially in the outdoor industry where businesses come and go with the changing seasons. Yet, the company known to its customers as the "World's Foremost Outfitter" has done just that – survived, grown and prospered from simple beginnings to become the largest mail-order, retail and Internet outdoor outfitter in the world.

Cabela's was born somewhat inadvertently in 1961 when Dick Cabela (current COB and director) came up with a plan to sell fishing flies he purchased while at a furniture show in Chicago. Upon returning home to Chappell, NE, Dick ran a classified ad in the Casper, WY, newspaper reading "12 hand-tied flies for $1." It generated one response. Undaunted, Dick formulated a new plan, rewriting the ad to read "FREE Introductory offer! 5 hand-tied flies...25¢ Postage...Handling" and placing it in national outdoor magazines. It didn't take long for the orders to being arriving from sportsmen and women around the country. Initially, Dick and his wife and company co-founder, Mary, were able to handle the growing business with the help of temporary typists hired for mail, label and catalog preparation. However, by the fall of 1962, they realized the demands of their new venture needed full-time attention. Dick urged younger brother Jim (current VCOB and director) to join the new company, which he did in 1963. They did not take any salary from the company in the early years, instead investing in more mailings, new equipment and bigger facilities.

By 1964, the company moved from the kitchen table to the basement of Dick and Jim's furniture store, and then on to various buildings in Chappell. In 1969, the company was operating from a 50,000 square-foot building in neighboring Sidney, NE. The company produces 60 different catalogs a year, including specialty books on archery, fly-fishing and boating. More than 100 million catalogs are mailed each year. The retail division operates seven stores throughout the Midwest. In 1985, Cabela's Outdoor Adventures was born, booking worldwide hunting and fishing trips. Another chapter in the company's history was written last June when Cabela's made its debut on the New York Stock Exchange.

Konstantin (Conny) Klimenko, president of Sevylor, Inc., was born in Kiev, the capital of Ukraine, which was then part of the Soviet Union. He fled to Germany at the end of World War II with his family, but his father was forcefully repatriated to the USSR. He did not see his father again for 45 years, until August 1990 when he found him in the western Ukraine city of Lutsk. Klimenko made a well-documented trade with the local authorities of two above-ground swimming pools for a private apartment for his father, then 94 years old.

Klimenko was educated in Germany, graduating with a BA in business, as well as receiving a diploma in textile and retailing in 1955. He is fluent in English, German, Russian and Polish. Klimenko was educated in Germany, graduating with a BA in business, as well as receiving a diploma in textile and retailing in 1955. He is fluent in English, German, Russian and Polish. He came to the US in 1957 and secured a job as a shipping clerk for Klepper Folding Boats, the venerable German kayak maker. The next year, he and a former manager of the company left Klepper to form Kayak Corp. of America and soon was named junior partner. That same year, the company became the exclusive US distributor of the French Sevylor products.

In 1969, when the Kayak Corp. was taken over by Great American Industries, Klimenko moved to Los Angeles and became VP of West Cost operations for a new company called Recreonics Inc. Kayak Corp., with the exclusive Sevylor contract, was one of the cornerstones of the company. In 1973, Great American closed Recreonics, and Sevylor began distributing its own products. Klimenko was appointed president/CEO of Sevylor USA, a post his has held for 31 years.

In 1982, Sevylor France was taken over by Zodiac Corp. Klimenko kept his title with Sevylor USA, but he also was made VP of Zodiac, a member of the board, and director of the Leisure Division. In September 2003, Zodiac sold Sevylor USA to NVI, a California company. Today, Klimenko is president/CEO of Sevylor Inc., a new company but with the same product line.


ASICS Sues New Jersey Company For Trademark Infringement;

ASICS America Corp. and ASICS Corp. Japan have filed suit in Federal District Court in the US District Court, Central District of California vs Wanted Shoes, Inc. (Edison, NJ) for trademark infringement, unfair competition, trademark dilution and false advertising. ASICS is seeking a permanent injunction against Wanted to prevent any future sales and distribution of shoes that bear a stripe design similar to ASICS' stripe design. In addition, ASICS is also seeking damages, including profits and attorney fees.

ASICS discovered through its continuous Marketplace-Monitoring Program that Wanted was selling through stores like Sears, its Sizzle and Sleek style shoes having stripes confusingly similar to ASICS' stripes. "These Wanted shoes are a blatant attempt to free-ride on the brand image and goodwill ASICS has developed over the years," said Michael Zall, VP/general counsel of ASICS America Corp.


Marmot Mountain Takes Over Dana Design

K2 Sports' Dana Design backpack and travel bag division will relocate in November from Vashon Island, WA, and operate under Marmot Mountain. Santa Rosa, CA. K2 Inc., the parent company of K2 Sports, acquired Dana Design in 1996 and moved the brand from Bozeman, MT, to Vashon Island in 2001. K2 acquired Marmot in 2004.

"Marmot's outdoor specialty focus is ideal for Dana Design," said Anthony DeRocco, K2 Sport's global marketing VP. "Dana is one of the true heritage brands in the outdoor industry and it is a perfect fit with the Marmot organization. We believe that its association with the superb team at Marmot, combined with that organization's strengths in marketing, outdoor specialty sales and sourcing, will serve to grow the brand in the years ahead."

Zac West, Dana's head designer and product manager, will continue in that capacity for the Dana brand. His focus will be on the development of industry reference level large volume and mid-volume back packs, day packs, multi-sport packs and travel bags. "I'm excited about Dana's new home within the Marmot organization," said West. "We have a great Dana collection in the design phase for the year ahead and it will only get better with the resources that Marmot brings to the project."

Mark Martin, division president of Marmot, noted, "Since 1987, Dana products have helped build the specialty outdoor market with quality, reliable packs. The Terraplane is a classic and remains the favorite pack for many. Dana's suspension technologies are innovative and highly respected and we look forward to the opportunity to drive the Dana Designs brand to new heights. Marmot can also hone and focus the back-office and production functions to improve Dana's reliability and consistency. Everyone at Marmot is excited about having Dana Designs as a part of the Marmot organization."

Dana Design and Marmot products will continue to be developed and marketed as separate brands.


BB Guns Injure 21,000 Annually: Report

Shades of Jean Shepherd's "A Chistmans Story," Pediatrics, the publication of the American Academy of Pediatrics, has reported a study that claims 21,000 people are injured each year by non-powder guns. Most of the injuries involve young people aged five to 14, the report said. Between 1990 and 2000, some 39 people have been killed in accidents involving such guns. One of the problems accoring to the report is the velocity of some current models.

Footstar Eked Out Profit In October

Bankrupt Footstar made $3.1 million in October. YTD, the company lost $75.7 million. October sales were $67.8 million; and YTD, they were $495.4 million. Gross profit in October was $17.9 million. Assets are $371.1 million, and liabilities were $333.2 million. Footstar estimates that it owes Kmart approximately $18 million for defaults under the master license agreement. Kmart asserts that Footstar owes approximately $56 million. The dispute will be resolved in connection with the debtors' motion to assume the license agreement. In June and August, Kmart announced the sale of an additional 54 and 18 stores to other retailers, respectively. The effect of these additional store closings could have a material adverse effect on the financial position and results of Footstar operations.


VF Corp. Signs RFID Contract

VF Corp. signed a three-year agreement to purchase Radio Frequency Identification (RFID) tags and readers from Alien Technology. VF will use the tags on cases and pallets destined for Wal-Mart and other retailers with RFID shipping mandates from January 2005 onwards. VF will initially RFID equip seven of its US distribution centers to enable it to add RFID tags to cases of its garments. The clothing manufacturer, which produces brands including Lee, Wrangler, Nautica and The North Face, has already begun shipping tagged cases of its products to Wal-Mart's three distribution centers and says it expects to use around 600,000 RFID tags a year at first. Usage is likely to grow to more than five million tags annually as more customer distribution centers become equipped to receive tagged shipments.


Sport-Haley Names Jewell As Interim CEO

Sport-Haley has appointed Donald Jewell, SVP, to act as interim CEO until a permanent CEO can be appointed. Ronald Norick, COB, stated, "We are pleased to announce the appointment of Don Jewell to act as interim CEO. Don has served Sport-Haley well as its SVP since February 2001. In addition, Don has previously acted as the chief executive officer of two apparel-related companies in Canada." Jewell. He was the founder, president and director of Jewell-Rung International, a Canadian distributor of premium and mid-priced men's apparel. He began designing, sourcing and marketing golf apparel in 1993 while serving as the founder, CEO and shareholder of Jewell Apparel Group, positions that he held from 1980 to 1999.

Because of Jewell's appointment, Kevin Tomlinson, who has served as CEO since March 2002 and as president since January 2004, will step down from those positions effective immediately. The company quietly released the information recently that Tomlinson was history. Tomlinson will continue as a director. He has agreed to assist the COB through the end of the term of his employment agreement on March 17, 2005, in the orderly transition of new management.


Cascade Designs Modifies Stove Ship Dates

Cascade Designs has encountered several technical challenges which require it to modify the delivery schedule for two of the stoves debuted in August. Specifically, the new MSR two-burner stove (#11063) and capillary technology stove system (#11023) will not be shipped into the market in 2005. Both products have been sent back to engineering for further development. Cascade Designs is making this announcement now to retail customers enough time to adjust their 2005 MSR stove purchases and promotions accordingly.

Cascae Designs received consistent feedback from the marketplace since OR that the retail price would limit the sales potential for this product. It has decided to re-design this model in order to achieve a stronger retail price point. It is targeting a re-introduction of this stove for spring 2006.

The capillary stove has been delayed due to the inability of a key vendor, Vapore, to supply the capillary force vaporizer as planned. Cascade Designs is currently finalizing an arrangement with Vapore to transfer manufacture of the CFV to Cascade's facilities in Seattle. Although this will delay the commercialization of this stove until 2006, we are still very confident in our ability to complete the development of this amazing combustion technology.


Thule Is Sold To Investment Group

Thule's owner, Swedish private equity group EQT Partners AB, has sold Thule to the UK-based private equity firm Candover Partners Ltd. for approximately $595 million. Four months after the initial announcement by the Thule board that it would prepare Thule for listing on the Swedish stock exchange, EQT decided instead to divest its shares through a secondary buy-out.

"There are three reasons to believe that this decision is very beneficial for the future development of Thule," said Thule Group CEO Anders Pettersson. "Candover is committed to pursue our agreed strategies, management will continue to invest in the company, and there will be continuation in the operations - it will be business as usual for all our employees." The transaction is, however, pending on the approval of anti-trust authorities, which is expected within the next four to six weeks.

"We are really happy to have acquired Thule", commented Candover director John Arney on the acquisition. "Thule is a fantastic company with a strong track record, leading market positions and a platform for future growth. We strongly believe in the opportunities of this business and we fully support the upcoming operational and strategic plan for the years 2005-2007," he continues.

Thule AB develops, manufactures and markets rooftop boxes, roof rails, bike carriers, trailers and snow chains. It owns a group of strong brands, including Thule, Koenig, Thule Rental and Brenderup, which service the rapidly growing outdoor leisure market. It is the global #1 in its core activity of car racks and boxes with a 40% share of the market. Thule also holds either global or European market leading positions in all its other product areas.


Bass Pro Continues USO Partnership

Bass Pro Shops is continuing its partnership with the United Service Organizations to carry out the "Reelin' it in for the Troops" program. This is the second year Bass Pro Shops has supported the USO in this program. Last year, Bass Pro Shops and their customers around the nation contributed over $280,000 to sponsor USO Care Packages delivered to deployed troops in Iraq and Afghanistan.

This years Reelin' it in for the Troops program provides the opportunity for individuals to support America's men and women in uniform deployed overseas by visiting any Bass Pro Shops retail location. $1 or $5 donation cards are available at several locations throughout the store. Choose the amount you want to donate and take it to the nearest cashier. The cards are also designed for customers to complete a personal greetings to the troops.


Puma expected to have up to 50 concept stores in 2006, compared to 40 it had previously planned. In the first nine months of this FY, Puma's retail sales were 9.5% of sales (EUR119.4 million), up from 7.5% a year ago (EUR78.5 million).






Breaking Headlines
Today's news...11.29/04
NOVEMBER 29, 2004


Today's news...11/23-24.04
NOVEMBER 24, 2004


Today's news...11/22/04
NOVEMBER 22, 2004


Today's news...11/19/04
NOVEMBER 19, 2004


MAJOR NEWS: PHIL KNIGHT STEPS DOWN AS NIKE CEO/PRESIDENT
NOVEMBER 18, 2004


Today's news...11/18/04
NOVEMBER 18, 2004


Today's News...11/17/04
NOVEMBER 17, 2004


Today's news...11/16/04
NOVEMBER 16, 2004


Today's news...11/15/04
NOVEMBER 15, 2004


Today's news...11/12/04
NOVEMBER 12, 2004