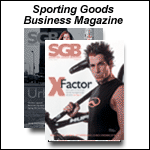 Today's news...11/23-24.04

NOVEMBER 24, 2004 -- K2, Rawlings Buy Composite Bat Maker

Rawlings Sporting Goods' parent, K2, acquired Miken Sports, a composite bat maker. Miken will operate as part of K2's Team Sports platform, which now includes the Rawlings, Worth, Miken and deBeer brands. All management of Miken Sports will be retained, with the exception of president Pete Griffith, who will remain on the team in a transitional role. Jim Hoscheit will assume the leadership role of Miken business manager, after previously overseeing sales and marketing for Miken.


Everlast Expands Two Asian Licenses

Everlast expanded its relationships with two licensees: Muse Marketing Limited, based in Hong Kong, will introduce Everlast apparel in Hong Kong, which will ship in fall 2005. A licensee since October 2001, Muse enjoyed considerable success with its line of Everlast bags and footwear in Hong Kong. Also in Hong Kong, Stelux Watch Ltd., which is launching Everlast-branded watches in China, Hong Kong, Taiwan, Singapore, Malaysia, Thailand and Japan, will expand its territory to include Europe. Its line of Everlast watches will begin shipping in Europe by mid-2005.


Smith & Wesson Names New CEO

Smith & Wesson Holdings appointed Michael Golden president/CEO and a member of the board. Barry Monheit, the COB, commented, "We are thrilled to have attracted a proven executive with demonstrated management skills, team building capabilities, marketing expertise, manufacturing know-how, and communication skills. We believe Michael Golden is particularly well suited to lead the company in the future. His experience includes dedication to developing and implementing successful sales strategies. Combined with his recognized ability to drive sales, Michael's accomplishments include successes in the management of $200 million-plus businesses, successful product development, exploiting opportunities related to strong brands, and turning company cultures into highly productive growth organizations." A five-year veteran of Wisconsin-based Kohler Co., Golden's most recent position was president of its cabinetry division. He was previously the president of the Industrial/Construction group of the Stanley Works Co. and VP/sand and marketing for a division of Black and Decker.


Two Largest Animal Rights Groups To Merge

Two anti-hunting groups are merging. The Humane Society of the United States plans to merge with the Fund for Animals, forming a new advocacy organization and lobbying arm that they hope will have greater clout for animal rights issues. The newly formed group will be based in Washington, but maintain a large office in Gaithersburg MD, according to the Congressional Sportsmen's Caucus, the new group will have roughly 350 workers and a budget of $95 million next year. It will also include a lobbying section that both groups expect will have more freedom to push the group's agenda in Washington and state capitals, officials said. The new organization will focus on four major issues: fur, sport hunting, factory farming and animal cruelty issues such as cock fighting and dog fighting.


Two Outdoor Celebrities Sign On To Gander Mountain

Arctic explorer Will Steger has joined the Gander Mountain endorsement team. Steger is also recognized for completing the historic 3,471-mile International Trans-Antarctica Expedition, which was the first and only dogsled traverse of the Artic Ocean from Russia to Canada. Steger will develop and endorse select Gander Mountain Guide Series technical cold weather soft and hard goods, including Guide Series layering system, outerwear and footwear. Steger will also be on hand at store events to give product and skills seminars to Gander Mountain associates and customers.

Keith Warren, Texas bass fisherman, hunter and Outdoor Channel television host, has joined the Gander Mountain Pro Staff team. As a ProStaffer, Warren will endorse Gander Mountain's products and services, including Guide Series hunting and fishing gear, and will be on hand in Texas stores to give product and skills seminars to Gander Mountain customers.


Fitness Quest Sending Out Repair Kits For 450,000 Ab Units

Fitness Quest, in cooperation with the CPSC, commenced a voluntary recall of the following units, Consumers should stop using recalled products immediately unless otherwise instructed. The recall involves the Ab Lounge, Ab Lounge 2, and Ab Lounge Ultimate Exerciser. About 460,000 units are involved. When opening or folding up these exercise machines, consumers can catch their fingers in the hinges. This can result in lacerations, crushing, or amputation to finger tips. This does not occur while users are exercising. Fitness Quest has received 15 reports of injuries, including lacerations, crushing and amputations to finger tips.

They were sold via infomercial, Internet, catalog, and discount department and sporting goods stores, including Wal-Mart and Dicks Sporting Goods, nationwide since October 2003 for between $100 and $210.

Consumers are advised they should stop using these exercisers and contact the firm for a free repair kit. The firm is contacting all consumers who purchased the Ab Lounge directly from Fitness Quest via infomercial or website. Due to the large number of repair kits required to meet demand, these consumers may experience a delay of a few weeks before they receive their kits. Any consumer who owns an Ab Lounge purchased at a retail store should stop using the equipment and contact Fitness Quest immediately to receive the repair kit.


Adidas will open its first store in Chicago in January on Rush St. It will be an Originals store. It is also planning a sport performance store in town too.

Hilliard Lyons downgraded Dick's to neutral. The downgrade in rating is based on valuation, difficult same-store sales comparisons over the next couple of quarters, intensified competition and the potential integration issues related to Galyan's acquisition, Stephens Inc reiterate its overweight rating on Dick's. The 12-month target price has been raised from $36 to $43.

Monarch Research has initiated coverage of Wolverine World Wide with a buy rating… McAdams Wright Ragen reiterated a buy rating on Nike and raised estimates. The target price has been increased to $94. The analyst feels the company's interest expenses are expected to decline over the next several quarters, resulting in improved earnings. The EPS estimate for 2Q has been raised from 89¢ to 90¢.






Breaking Headlines
Today's news...1/11/04
JANUARY 11, 2005


Today's news...1/10/04
JANUARY 10, 2005


Today's news...1/7/05
JANUARY 07, 2005


Today's news...1/6/05
JANUARY 06, 2005


Today's news...1/5/05
JANUARY 05, 2005


Today's news...1/4/05
JANUARY 04, 2005


Today's news...1/3/05
JANUARY 03, 2005


Todays news...12/31/04
DECEMBER 31, 2004


Todays news...12/29/04
DECEMBER 29, 2004


Today's news...12/28/04
DECEMBER 28, 2004