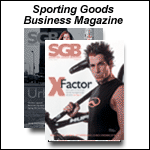 Short news...3/11/04

MARCH 11, 2004 -- John Ross McMullin forced passed away from cancer on Monday. Was hired by adidas America in 2000 as CEO. Well liked in his short time at the company, he resigned in December to spend more time with his family as his cancer progressed…Merck Finck & Co. maintained its hold rating on adidas-Salomon. The company noted that adidas-Salomon successfully reduced its debt level by EUR552 million last year. adidas-Salomon's order growth was sluggish in 2003 largely due to the slump in the North American markets. Merck Finck expressed its optimism, however, regarding the company's order growth this year due to forthcoming events, such as the European Football Championship and the Olympic Games.

Wachovia Securities initiated coverage of Big 5 Sporting Goods with an outperform rating. According to Wachovia, Big 5 is likely to generate 15%-20% EPS growth in the forthcoming three-to-five years. The company's strong 6% unit expansion per year would drive its earnings performance during this period, the analysts said. The company would also post 3%-5% annual comp sales growth in the forthcoming years, the analysts believe. The analysts believe Big 5's strong ability to reduce its debt would enable the company to achieve the high end of the projected growth rate. The company paid down approximately $25 million in debt in 2003 and would further reduce its debt in 2004 by $15-$20 million, the analysts added. The EPS estimates for 2004 and 2005 are $1.55 and $1.80, respectively. The P/E estimates for 2004 and 2005 are 16.5x and 14.2x, respectively…Banc of America Securities raised the price target and earnings expectations for Nike. It raised the 12-month price target to $90 from $85 and also raised FY 2004 and 2005 earnings estimates to $3.45 and $3.95, from $3.35 and $3.90, respectively.

Black Diamond Equipment Ltd., a producer of climbing and backcountry gear, announced that effective July 1, 2004, Sea To Summit will become its official Australian distributor. Wishing to expand its presence to a greater number of selected Australian retailers, this strategic business move will make available the whole of Black Diamond's extensive line to climbers, skiers and walkers across the country. Sea To Summit had been named a Black Diamond headlamp distributor last year.

EssxSport exchanged 60,000,000 shares of it common stock for 30% of Miss Beverley Hills. EssxSport sells several lines of sports equipment under the brand name ESSX. Primary products manufactured for track and field, are distributed to elementary schools, high schools, colleges and universities. The company also manufactures under contracts with other brands sports equipment and various other lines, for products used in baseball, basketball, volleyball, and soccer, marketing directly to end users via the Internet, catalog sales and trade shows. The company intends to move in the direction of having multiple investments and holdings in various businesses and the development of those businesses. Miss Beverly Hills is a player in the world of marketing and licensing, with visibility via pageants, model and talent agencies, and numerous licensed product categories. The brand will be licensed in a number of categories including apparel, eyewear, watches, bags, luggage, cosmetics and many other ancillary products. http://www.missbeverlyhills.com.

Shoe Carnival's Q4 earnings were a meager $113,000 compared to net earnings of $1.7 million last year. Diluted EPS were $0.01 per share compared to $0.13 per share last year. Net sales increased 4.9% to $134.2 million. Comp-store sales decreased 4.9% for the 13-week period. CEO Mark Lemond said, "We were disappointed with our fourth-quarter and full year sales and earnings results during 2003. Our operating results were negatively impacted by weak traffic trends and high levels of promotional activity in the mid-tier retail sector. We were pleased with our ability to control our inventory levels despite the lower than expected sales. We have kept a keen eye on our inventory levels during the past several quarters to better manage our markdown levels and will continue this operating philosophy for the foreseeable future. We remain committed to operating with lean inventory levels without sacrificing the overall shopping."

Mickey Newsome, president/CEO, Hibbett Sporting Goods, will now serve as COB as well. John Megrue, Jr. is relinquishing his role as COB and retiring from the board, effective immediately. Megrue had been COB since 1995, when Saunders, Karp & Megrue, L.P. acquired a controlling interest in Hibbett's. Saunders, Karp & Megrue completed the sale of its remaining ownership interest in the company in May 2003. The company intends to fill the vacant Board seat. Megrue stated, "Mickey has been instrumental in leading Hibbett from 13 stores in 1980 to a base of 428 today and developing a deep and experienced management team. He is the natural and best choice to lead Hibbett."

Li-Ning is planning an IPO in Hong Kong in the first half of this year. The company produces sporting goods products, including footwear, apparel and packs. It is also China's largest sporting goods retailer. It is partly owned by the Singapore government, hopes to raise HK$600 million from the IPO. Li-Ning has hired DBS Asia Capital as the lead manager of the sale. The company was founded in 1990 by Li Ning, who won three gold medals in the 1984 Olympics. In 2001, the Government Investment Corporation of Singapore bought a 30% stake. Li-Ning is now China's top-selling shoe and athletic clothing maker, with US$120 million in sales and close to US$10 million in profit in 2002.

Advanced Patch Technologies, the marketers of the "Peel Away the Pounds" patch, which was widely advertised in infomercials, have agreed to settle FTC charges that they made false and unsubstantiated weight loss claims in violation of the FTC Act. The FTC complaint alleges that the defendants falsely claimed that the seaweed-based skin patch causes as much as three to five pounds of weight loss per week, and made other false and unsubstantiated claims. The proposed settlement, which requires court approval, requires the defendants collectively to pay more than $1 million in consumer redress, to stop making certain false weight loss claims, and to possess scientific substantiation before making other claims for any product, program or service that purportedly provides health benefits.

Bauer Nike Hockey is doubling its Quest Cup Roller Hockey Tournaments, bringing the number of the popular US events to 10 and further demonstrating the company's grassroots support of the sport. Originally launched two years ago with a single tournament on each coast, Quest Cup Tournaments will attract more than 8,000 players from 700 teams.






Breaking Headlines
Team Dealers Increase Profit, Productivity, According To NSGA Study
MARCH 12, 2004


Short news...3/12/04
MARCH 12, 2004


Short news...3/11/04
MARCH 11, 2004


Anti-Counterfeiting Directive Lacks EU-Wide Criminal Sanctions
MARCH 11, 2004


Hibbett's Q4 Sales Were up 21% To $91.2 Million
MARCH 11, 2004


Dick's Q4 Net Income Rose 36%
MARCH 11, 2004


180s Sues Walgreens For Patent Infringement
MARCH 11, 2004


Short news: 3/9/04
MARCH 09, 2004


Quiksilver Buying DC Shoes
MARCH 09, 2004


News shorts...3/8/04
MARCH 08, 2004