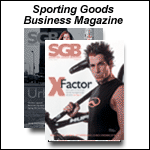 Today's news...12/20/04

DECEMBER 20, 2004 -- Agents: Don't Forget Coach & Connect Program

For the fourth year, the Sporting Goods Agents Association's successful Coach & Connect program will take place the opening day of the 2005 Orlando Super Show, January 17. The program will take place in the Orange County Convention Center, North Complex, Meetings Rooms N230A-N230B, beginning promptly at 4:00 pm.

This complimentary event offers all agents and interested parties the opportunity to sit at a three mentored round-tables, 20-minute sessions each, and interact with agents, retailers, manufacturers and industry heads. Chairs are filling up fast, so if you are interested in attending, contact SGAA's COO Lois Halinton at her e-mail [email protected], or phone her at 847/296-3670 for your three table selections: Table 1: Michael Caravati, Dixie Sporting Goods…Consolidation Pains?; Table 2: Lou Polakoff, Polakoff Sports Sales…Planning Your Year in Reverse; Table 3: Jim Riebandt, SGAA Legal Counsel…Giving Yourself A Raise; Table 4: Todd Vore, Sof Sole…The Rep Of The Future; and Table 5: Stuart Pase, Association Health Programs…Insure Your Success.

Immediately following C & C, a hosted reception, courtesy of SGMA and The Super Show, will take place prior to the SGAA one-hour annual meeting. New Balance will be honored with the SGAA's Manufacturers Appreciation Award, and Bobby Blankenship, SE Sports Sales Inc., Hoschton, GA, who will receive the Lifetime Sales Achievement presentation. Guests are welcome, said Gary Niland, president of this 70- year old trade association and encouraged agents and manufacturers alike to visit the SGAA Booth – 12234S – to secure informational packages.


Helly Hansen Raids Nike Norway

Espen Krogstad, country manager of Nike Norway, has been recruited by Helly Hansen to take over as its new general manager of Europe. Jorgen Weiss has also come from Nike Norway to take up the role of European SM. Jan Vladmaa CEO of Helly Hansen said: "We are doing this in order to strengthen our market position and to further our focus on our customers." Krogstad will be in charge of of Helly Hansen's sales regions and for the company's global strategies. "The job as general manager for Helly Hansen sounded so exciting that I just couldn't say no. My main challenge will be to make sure we continue our growth."


Sport Supply Group Makes Track & Field Deal

Sport Supply Group has been named as the exclusive distributor of Nelco-branded track and field products for the US. Nelco's products were used at recent world championships and at numerous Olympic Games. Sport Supply also announced that three-time Olympian Amy Acuff and world class athlete Tye Harvey, will be endorsing SSG's track and field products.


Nike Golf reported Stewart Cink, Paul Azinger, Bo Van Pelt and Rory Sabbatini will each remain a part of the Nike Golf Tour Staff under multi-year contractual terms, official as of January 1, 2005.


Nike ACG will not be at the OR Winter Market, but expects to return to the summer event. The question is who will take the summer booth: Nike or ACG? There are rumors Nike ACG may get a name change as part of an overall change in strategy.


Analyst Herbert Sturm of DZ Bank maintains his buy rating on Adidas-Salomon. He said the performance of the company's American segment is likely to be healthy in the near term, given Nike's recent announcement of robust future orders. The possibility of a turnaround in Adidas-Salomon's American segment has increased, the analyst said. There is near-term upside to the company's share price, DZ Bank added.






Breaking Headlines
Today's News...1/27/05
JANUARY 27, 2005


Today's news...1/26/05
JANUARY 26, 2005


Today's news...1/25/05
JANUARY 25, 2005


Sample Issue of ISG
JANUARY 25, 2005


Today's news...1/21/05
JANUARY 21, 2005


Today's news...1/20/05
JANUARY 20, 2005


Today's news...1/14/05
JANUARY 14, 2005


Today's news...1/13/04
JANUARY 13, 2005


Today's news...1/12/05
JANUARY 12, 2005


Today's news...1/11/04
JANUARY 11, 2005