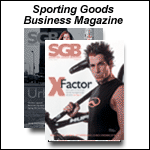 Today's news...1/20/05

JANUARY 20, 2005 -- One Hall Of Famer Celebrates 100th Birthday; Another Dies At 97

There is news about two industry leaders who are both in the Sporting Goods Industry Hall of Fame. E. Claude Manning, the founder of Nation's Best Sports (NBS), died at age 97. Manning was a legend. He developed NBS from a group of surplus dealers and turned it into a buying group powerhouse that he ruled. One story ISG remembers took place at a semi-annual buying meeting in Ft. Worth. Manning asked a young SGB editor where a member was because he needed the member's commitment for a buy. The reporter said he had gone to Six Flags. The following day the member reamed the editor because Manning tracked the buyer down and gave him hell for taking some free tim rather trhan supporting the group with his buying power. ISG can remember the days when NBS buyers got a rush over deals for Collins cane knives or parabellums. It has certainly developed since those days.

Many industry veterans will be heading to Sioux City, IA, to participate in Dwight Hauff's 100th birthday party. He started in the industry in 1934, working for Spalding. He went into retail when Spalding decided to exit that sector. During his career, he bragged he attended more NSGA shows than anyone in the industry. Nobody who knows Hauff has a bad word to say about him. He was always willing to spend time with industry newcomers and treat them as old friends. To this day, he comes into the office to work most afternoons.


Forzani Acquiring 19-Store Ontario Chain

The Forzani Group, Canada's largest retailer of sporting goods, has proposed to acquire National Gym Clothing Limited, operating as National Sports in Ontario. The acquisition of National Sports will result in the addition of 19 stores in Ontario and approximately 486,000 square feet of retail space, and add $80 million to Forzani's revenues on an annualized basis. The 100% acquisition of National Sports, which is headquartered in Uxbridge, will be financed through existing and expanded credit facilities. Completion of the transaction will take place once all necessary regulatory approvals are received and due diligence is completed.

"The acquisition of National Sports will increase Forzani's market share in Ontario by 4% to 16%," commented Bob Sartor, CEO. "We are very excited about the acquisition of the venerable National Sports name and its strong position in the hockey and team sports categories. In order to maintain National's positioning and identity, we plan on keeping separate offices and dedicated staff in Ontario."


German Court Slams Nike Over Two-Stripe Apparel

A German court seems to presume German consumers are stupid and can't tell the difference between two stripes and three. Nike has been ordered by a court to cease selling pants with two stripes in Germany because they could be confused with Adidas' three stripes. The regional court in Cologne also warned on that if Nike did not stop selling two-striped pants it could be fined up to 250,000 euros ($325,000). The court also declared that Nike would have to pay damages of about one million euros ($1.3 million) to Adidas for selling the pants in the past. No doubt this will be another reason Nike and other major brands will be pressuring the IOC to end Adidas' practice of putting three stripes on apparel. They argue the stripes are so large they violate Olympic logo-advertising rules.


Adidas Gets Extension Of FIFA Pact

FIFA and Adidas extended their long-term partnership agreement granting Adidas the Official Partnership, Suppliership and Licensing rights for the FIFA World Cup in 2010 and 2014. The terms of the deal were not disclosed.

FIFA and Adidas have been partners since 1970, The ne contract offers Adidas extensive licensing and event rights around the FIFA World Cup, including joint marketing programs, Internet cooperation, priority access to TV advertising and premium stadium signage for all games of the tournament. Adidas will also supply the official match ball and officials' equipment for every game. In addition, an extensive adidas/FIFA World Cup license product range will be on sale worldwide. Adidas also secured similar rights to all other major FIFA tournaments during this time period, including the FIFA Women's World Cup and the FIFA World Youth Championship.


The Finish Line Raises $1 Million+ For Youth Sports

The Finish Line Youth Foundation announced today that it has reached a new record by raising over $1.0 million during its "K.I.C.K.S. for Kids" holiday promotion that was conducted in all Finish Line stores, as well as online at www.finishline.com. More than $400,000 of the funds raised will be granted directly to the Boys & Girls Clubs of America and to several hundred local Boys & Girls Clubs that were matched to Finish Line stores in their area. This is the ninth consecutive year that Finish Line has partnered with the BGCA to raise money during the holidays. A gift of $50,000 will also be granted to BGCA for the Finish Line "Sports & Fitness" Grant Program, which will support sports and fitness programs in eight local Boys & Girls Clubs.

The Finish Line Youth Foundation will also make a grant of up to $50,000 to aid children who have been affected by the recent tsunami disaster in Southeast Asia. Rather than make a donation to one of the larger international relief organizations, the Finish Line Youth Foundation has begun a search for a specific school or youth organization located in the affected area to which the Foundation can make a direct gift. The company's activities in this area earned it The Michael S. Modell Award "for good works in the spirit of a good man" at SGB's Trendsetters of the Year awards dinner at Super Show.


Dick's Named Retailer Of The Year At Trendsetters Dinner

SDGB hosted its annual Trendsetters of the Year dinner at Super Show. Retailer of the Year went to Dick's. The Retal Executive of the Year was Matt Serra, Foot Locker CEO. The Team Dealer of the Year was Johnny Mac's Sporting Goods, St. Louis. The Footwear Supplier of the Year was ASICS. The Equipment Supplier of the Year was Schott Sports. Under Armour continued to win the Apparel Supplier of the Year Award. The Horizon Award, which recognizes successful retail innovators who operate below the radar, went to BumperNets, Birmingham. It operates a mall store that sells billiard takes, table tennis tables and foosball equipment. The store is staffed with people who know their sports. BumperNets even serves a site for parties. The company is interested in franchising the concept.


Knight Sells Off Some of His Stock

Phil Knight, Nike's co-founder and COB, converted 5,700,000 shares of NKE Class A common stock on January 12 to the same number of shares of Class B stock. Knight also entered into a pre-arranged sales plan for the 5,700,000 million Class B shares following the guidelines of SEC Rule 10b5-1, and Nike's policies regarding insider sales. Rule 10b5-1 permits officers and directors of public companies to adopt pre-arranged plans for selling specified amounts of stock.

The shares converted represent approximately 8% of Knight's total direct shares held. If these shares are sold under the plan, Knight would continue to retain direct ownership of approximately 92% of the outstanding Class A shares, and 25% of Nike's total outstanding common stock. (These figures exclude Knight's indirect interests in 16.6 million additional shares held in various charitable and family trusts, corporations and partnerships.)

Knight said, "As I evaluate my long-term philanthropic and estate planning goals, this is a prudent time for me to prepare to diversify a small portion of my total assets. As I have stated before, I intend to be an active COB, and it is my present intention to remain a controlling shareholder of Nike. I am committed to ensuring a smooth transition with our new president and CEO, Bill Perez. I have tremendous confidence in Bill and the entire management team. Under their leadership, Nike's prospects are very bright."


Pro Golf of America posted record franchise growth with the addition of 20 new stores opened for business during the 2004 golf season with an additional eight new stores to open early 2005. These 28 new franchise locations are widely distributed with 27 throughout the US plus one international location in Ireland. Headquartered in Farmington Hills, MI, Pro Golf has 123 franchised locations in the US, Canada and Ireland. Entrepreneur Magazine ranked Pro Golf the #1 golf franchise in 2005


Mountain Khakis named Noah Robertson director of sales. Most recently the NSM of Mammut Sports Group/USA Division, Robertson will create and oversee the sales initiatives for Mountain Khakis, as well as dedicate his experience in product management to develop the brand.


Ashworth filed a notification with the SEC requesting an extension of time to file its 10-K. ASHW was unable to file its 10-K because the company was still providing supporting documentation to its auditor and, as a result, the auditor was unable to complete the audit of the financial statements within the necessary period of time. ASHW anticipates that the Form 10-K will be no later than January 31. Further, it does not anticipate at this time that there will be any significant changes in EPS as previously reported in its December 16 earnings release.


Ahead, a designer and marketer of branded golf headwear and apparel, named industry veteran Eddie Fadel, director of merchandising. Fadel will join the Ahead team at the 2005 PGA Merchandise Show, where the company will unveil its first full line of Ahead Authentics golf shirt, first debuted by Retief Goosen at the conclusion of the 2004 PGA Tour season.


Raleigh America named Clyde Wisk director of operations to oversee analytical and logistical transportation support for the bicycle supplier's three US distribution centers. Wisk has more than 15 years of experience in operations management with major multi-national organizations.


AF Edwards initiated coverage of Quiksilver with a hold rating…Pacific Growth Equities downgraded Pacific Sunwear to equal weight from overweight… First Albany maintained a strong buy rating on Big 5, while raising the estimates for the company. The 12-month target price is set to $32. Big 5 Sporting Goods' free cash flows and return on capital continue to be robust, the analyst said. The company's business model remains one of the best in the sporting goods industry, according to First Albany. The EPS estimates for FY04 and FY05 have been raised from $1.62 to $1.63 and from $1.92 to $1.93, respectively…Susquehanna Financial Group initiated coverage of Skechers with a net positive rating.






Breaking Headlines
Today's news...2/18/05
FEBRUARY 18, 2005


Today's news...2/17/05
FEBRUARY 17, 2005


Today's news...2/16/05
FEBRUARY 16, 2005


Today's news...2/15/05
FEBRUARY 15, 2005


Today's news...2/14/05
FEBRUARY 14, 2005


Today's News...2/11/05
FEBRUARY 11, 2005


Today's News...2/10/05
FEBRUARY 10, 2005


Today's News...2/9/05
FEBRUARY 09, 2005


Today's News...02/08/05
FEBRUARY 08, 2005


Today's News...2/7/05
FEBRUARY 07, 2005