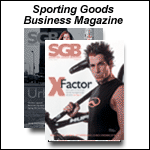 Today's news...1/26/05

JANUARY 26, 2005 -- Super Show Manager Resigns

In light of the current market conditions, Peter Haines has decided to leave his position as Super Show's manager. There seemed little hope the show would regain its footing in 2006. Haines joined Communications & Show Management, the management company that runs The Super Show, in April 2002 as COO. After retiring as CEO of Cybex in 2000, he agreed to help the SGMA with The Super Show and ended up joining CSM with an option to acquire the management contract to run the show. Even back in May 2002, when he spoke to SGB/ISG, he realized the show needed a vitamin shot: "The Super Show is tired. It needs to be reengineered. That's exactly what we're doing. It's not going to be easy to turn this thing around. To be frank, I'm having 10 times more fun working on this problem than I expected. And it's 10 times harder than I thought it was going to be. Having been on three sides - an exhibitor, an independent servicing the show and SGMA, and now as a partner in the show management - and looking at it as independently as I can, the responsibility for having to do something with the show falls on the SGMA as much as on Communications & Show Management. Stanley (Schwartz) and Hardy (Katz) made recommendations to change the business, which were not accepted by SGMA. I don't know if any of those things would have made any difference or not, but I know the SGMA has been slower to move as they could have been."

During his tenure, the show introduced the World of Sports Innovation, an idea with mixed results. A new seminar program was one of the few good things about the past show. But it was clear that since the show moved to Orlando, there were severe budget constraints. For example, the show was roundly panned last year for its failure to install proper signage.


US Census Bureau: Sales in SG Stores Up 7.4% in November; 7.9% YTD

The Monthly Retail Trade Survey, prepared by the US Census Bureau, reported sales in sporting goods stores of $2.33 billion (preliminary) for the most recent reporting month (November), up 7.4% from the $2.12 billion in November 2003. The increase follows a 9.1% increase in October.

YTD sales through November were $25.05 billion, up 7.9%. Sporting goods store sales for all of 2003 were $26.82 billion, a 1.5% decline versus 2002.

The estimated annual sales for sporting goods stores in the US Census Bureau Monthly Retail Trade is consistent with sporting goods sales reported in the NSGA study, "The Sporting Goods Market." The Census Bureau estimates are based on data from the Monthly Retail Trade Survey, Annual Retail Trade Survey, and administrative records and have been adjusted using results of the most recent economic census.

For a full comparative chart of sales in sporting goods stores, visit the members-only "Research & Statistics" area of the NSGA website (www.nsga.org).


LPGA Will Offer Own Club Line For Young Girls

For the first time ever, the Ladies Professional Golf Association will offer its own golf club line for young girls. Summit Properties International, the LPGA's exclusive worldwide licensing agency, has reached an agreement with One World Golf to license a golf club line designed specifically for junior girls ages five to 12. The LPGA Junior Tour Collection is being introduced at the PGA Merchandise Show. It will be available at retail in Canada and US beginning spring 2005.

"Up to this point, equipment for junior golfers has been genderless," said Carlo D'Ambrosio, CEO of One World Golf. "We have embraced the concept that junior girl golfers have different swings, expectations and equipment needs than boys. And who better than the LPGA to help equip and outfit the next generation of female golfers?"


NSSRA Creates Supporting Membership For Non-Retailers In The Snowsport Market

The National Ski & Snowboard Retailers Association created a Supporting Membership class of NSSRA membership. Geared to non-retailer stakeholders of the snowsport market, Supporting Members will be entitled to specific membership benefits in NSSRA and will be invited to be part of the discussions of the challenges and issues faced by specialty ski and snowboard retailers.

Supporting Members receive the following benefits:

* The NSSRA Newsletter where supporting members will have the opportunity to submit editorial articles and comments on issues, behaviors or opportunities that specialty retailers need to hear about.

* Listing as a Supporting Member in the NSSRA Newsletter and other NSSRA publications.

* The NSSRA Cost of Doing Business Survey, which provides key profitability, productivity and financial performance indicators to better understand the financial and operational challenges faced by specialty shops.

* Annual Research Report, which provides detailed demographics on current Alpine skiers, cross country skiers and snowboarders, as well as equipment expenditures. This original research is provided by NSGA.

"NSSRA's role is to help specialty shops help themselves," said Brad Nelson, NSSRA COB and owner of HiTempo Ski, Snowboard & Sail, White Bear Lake MN. "Supporting members will let shops know that they want them to have the tools for success." Annual dues for Supporting Membership are $350 per year. For additional information, contact NSSRA president Thomas Doyle at 847/391.9825 or [email protected]


Females Buying More Sports Footwear Than Men

Females continue to lead males as purchasers of sports footwear although that margin decreased slightly in 2004, according to data released by NSGA. For 2004, females purchased 53.3% of all sport footwear compared to 53.4% in 2003.

Female place-of-purchase also shifted, with a higher percentage of women purchasing shoes in specialty athletic footwear stores (48.9% in 2004 vs 47.5% in 2003) and in specialty sports shops (50.6% in 2004 vs 44.0% in 2003). Women also increased their Internet purchases vs men, 51.4% in 2004 vs 44.5% in 2003.

In sporting goods stores, female purchases vs male slipped slightly, to 41.1% in 2004 vs 41.4% in 2003.

The average price females pay for sports footwear remains below that of males, $37.98 versus $41.86. However, the gap between the two price points is narrowing. In 2003, the average price paid by females was $36.94, versus $42.11 for males.

The information on female sports footwear purchases will be included in the NSGA report "The Sporting Goods Market in 2005," to be published by the Association in April. Based on a consumer study of 100,000 US households, the report summarizes 2004 retail sales totals, in units and dollars, for 22 types of athletic and sports shoes as well as products in more than 20 sport categories.


More than 50 attendees participated in the 4th Annual "Coach & Connect" program held on the first day of The Super Show. Sponsored by the Sporting Goods Agents Association and SGMA, this complimentary event allowed manufacturers, dealers and various VIP's to share their expertise as Mentors with three round-table discussion sessions. Rusty Saunders, SportsOneSource LLC, has been the facilitator since the birth of C & C. The Mentors were Michael Caravati, Dixie Sporting Goods; Lou Polakoff, Polakoff Sports Sales; Jim Riebandt, SGAA legal counsel; Todd Vore, Sof Sole, and Stuart Pase, Association Health Programs. SGAA members voted Skip Nipper, Virgil Nipper Group, TN, as its new president. Nipper is a third-generation independent sporting goods rep. For the first time in SGAA's 70-year history, a woman, Tracy Paoletti, Dynamic Performance Sales, MA, became VP. Immediate past president Gary Niland, Gary Niland & Associates, will remain on the SGAA board.


The University of Nebraska Athletic Department will its contract with Adidas through 2013. The contract grants Adidas the rights to serve as Nebraska's official apparel and footwear provider. Both sides have agreed to an eight-year term during which Adidas will provide NU's Athletic Department nearly $23 million in cash and athletic products and apparel.


Next has a licensing agreement with Jeep, a division of DaimlerChrysler Corp. The license will allow Next to develop, sell and ship licensed Jeep brand headwear products to its customer base.


This February Prince Tennis will unveil a special edition Lightning XX Pink string supporting the Susan G. Komen Breast Cancer Foundation and its quest to find a cure for breast cancer. The string will be available at select retailers starting February 15, 2005. From February 2005 to February 2006, Prince Tennis will donate 15% of the wholesale price for each Lightning XX Pink string package sold to a retailer to the Komen Foundation to help fund research grants, educational support, as well as screening and treatment projects in communities around the world.


Recreational Equipment, Inc. plans to open a store in Bend, OR, in November 2005 in The Shops at the Old Mill District along the Deschutes River off Route 97. The 28,000-square-foot store located in a former power plant is REI's first in central Oregon. REI has about 5,000 active members in the city of Bend, who have shopped at four western Oregon stores in Portland, Tigard, Hillsboro and Eugene, as well as online at REI.com. The Bend store will employ about 55 full- and part-time staff.


Cherokee signed an exclusive agreement with Essence Communications to represent Essence magazine. Under the terms of the agreement, Cherokee will engineer strategic direct retail licensing opportunities for the lifestyle publication.


The expression "trying hard to catch a fish" has a new meaning. Cialis, the erectile dysfunction drug marketed by Lilly ICOS, and BASS, the worldwide authority on bass fishing, announced a one-year sponsorship agreement. As a premiere sponsor, Cialis will have a major interactive presence at the majority of BASS events, including the CITGO Bassmaster Tournament Trail, the Bassmaster Elite 50 Series and the CITGO Bassmaster Classic. The agreement also includes presenting sponsorship of Bassmaster University and a heavy presence in BASS's television, print and internet
platforms.


DA Davidson reiterated a buy rating on Reebok. The 12-month target price has been raised from $48 to $52. The analysts mentioned that the company's stock is currently trading at a discount to that of its peers.






Breaking Headlines
Today's news...2/18/05
FEBRUARY 18, 2005


Today's news...2/17/05
FEBRUARY 17, 2005


Today's news...2/16/05
FEBRUARY 16, 2005


Today's news...2/15/05
FEBRUARY 15, 2005


Today's news...2/14/05
FEBRUARY 14, 2005


Today's News...2/11/05
FEBRUARY 11, 2005


Today's News...2/10/05
FEBRUARY 10, 2005


Today's News...2/9/05
FEBRUARY 09, 2005


Today's News...02/08/05
FEBRUARY 08, 2005


Today's News...2/7/05
FEBRUARY 07, 2005