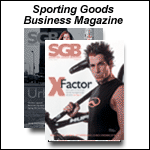 Today's news...12/3/04

DECEMBER 03, 2004 -- Strong Franchise Revenues Boost Forzani's Numbers

Forzani Group's revenue, consisting of corporate store sales, wholesale sales, service income, equipment rentals, franchise fees and franchise royalties, was $265.7 million, a $15.5 million, or 6.2% increase over the 13-week period last year. Combined 3Q gross margin for Canada's largest sporting goods retailer, was down 140 basis points to 31.1% of revenue from 32.5%. This was due, primarily, to the change in the weighting of the retail sales versus wholesale components of total revenue, 66% retail and 34% wholesale in fiscal 2005, compared to 72% and 28%, respectively, in fiscal 2004. Retail sales generate a greater gross margin percentage than do wholesale sales. A decrease in the retail component of revenue will generally reduce the overall gross margin percentage. In absolute dollars, the combined gross margin increased $1.1 million, to $82.5 million, from the 13-week period last year.

Comp-store sales from corporate locations were down 4.4%, driven largely by soft sales in the early weeks of the quarter and the increased competitive environment, specifically in Ontario. Franchise comp-store sales were flat. On a combined basis, comp-store sales were down 3.0%.

Diluted 3Q EPS were C20¢, compared to 18¢ in the prior year. YTD cash flow from operations increased to $35.6 million from $28.3 million. On a per share basis, cash flow increased 19.8% to $1.09 compared to 91¢ the prior year.


The Hockey Co. Will Sell Oakley's Hockey Face Shield

Oakley has concluded an agreement with The Hockey Co., a Reebok subsidiary, to be the company's exclusive worldwide distributor for its patented, optically correct, hockey face shields. "This exclusive agreement with The Hockey Co. enables Oakley to leverage THC's expertise as distributors of hockey products worldwide, and allows us to tap markets more effectively than we have before. This agreement allows us to focus more of our energy towards our other product categories," commented Oakley's COO, Link Newcomb.

By way of the distribution agreement, THC will begin marketing and distributing Oakley's patented hockey face shields worldwide, on behalf of Oakley, beginning January 1, 2005. In addition to handling the worldwide distribution of Oakley's hockey shields, THC will continue Oakley's efforts to supply professional hockey players with the Oakley hockey shields, the most optically correct face shields on the planet.

The distribution agreement follows the agreement by the parties to settle and dismiss litigation filed by Oakley in federal court alleging that THC and its subsidiaries infringed Oakley's US Patent Nos. 5,815,848, 6,010,217 and 6,038,705. The parties agreed to dismiss Oakley's claims and the defendants' counterclaims in the lawsuit, which contended that Oakley's patents were invalid. THC and its subsidiaries have agreed to cease making and selling its Jofa-branded hockey shield accused of infringement and to not contest the validity of the patents during the life of the distribution agreement. The effective term of the agreement, of which other specific terms were not disclosed, runs through December 31, 2015, soon after the first of Oakley's face shield patents begin to expire.


100% Ski Shop Opens On Internet 365 Days A Year

Tramdock.com is the Web's first ski shop that's 100% dedicated to skiing 365 days a year. Dustin Robertson and a few of his co-workers lobbied their bosses at Backcountry.com for a piece of the Web, a chunk of the warehouse, the green light to staff-up with some full-on, 100-day-a-year tram-riding fanatics and stock-up on the world's best ski gear. Backcountry's founders ultimately agreed that Tramdock was a good idea, and gave its employees the support to start a new site under the Backcountry umbrella, Tramdock. While it is a distinct site dedicated solely to skiing, Tramdock was able to get up and running so quickly specifically because it employs Backcountry's existing infrastructure, customer support systems, shipping systems, etc.

"Our doctrine is that if it has to do with skiing, you'll find it on Tramdock.com. If it's not, you won't," Robertson said. "We think skiers will respond to a site that's dedicated to their sport, a site where they can find the latest high-performance boards and boots, the up-and-coming new school brands, and time-tested and futuristic apparel and accessories."

Right out of the gate, Tramdock.com is selling the best brand names and is committed to keeping a wide selection of gear in stock, from high-end recreational ski gear to hard-to-find specialty items like the Dynastar Legend Pro or the Line Mothership. Other industry leaders already sold on Tramdock.com's model include Atomic, Rossignol, Salomon, Fischer, The North Face, Patagonia, Spyder, DaKine and Marmot.


Battle Over Bass Pro's Mesa Deal Heats Up

According to the Arizona Republic, "…(T)he group opposing a retail development in west Mesa turned in nearly 4,700 voter signatures for each of three referendums on the project's zoning and filed an initiative that prevents the city from offering subsidies on future development projects without a public vote.

"Wednesday's actions came a day before the City Council was to review the proposed $42 million development agreement on the Riverview at Dobson project at Dobson Road and Loop 202, which would bring in a Bass Pro Shops store as an anchor, as well as other businesses. It is scheduled for a council vote Monday.

"The city recently announced that Mesa could end up paying $80 million for the project with interest, fueling the opposition's campaign."


Billabong Opening In NY's Viacom Building

Billabong USA will join Quiksilver in the Times Square area. Billabong will open a 4,000-square-foot flagship retail store on street level in the Viacom Building directly below high profile MTV Studios at 1515 Broadway between 44th and 45tth Sts. The building is leased to Viacom, MTV's parent. The company will also open its first Element store in the USA in an adjoining 1,800 square-foot location. Billabong USA president Paul Naude said, "This gives us an opportunity to showcase both Billabong and Element branded products in one of the world's most prominent retail areas." Both stores will be operated under license by Ed Leasure, a boardsports retailer who operates a number of stores on the East Coast. Quiksilver's stunning store is located right at the crossroads of the world, 42nd St. and Broadway, across from Champs.


According to Rennie's Sports Letter, the Canadian government is eyeing US-made bikes, golf clubs, exercise equipment and apparel imports for a possible 100% surtax. This is the result of the US not rescinding the Byrd Amendment, which the World Trade Organization held as illegal.


RBC Capital Markets upgraded Pacific Sunwear to outperform from sector perform.












Breaking Headlines
Today's news...12/10/04
DECEMBER 10, 2004


Today's news...12/9/04
DECEMBER 09, 2004


Today's news...12/8/04
DECEMBER 08, 2004


Today's news...12/7/04
DECEMBER 07, 2004


Today's news...12/6/04
DECEMBER 06, 2004


Today's news...12/3/04
DECEMBER 03, 2004


Today's News...1/2/04
DECEMBER 02, 2004


Today's News...12/1/04
DECEMBER 01, 2004


Today's news...11/30/04
NOVEMBER 30, 2004


Today's news...11.29/04
NOVEMBER 29, 2004