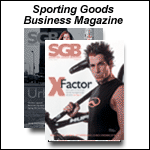 Today's news...12/10/04

DECEMBER 10, 2004 -- Athlete's Foot Files For Chapter 11

The Athlete's Foot Stores, LLC, owner of 124 The Athlete's Foot corporate stores, filed a voluntary petition for Chapter 11 liquidation with the US Bankruptcy Court for the Southern District Court of New York on December 9. The bankruptcy number is 04-17779 (SMB). Included with this filing is Delta Pace, LLC, a subsidiary of The Athlete's Foot Stores, LLC. The bankruptcy number for Delta Pace, LLC is 04-17780 (SMB). The chain listed assets of $33.6 million and liabilities of $39.4 million.

The approximately 593 independent franchise stores operating under franchise agreements with Athlete's Foot Brands, Inc. and the trademarks are not included in this action. Additionally, the bonds issued from a 2003 securitization transaction from an unrelated entity (Athlete's Foot Brands, Inc.) are not related to the Chapter 11 filing.

President and CEO Robert Corliss stated: "We are confident this is the right thing to do. Despite tremendous investments of money and time, many of our corporate stores have not been profitable resulting in a lack of liquidity which led to the company taking this action. We believe this action will allow us to maximize the value of our assets for the benefit of our creditors and other interested parties. We appreciate the loyalty and support of our employees, customers and vendors."

The company's lender, GMAC, subject to certain conditions, has agreed to provide debtor-in-possession (DIP) financing to fund the liquidation process. The Chapter 11 was precipitated by a decision of GMAC to withhold further access to its $20 million loan to TAF when the latter violated certain covenants in November.

The court filing noted that the retailer's biggest creditors are New Balance, which is owed $1.4 million, K-Swiss, with claims of $1.3 million and Timberland, which is owed $739,000, along with 21 others. Nike had earlier red-flagged the account.


DOC Will Sponsor US Product Lit/Sample Center At ispo

The UD Department of Commerce, in conjunction with the US Commercial Service in Munich, Germany, will sponsor a US Product Literature/Sample Center at ispo Winter 2005, February 6-9 in Munich.

ispo, as Europe's leading sporting goods show, is an excellent venue in which to expand sporting goods business internationally. The Commerce Department's Product Center gives US companies an opportunity to gain high-quality, low-cost exposure for American-made products.

The US Product Sample/Literature Center is an excellent and economical introduction for new-to-export and new-to-market sports equipment companies to the German and European market. For only $550, it can serve US vendors' interests through: Distributing sales literature and catalogs, plus displaying product samples; identifying sales leads and registering potential customers; and listings in the widely distributed US Product Center directory

If interested please contact: Amanda Ayvaz; Global Trade Programs, 14th & Constitution Ave., N.W., Room 2128, US Department of Commerce, Washington, DC, Phone: 202-482-0338; Fax: 202-482-3113,


Malden Mills Union Approves Contract

Malden Mills Industries, makers of Polartec performance textiles, announced today that the members of the UNITE HERE union have voted to accept a new three-year contract by a vote of 301-126. Salaries will rise 2%, 2% and 3% over the length of the contract. The contract is designed to provide an increase in pay for each union employee while helping to stabilize spiraling health care costs. The contract provides employer-paid dental and disability insurance over the next three years, while increasing the employee contribution to healthcare costs. The increase in health care contribution is consistent with that of Malden's non-union employees and is significantly below the national average.


London Fog Names New CEO

London Fog Industries, Inc., parent company of Pacific Trail, Moonstone, Black Dot, London Fog and the London Fog Factory Outlet Stores, appointed 20-year textile industry veteran David Greenstein as its new CEO. Greenstein's home textile business, formerly known as Homestead Fabrics Ltd., will now operate as HHI Homestead Holdings, Inc., a wholly owned subsidiary of London Fog Industries. Greenstein will also assume a position on the board of directors.

"We are building an entrepreneurial company that can move quickly to bring new products to market across diverse categories," said Greenstein. "We see excellent growth opportunities for the Pacific Trail, Moonstone and Black Dot brands and will ensure that the integrity of these brands is maintained as they grow. Our outdoor and sporting goods customers will benefit from the fresh new products we will offer for Fall 2005. As a company, we will also become more meaningful to a wide range of retail customers as we are now able to offer across-the-board opportunities, brands and private label, as well as exciting new product development made possible through this new entity."

Vote For This Year's Trendsetter Awards

Cabela's, Academy Sports & Outdoors, Modell's and Dick's Sporting Goods head the list of nominees for the 2004 SGB Trendsetter Awards. All four stores have been nominated for the Retailer of the Year Awards, which will be presented Monday, January 17th in Orlando, the opening night of The Super Show.

For the fourth consecutive year, industry members will vote on nominees in six categories: Retailer of the Year, Retail Executive of the Year, Team Dealer of the Year, and Supplier of the Year in Apparel, Footwear and Equipment. Two other awards, The Michael S. Modell Award and the Horizon Award, presented to an innovative retailer with annual sales of less than $10 million will be selected by a special Trendsetter panel of judges. Voting is open to any industry member with a valid e-mail address. Votes can be cast by downloading a ballot from the SGB website at www.sportinggoodsbusiness.com


Bass Pro Shops is reportedly ready to open its fourth Texas door, in San Antonio. No TIF deal has been announced.







Breaking Headlines
Today's news...1/14/05
JANUARY 14, 2005


Today's news...1/13/04
JANUARY 13, 2005


Today's news...1/12/05
JANUARY 12, 2005


Today's news...1/11/04
JANUARY 11, 2005


Today's news...1/10/04
JANUARY 10, 2005


Today's news...1/7/05
JANUARY 07, 2005


Today's news...1/6/05
JANUARY 06, 2005


Today's news...1/5/05
JANUARY 05, 2005


Today's news...1/4/05
JANUARY 04, 2005


Today's news...1/3/05
JANUARY 03, 2005