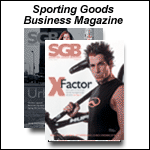 Internet TV Channel Brings Exclusive Joga Bonito Videos To Soccer Youth Every Week

APRIL 17, 2006 -- (3:00) Nike (NKE) and Maven Networks introduced JogaTV, a new Internet TV channel that gives soccer fans around the globe a front row seat to exclusive video featuring some of the game's greatest players, as well as some of the world's best untapped local heroes as they demonstrate Joga Bonito – or Play Beautiful – for everyone to enjoy.

JogaTV offers an insider view into the world of soccer via multiple video programs, all of which can be shared among friends. Video programming on JogaTV features international stars of the game including Ronaldo, Ronaldinho, Thierry Henry (who just signed with Reebok) and Wayne Rooney demonstrating the values of soccer. Soccer legend Eric Cantona stars in most of the videos as the disruptive advocate leading the rebellion against slow, controlling, boring soccer and the return of a beautiful, creative style of play.

NKE's global Joga Bonito campaign is multi-faceted, encompassing: Joga.com, the world's largest soccer-specific social network; Joga3, a short-field 3-on-3 game that will allow more than three million kids around the world to bring Joga Bonito to life; a Joga Bonito series of commercials; and of course, JogaTV.

Maven Media System™ is the technology link between video programming from NKE and its growing social network of soccer fans. Based on patent-pending technology, Maven's integrated video publishing and distribution platform provides unrivaled customer experiences across multiple devices for JogaTV.

Once the JogaTV internet TV channel is launched, the JogaTV icon lives on the soccer fan's desktop for easy access. Each week, new content is delivered behind the scenes via the Maven Media System and automatically added to JogaTV. At this time a new program series is unlocked for users to explore. NKE will unlock a total of seventeen different programs, one each week between April and July.

In addition to each of NKE's new Joga Bonito commercials, content on JogaTV includes: Original experiential videos featuring global soccer stars, exclusive videos featuring soccer kids around the world demonstrating their skills; US National Team star Clint Dempsey and his "Don't Tread" rap video; viral videos featuring Brazilian greats Ronaldinho and Ronaldo; a weekly blog titled, This is American Soccer; and a running clock counting down the days, hours, minutes and seconds to the US National team's first game in Germany this summer vs the Czech Republic.

"Like all kids who love sport, soccer players and fans have a passion for their game that's almost insatiable," said Adam Roth, US advertising director of NKE. "By launching this viral, online program, we tap into that spirit by delivering highly-coveted content while extending and demonstrating the message of Joga Bonito."

Hilmi Ozguc, CEO of Maven Networks, said "Maven's technology allows Nike to directly reach its audiences with an interactive experience that genuinely demonstrates the future of Internet TV, and enables them to accurately target and measure their campaigns. True Internet TV channels are redefining how online content is distributed, and experienced."

Maven Networks' technology is the only broadband video platform that delivers a true Internet TV experience using full-screen, HD-quality video for PCs, Internet-connected TVs, video iPods, PSPs and other portable devices. JogaTV is available through select soccer and youth-oriented websites including joga.com and nikesoccer.com.


| | | | | REPRINTS




Quick links: One-click access to topics in this article.






Breaking Headlines
FL North America Improves; Europe Remains Soft
MAY 18, 2006


Umbro US Biz Will Slow
MAY 18, 2006


Shoe Carnival 1Q Comps Rose 4.1%
MAY 18, 2006


Décathlon Opens Megastore In Moscow
MAY 18, 2006


Gas Prices Have Affected Shopping Habits: NRF Survey
MAY 18, 2006


Zumiez 1Q Comps Surged 20%
MAY 18, 2006


Liedtke Heading Adidas Marketing
MAY 17, 2006


Becker To Head Reebok Marketing
MAY 17, 2006


Zumiez Buys 19-Store Chain
MAY 17, 2006


Easton-Bell 1Q Revenues Gain $24 Million
MAY 17, 2006