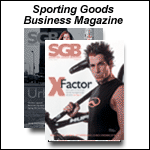 Nike, Google Launch Social-Networking Site

MARCH 21, 2006 -- Nike and Google have teamed up to create Joga.com in order to connect soccer fans around the world as the sporting goods giant readies for the World Cup.

Joga.com - the name derives from the phrase 'Joga Bonito' - or "play beautiful" in Portuguese - is a free social networking site where will be able to build their own groups and clubs, share football-related information, upload photos and video, and organize and give updates on local matches and events.

The site is available in 14 languages, and "celebrates beautiful play and brilliant football, and offers a place where football crazy people can create their own social football network," according to the Web site.

Features of the site include:
- Profile Pages: Users can create their own personalized page where they can share information, browse their network of friends, and receive Friend Requests, Alerts, and Messages. Users can also able to add photos, videos and blogs to their profiles.
- Communities: Users can create communities devoted to any and all things football.
- Athlete information: Users have exclusive access to profiles and information about Nike football players.

Nike will draw on its sponsorship of dozens of players such as Ronaldo, Ronaldinho and Thierry Henry and teams such as England's Manchester United to provide content for the site. Google is handling the technical aspects.

There is very little content right now, but Nike officials told Business Week that they believe that will change shortly as word of the site spreads. So far, it is filled with profiles from Nike-sponsored soccer players and Nike employees who have created their own pages to get the network rolling. Based on how well Joga.com does, Nike and Google will likely create social-networking sites for basketball, baseball, skateboarding, and other sports, Nike officials told the magazine.

Right now, the site is by invitation only and requires a Google e-mail address to register, although there are plans to expand the membership


| | | | | REPRINTS




Quick links: One-click access to topics in this article.






Breaking Headlines
PETA To Address Columbia Annual Meeting
MAY 19, 2006


True Temper Sports Shifts To Quarterly Loss
MAY 19, 2006


SGMA Show Has Commitments From 80+ Brands
MAY 19, 2006


Hibbett Comps Fall Slightly
MAY 19, 2006


Boardsports Village Again A Central Platform In board_ispo
MAY 19, 2006


Finish Line Revises Guidance Downward
MAY 19, 2006


FL North America Improves; Europe Remains Soft
MAY 18, 2006


Umbro US Biz Will Slow
MAY 18, 2006


Shoe Carnival 1Q Comps Rose 4.1%
MAY 18, 2006


Décathlon Opens Megastore In Moscow
MAY 18, 2006