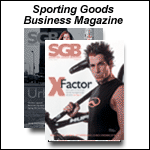 Toys "R" Us Partners With Major League Baseball

MARCH 21, 2006 -- Toys "R" Us has announced a partnership with Major League Baseball Properties beginning this month in which the retailer will feature an expanded assortment of MLB merchandise, including videogames, baseball cards, sporting goods and more in front-of-store boutiques.

MLB players in April will make personal appearances at stores in Boston, Chicago, Houston, Los Angeles, New York, Philadelphia, San Francisco, St. Louis and Washington, D.C. Among the players making store appearances are: Steve Finley (San Francisco Giants), Rafael Furcal (Los Angeles Dodgers), Willy Taveras and Adam Everett (Houston Astros), Yadier Molina and Mark Mulder (St. Louis Cardinals) and others.

Marketing support includes mini-catalogs of the MLB merchandise that will be distributed at ballparks around the country and run in the April issue of Sports Illustrated for Kids. Also during April, the merchandise will be called out in three Toys "R" Us newspaper inserts. Consumers also will receive e-mail blasts from MLB and the retailer. Window displays and the "Jeffrey-tron" TV adorning the store's exterior in New York also will tout the merchandise.

Besides officially licensed T-Ball sets, baseball bats and Rawlings official baseballs, the merchandise will include Sports Picks action figures of superstars from McFarlane Toys that will be exclusive to Toys "R" Us. Baseball superstars Alex Rodriguez, Jason Varitek, Jeff Kent, Bobby Abreu, Mark Mulder and Aramis Ramirez will be featured in Sports Picks' MLB 14 series of action figures. McFarlane Toys will also come out with rivalry 3- packs featuring the most popular players from the Boston Red Sox and New York Yankees, including David Ortiz, Jason Varitek, Curt Schilling, Hideki Matsui, Derek Jeter and Mariano Rivera.

"We are excited to commemorate the opening of the 2006 season with the Major League Baseball themed feature shops at Toys "R" Us stores nationwide," said Howard Smith, Senior Vice President, licensing, Major League Baseball Properties. "Through this partnership, Major League Baseball fans will be able to celebrate the arrival of Opening Day and their favorite team at a one-stop
shop with all of the most exciting and interactive MLB licensed products."

"From the Boston Red Sox to the St. Louis Cardinals, our partnership with Major League Baseball provides us with the unique opportunity to increase our team-specific offerings to customers across the country and to give kids the joy of personally meeting their favorite big-league players," said John Barbour, President, Toys "R" Us, U.S. "This spring, our stores are truly the destination for official MLB merchandise, with an expanded assortment of trading cards, apparel and sporting equipment that help parents and kids 'gear up' for the 2006 season or take to the field themselves."

A complete list of MLB events at Toys "R" Us stores nationwide can be found by logging onto http://www.toysrusinc.com/MLB.


| | | | | REPRINTS




Quick links: One-click access to topics in this article.






Breaking Headlines
PETA To Address Columbia Annual Meeting
MAY 19, 2006


True Temper Sports Shifts To Quarterly Loss
MAY 19, 2006


SGMA Show Has Commitments From 80+ Brands
MAY 19, 2006


Hibbett Comps Fall Slightly
MAY 19, 2006


Boardsports Village Again A Central Platform In board_ispo
MAY 19, 2006


Finish Line Revises Guidance Downward
MAY 19, 2006


FL North America Improves; Europe Remains Soft
MAY 18, 2006


Umbro US Biz Will Slow
MAY 18, 2006


Shoe Carnival 1Q Comps Rose 4.1%
MAY 18, 2006


Décathlon Opens Megastore In Moscow
MAY 18, 2006