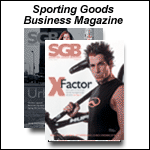 Brooks Hires Ex-Nike Exec To Head Footwear Merchandising

FEBRUARY 28, 2006 -- Mark Nenow joined Brooks as VP/global footwear merchandising.

He has more than 20 years of industry experience and a decorated track record both in and out of the office. His professional history boasts such brands such as Nike and Asics Tiger, while his running career shines with World and American Records in the 10,000 meter.

Prior to his Brooks appointment, Nenow served as global footwear product director for Nike's ACG footwear division. Before assuming that position in '96, he held various product line management and marketing positions for Nike's Running, Trail Running, Distance Running, and Track & Field divisions. Preceding his tenure at Nike, Nenow spent three years with Asics as a category business planner in the Running division, and earlier a sports marketing and promotions manager for its Running, Racing and Track & Field division.


| | | | | REPRINTS




Quick links: One-click access to topics in this article.






Breaking Headlines
Quiksilver 1Q Revenues Rose 58%, Net Improved 31%
MARCH 10, 2006


Big 5 4Q Sales Up 0.6% In Shorter Quarter; Net Falls
MARCH 10, 2006


Hibbett 4Q Sales Increase 13%
MARCH 10, 2006


1997-2002 SG Store Sales Growth in West North Central States Exceeded US Average
MARCH 10, 2006


Ashworth's 1Q Sales Up 11%, But Loses Money
MARCH 09, 2006


Umbro FY Sales Slip 1.5% In Non-Tournament Year
MARCH 09, 2006


Accounting Charges Push K2 Into The Red
MARCH 09, 2006


Licensed Soccer Product Sales In 5 Markets Near EUR 7 Billion
MARCH 09, 2006


Cutter & Buck's 3Q Turns To Profit
MARCH 09, 2006


SWB Q306 Revenues Ran $7.5 Million Ahead Of 3Q05
MARCH 08, 2006