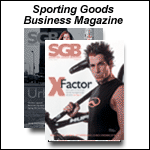 SIA Draws 18,000 Attendees

JANUARY 27, 2006 -- The 35th Annual SIA (SnowSports Industries America) Trade Show (Jan 23-26, 2006) drew an estimated 18,000 attendees including manufacturers, retailers, reps, resorts, elite athletes and media personalities.

The event was held at the Mandalay Bay Convention Center in Las Vegas.

In a statement, SIA officials noted that one of the hottest topics that circulated through the conventional hall was how far the industry had come in terms of style and fashion. Be it snowboard, skiing, hardgoods or softgoods – bold fashion statements, colors, embellishments and patterns were seen down every aisle.

"Huge changes are going on in snowboard and freeride with fabrics, patterns, designs – if I hadn't been able to see it all collectively, I wouldn't have understood the changes in design," said Karen Nestor of Nestor's Sporting Goods, located in Quakertown, PA.

Certainly one of the leaders of the pack, in terms of fashion, is Burton Snowboards and for the 06/07 season they're serving up plenty of style.

"For next year, we're offering more prints than ever: a bold paisley in two colors, an equestrian plaid in two colors, a fairisle sweater pattern that looks just like a real sweater texture, and our Moroccan Tile Gore-Tex print. The best is our limited-edition western jacquard, which features a unique tonal woven western scene," says Karly Dodson, women's design director at Burton.

While fashion-forward outerwear was creating a buzz around the aisles of the show, there was also plenty to ogle in terms of equipment and new technology at SIA.06. The options available in women-specific gear continues to grow, while "systems" are becoming more and more prominent for both snowboarding and skiing, as well.

"The 06-07 season marks the first collection completely inspired and designed by K2 Snowboarding Women's Alliance. It's 100-percent tailored to personalities and individual style, offering every girl that 'perfect fit' beyond just performance," said Danielle Hambleton, K2 Snowboarding Marketing Manager.

"A line with just soft flexes and foofy graphics won't cut it with the female consumer. They are less driven by hype or image than men," says Eric Hutchinson, national sales manager for Rossignol Snowboards. "Women arrive at the shop educated on what products are best suited for their individual style and what will give them the most for their money."

Retailers are definitely seeing their female customers respond to this new trend of gender-specific gear and demanding products that cater to their particular needs and skill level.

"More and more women are buying technical hardgoods, and they want to know: what performance, features and enhancements will advance my skiing potential? Ninety-nine percent of women want women's skis and boards," said Dennis Lovick, general manager at the Viking Ski Shop in Mount Prospect, IL.

Nordic skiing companies are also expanding their lines with new products for both women and a younger demographic. Atomic, Salomon, Fischer and Rossignol all offer women-specific Nordic technology, while Fischer is heading into unchartered territory with a new cross-country category of twin-tips – with its new "Jibskate" -- designed for riders to play on backyard terrain features or Nordic Center terrain parks.

After several years of refinement, new "systems", or combined ski and binding packages, are hitting the market from a variety of ski manufacturers. The new systems promise lighter weights, improved response, stability and safe/predictable releases and retailers are finding the systems very consumer-friendly.

"It's so much easier to sell ski systems, much more convenient. All of our price point packages are systems," said Joe Rauchser of Joe's Ski Shop in St. Paul, MN.

Systems are catching on with snowboard manufacturers as well -- Atomic Snowboards introduced the rock 'n roll inspired Axum board, matched up with the Black Russian binding and the bright yellow Tremor BOA boot. "I call it the posse tracker," says Jim Rocket of Atomic USA. "There's no way your friends can't find you on the hill with this package."

And for those techie-geeks – wearable technology continues to expand into accessories for the 06/07 season. Just one example is Reusch's new Sonic Control glove, developed for Apple's ubiquitous Ipod -- integrating a wireless control panel for use in the latest generation of Ipods. The glove has rubber buttons to let you control volume, pause, play and more back and forth between tracks.

For additional news and highlights from SIA.06, use the following link to view and/or download all four days of the show's official show daily – SnowPress Show Daily at: http://www.skipressworld.com/snowpress/.

| | | | | REPRINTS




Quick links: One-click access to topics in this article.






Breaking Headlines
Escalade Profits Up On Revenue Dip; Sports Biz Slips
FEBRUARY 21, 2006


ALSO IN THIS ISSUE:
FEBRUARY 21, 2006


Sport Supply Group Revenues Grew 7% In 2Q
FEBRUARY 21, 2006


Nike Adopts Majority Voting Standard For Board
FEBRUARY 21, 2006


Adidas Continues To Study Nike Suit
FEBRUARY 21, 2006


Euro Footwear Trade Still Concerned About Anti-Dumping Duties
FEBRUARY 21, 2006


Nautilus Restructures Management Team
FEBRUARY 17, 2006


Nike Suing Adidas For Patent Infringement
FEBRUARY 17, 2006


Angela Owen Named REI's VP/Merchandising
FEBRUARY 17, 2006


ALSO IN THIS ISSUE:
FEBRUARY 16, 2006